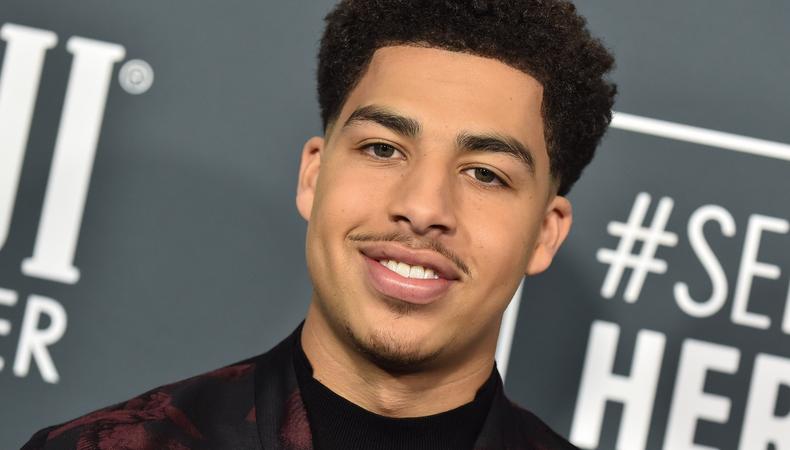 Acclaimed actor and humanitarian Marcus Scribner has been named the 2022 Backstage Vanguard Award honoree. The award, a collaboration between Backstage Magazine and the Society of Voice Arts and Sciences (SOVAS), will be presented to Scribner during the 13th annual That's Voiceover! Career Expo at the Marriott Burbank Convention Center in Los Angeles on Dec. 16 at 2:10 p.m. PT.
The Vanguard Award recognizes excellence in the voice acting realm as well as honoring community advocacy and altruism. Scribner is the youngest recipient to date due to his "impact on the community at large," according to SOVAS vice president Joan Baker.
"Marcus epitomizes the very meaning of the Backstage Vanguard Award because he's a living example of leadership and taking personal responsibility for creating a better world," SOVAS chairman and CEO Rudy Gaskins says. "The award is given to someone who's on the vanguard in the sense that they're doing things differently…. They're in more of a leadership role. And Marcus is definitely leading by example."
RELATED: Marcus Scribner Grew Up Onscreen—Here's How His Approach to Acting Has Changed
Scribner has received critical praise for his performance as Andre Johnson Jr. on ABC's "Black-ish," in which he deftly navigated sensitive topics like marginalization and masculinity. He's also known for his voice acting in film and on television, including Pixar's "The Good Dinosaur," Netflix's "She-Ra and the Princesses of Power," and DreamWorks' "Dragons: The Nine Realms."
"I am trying to do the best I can using the platform that I have," Scribner says of the intersection of his career and his advocacy work. "I think I learned that being on 'Black-ish' and being around so many humanitarians and activists. Each week, we try to provide episodes that deal with current world issues; and I use that to inform all of my decisions, even in the roles that I take."
The actor's activist efforts include founding his own production company, which aims to "promote the voices of young Black people" by amplifying their stories. "There are just so many avenues to create your own way and build your own path," Scribner told Ebony. "I feel like I'm interested in a lot of stories that aren't traditionally offered to African American people. I want to be able to create the stories that I want to see."
Scribner also advocates for environmental justice as an ambassador for Defend Our Future, an Environmental Defense Fund project that focuses on empowering young people to combat climate change.
This telescoping between small- and large-scale—and personal and political—is what led the Vanguard Award committee to pick Scribner as this year's recipient. "We choose these honorees because they can inspire our community…to create a blueprint for their own advocacy in the world," says Baker.
The Vanguard Award, which Backstage has sponsored since 2014, "helps set the stage for learning the art and business of voice acting with a higher purpose at stake," Gaskins explains.
Emmy Award–winning CBS News journalist Suzanne Marques will conduct an exclusive interview and audience Q&A session with Scribner during the ceremony. Tickets and a full schedule for the three-day event—the longest-running voiceover conference in the world—are available through SOVAS' website.