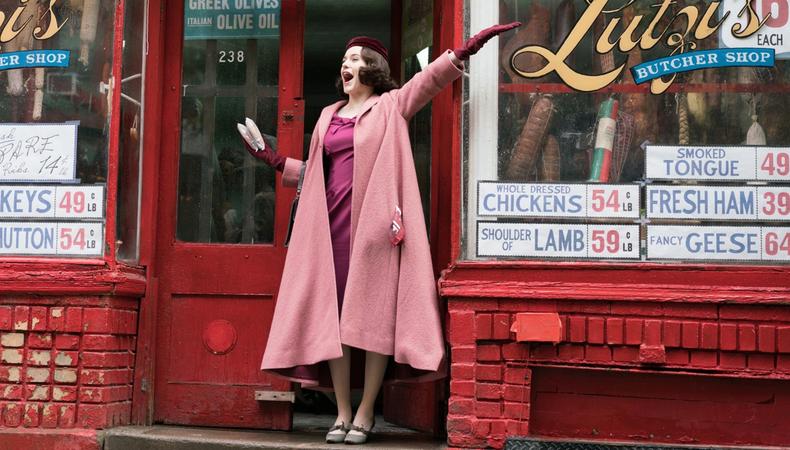 I showed up on episode seven of Season 1 of "The Marvelous Mrs. Maisel," a wonderful, totally binge-able show about a woman starting her standup career in NYC in the '50s. I wanted to share some things I learned while I was there.
I got the call for a next-day audition, so you can bet my night was spent going over lines and watching the pilot to get a sense of tone. The tone will show you how you can best serve the text and what kind of story they're trying to tell.
The show's dialogue was fast. Rapid fire. As I watched, I tried to say my lines as fast as the actors were, something I do as a playful exercise with "The West Wing" sometimes. Try it, it's almost impossible. While I was working on the script, I kept this in mind. This show is fast. You need to be fast.
The audition was at one of the sweetest casting offices in town, Cindy Tolan. It's like auditioning for friendly family members over there. I did one take and then they sweetly crushed me.
"Bill, have you seen this show? It's fast. Can you speed up your lines?"
Obviously, I had not been fast enough. Time to "West Wing" it up! I did my best in the second take and walked out thinking, "Well, that was fun, but I blew it." Two weeks later my manager would call about the booking.
Marvelous Lesson #1: Sometimes when you think it isn't good enough, it is. The decision is not up to you, your only job is to do your best.
I was going to be on a show! I was teaching in L.A. when I got the call. Because "Mrs. Maisel" is set in a different era, they wanted all the actors to go through a fitting (when they take your measurements and create a costume for you) at least two days before their shoot so they could make alterations. I looked at the shoot date I had written down and it meant I had to be back in NYC the next day!
It was a scramble to find flights, cancel my last class, and get back to New York. The fitting, although jet-lagged, was so much fun. Luxurious suits from the '50s, beautiful colors and textures, short ties and long leather shoes. As actors, so much of our audition prep time is spent creating the world in the script. Sometimes the reward of booking the job is now you have teams of people doing the work for you.
Marvelous lesson #2: Don't let the fever dream of booking get in the way of your professionalism. Double-check your dates.
As I left the fitting, the wonderful costume designer said, "See you on set in three days." Three days? Not tomorrow? Nope, I was assured the shoot is in three days. I had written down the wrong shoot date. I still could have been in L.A. finishing my classes, taking my time, and saving money on flights.
Marvelous lesson #3: You have no control over the shooting schedule, be prepared to be there for the entire day, or more. Do not tell your loved ones you will be home early.
On the day of the shoot, I showed up 30 minutes before my call time, armed with a newspaper as there is a lot of downtime on a set and you always want to bring something to read. I went through makeup and my costume was hanging up in my trailer. My lines were memorized, I looked great, and I was going to shoot my one scene and be home for dinner. Then morning passed. Lunch. Afternoon. I finished my newspaper from front to back. It started to get dark. Eight hours after my call time, they were ready for my scene.
My scene was a quick one, a boardroom with a bunch of uptight executives who try and block the new and fresh ideas of Joel, played by the wonderful Michael Zegen. My role was a co-star which is usually five lines or less. When auditioning for a co-star, I always make the decision of whether I am a hinder or a help to the lead in the scene. That's why co-star roles exist: to either throw up an obstacle or help the lead move toward their goal of the episode.
I was definitely an obstacle and it was a pleasure to play—there is nothing more satisfying than playing a jerk. But there's no need to make a meal out of it. Just decide if you're there to help or hinder and commit to that energy. If you look at my scene in episode seven, you'll see what I mean.
Marvelous lesson #4: A true working actor knows the work is in the audition.
We were wrapped after six or so takes, and I was out of my costume and on my way home. I was so hungry to return the next day, but my job was over. Onto the next audition. For most of us, that's a majority of the job. Being in the rooms and serving the script for a brief seven minutes for an audience of one or two. Every now and then, we break big for a day or even a season. But we usually always return to the room. Make your room marvelous.
Looking for remote work? Backstage has got you covered! Click here for auditions you can do from home!
The views expressed in this article are solely that of the individual(s) providing them,
and do not necessarily reflect the opinions of Backstage or its staff.