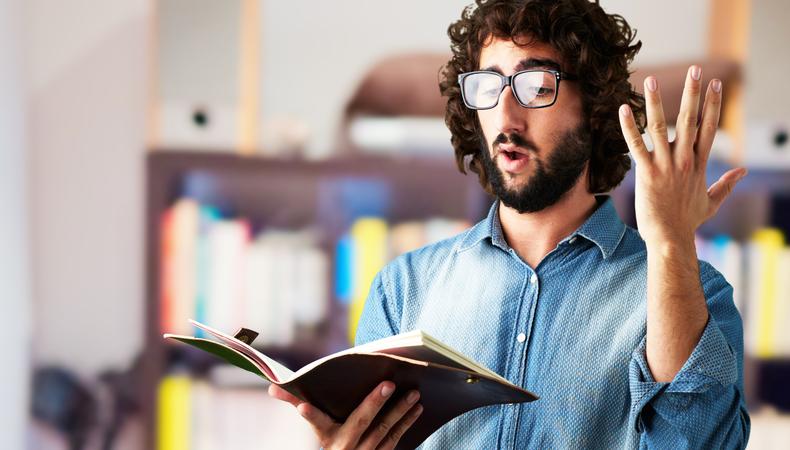 One way to land auditions is to become a great cold reader. In my personal experience, teaching master audition classes and one-on-one coaching sessions, from Los Angeles to New York, I rarely find the skill of cold reading mastered. As many as 80 percent of my students don't even come close to having good cold-reading skills, much less master-level. These are actors going out on serious auditions! It just doesn't make sense.
So, how exactly do you master the cold read? The same way anyone masters anything. You learn the necessary technicalities to succeed and then you practice. You do the same thing, again and again and again, not until you get it right but until you can no longer get it wrong! And when you're done? You do it some more!
READ: "1 Cold Reading Exercise Every Actor Should Try"
Acting is a full-participation craft that must be exercised daily. However, many actors get too caught up with observation instead of participation. Think about that for a moment. We watch movies and television shows and call it "research." We observe other actors working in classes, showcases, and workshops. We read plays and scripts and books on acting. Heck, you're even reading this article right now!
While all of this is necessary, the actor needs to work out every day. So, I'd like to change things up a little bit by making this article not only informative, but also an interactive experience, a full actor's workout. Starting right now, begin reading out loud.
Yes. Seriously. Read the rest of this entire article out loud, as an ice-cold read. (An ice-cold read is when you perform a piece of material as you're reading it for the very first time without ever seeing it before.)
Are you reading out loud?
Reading out loud will instantly shift you from observation to participation. If you're really serious, once you're done ice-cold reading this—or any—article, you should go back and then cold read it. Serious actors read out loud every day.
In his New York Times bestselling book, "Outliers," author Malcolm Gladwell says it takes roughly 10,000 hours of practice to achieve mastery in any field. From Bill Gates to the Beatles, the 10,000-Hour Rule claims that the key to world-class expertise and mastery in any field is a matter of practicing the correct way of doing something for roughly 10,000 hours. So, what does that actually look like? Here you go: 8 hours x 5 days x 52 weeks x 4.8 years = 10,000 hours.
Now, that's a lot of cold reading!
The more you read out loud the better a cold reader you'll become. Period. Unless it seriously disturbs the people around you, read everything you can out loud, every day. Labels, books, this article, even billboards when you're stopped at red lights! Remember, this is what we do. Actors read for a living. So get used to it, and more importantly, get great at it!
To act, after all, is to read. I'm simply encouraging you to read every day and, whenever possible, out loud! Work at it with passion and you'll find out that in the big picture, 10,000 hours isn't really all that far away.
Clay Banks will be conducting an Advanced Script Analysis Seminar ("Nano-Insights into Writer's Intent") at the SAG-AFTRA Plaza in L.A., on Thursday evening, Oct. 20, 2016. This is a free session for all paid-up SAG-AFTRA actors.
Clay Banks is a former Fortune 500 Business & Life Empowerment Coach, a motivational speaker and consultant. He's presently a recurring Master Coach at SAG-AFTRA Headquarters as well as a guest Master Class Auditioning Coach with the American Academy of Dramatic Arts, Hollywood.
Banks owns Clay Banks Productions & Studio International (CBSI) where he conducts ongoing on-camera acting classes and actively produces all types of projects. Every Wednesday night at 7 p.m. PST, 10 p.m. EST, CBSI livestreams a 20-minute TED talk–like power teaching exclusively for actors. Clay just completed two books: "The Process: Technicalities of On-Camera Acting" and "The Actor's Freeway: 52 Free Weekly Exercises Actors Can Do to Develop & Keep Their Instruments Sharp When Not On-Set or in Acting."
Inspired? Check out our film audition listings!
The views expressed in this article are solely that of the individual(s) providing them,
and do not necessarily reflect the opinions of Backstage or its staff.