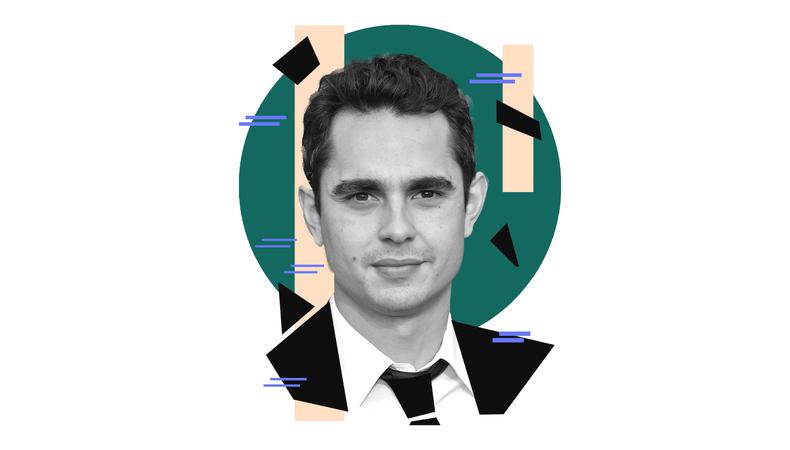 Despite spending ample time on film sets as a kid thanks to his showbiz parents—Academy Award–winning director Anthony Minghella and choreographer Carolyn Choa—acting was never a priority for Max Minghella. That is, until he saw Jake Gyllenhaal in a production of "This Is Our Youth" when he was 16. Since then, Minghella has shared the screen with Richard Gere in "Bee Season," twice with George Clooney in "Syriana" and "The Ides of March," and now with Chris Rock and Samuel L. Jackson in horror flick "Spiral." Currently, he reprises his role opposite Elisabeth Moss as Nick Blaine on Hulu's "The Handmaid's Tale," now back for its fourth season.
What has playing Nick on "The Handmaid's Tale" added to your acting skills?
It's been the most fulfilling experience, professionally, I've had, primarily because of the community of people who work on it. I've never worked on a job where there isn't one bad apple. When you shoot in productions with a lot of people involved, there's always one person that everyone hates. On this show, everybody is not only lovely but insanely talented. We all care about what we're doing. There's always this huge sense of gratitude. None of us are new to the game; we'd all done this a long time when we started [the show], so we all recognize how unique it is. None of us take this experience for granted or the quality of this writing for granted. I've learned so much from my peers on the show. This season, I get to work a huge amount with Bradley Whitford, who, prior to the show, [had been] a hero of mine. A top five favorite actor of all time. And I'm working with Lizzie Moss, who I think is the greatest actress of our generation. It's a ridiculous world to be playing in and it elevates you so much. It's a pinch myself kind of job.
I imagine you spent time on sets as a kid. Do you have any memories of your first time on a professional set?
My father wrote for a Jim Henson show called "The Storyteller," which is a children's fantasy show, and I think that was the first set I went to, which is a very good set to visit. It was Henson special effects and creatures and fun things like that. My first vivid memory, actually, was that I was cut out of "Sense and Sensibility." I was an extra in "Sense and Sensibility," the Ang Lee movie. That was my first job as an actor, and I got cut out of the film. That was my first vivid memory being on set. I remember being useless even on the day. I wasn't particularly surprised [to be cut].
What advice would you give your younger self?
At that point, I was a baby with no ambitions of being an actor at all. I didn't really get an appetite [for acting] until my late teens. I always thought I'd be a filmmaker. As a child, I always wanted to be a stuntman. I didn't anticipate being an actor.
"My first audition was for 'Pirates of the Carribean.' The tape was so bad that it got sent back to me without any comments."
What changed your mind? When did you decide to pursue acting?
It happened very quickly. I had not been interested in acting, but I saw a play when I was 16 called "This Is Our Youth," which was on in the West End, and Jake Gyllenhaal and Hayden Christensen were in that initial cast. We were family friends with Jake, so I got this little bit of access to the play that you wouldn't normally get. And I fell completely in love with it. It was all I did. I stopped going to school, I would go to every performance of the show, and probably drove everyone in that production completely bonkers. It just made me obsessed with the idea of saying these words and getting to perform them—which, by the way, I've never done. But that's what started it.
Weirdly, through that production I got an agent, because I would do impressions a lot as a kid and there was a party once, I think at the end of one of the runs of the show, and I did some impressions at the party and that got the attention of an agent and that's how I ended up doing this. I was very green when I started. I was really bad because I'd never done it before. My first few professional experiences were really my first time acting at all. I wasn't ready. So, the moment I watched those [performances], I had a minor panic attack. And then I went to college, took a break, lived a bit of life, got some experience, did some more acting training, and then I came back to it. I did a movie a few years later called "Elvis and Anabelle," [in] which I certainly noticed a sizable difference in my work between that and the last thing I'd done. I think it was a good thing to take some time away. Those first three movies, I never even watched the monitor, so I had no idea how I was coming across or what I thought I was doing. It's not that I didn't work hard on those films—I worked very hard—but I didn't know what the targets were and I was working a little in the dark. I got to watch three movies back and go, "Wow, I really wasn't doing what I thought I was doing. How do we adjust?" Taking a step back was so useful for me.
How did you first get your union card, either in the U.K. or U.S.?
It was my first movie, which was "Bee Season," a movie for [Fox] Searchlight with Richard Gere and Juliette Binoche. I did three movies back to back. I did that movie, I did "Syriana," and I did "Art School Confidential" in one run. There was definitely some trial by fire.
What is your worst audition horror story?
I have too many to count. I'm a notoriously terrible auditioner. In fact, I don't know if I've ever successfully auditioned for a part I've played. I've sometimes auditioned for other parts in the movie and then gotten cast in something. But it's almost the fastest guarantee that I won't get something. It's quite a specific skill, to audition, and I've never been particularly great at it. My first audition was for "Pirates of the Caribbean." The tape was so bad that it got sent back to me without any comments. I just got sent the tape. Just to watch. [I thought,] Oh, I understand why you did this. You're telling me how much work I have to do. I think [auditioning is] a very necessary part of the process. Now that I've gotten to look from the other side of the camera, it's very clarifying to realize that so much of it has to do with stuff that's out of your control. Once you recognize that, I think it takes a lot of the anxiety out of that part of the process.
"What I always say to myself and what I would say to anybody else is, Enjoy the process. Treat [auditioning] as an acting class for yourself."
What's the wildest thing you ever did to get a role?
"The Ides of March" was a big deal for me. I talked about "This Is Our Youth" before, but "Farragut North" was a play I was equally enamored by. I loved it so much. The fact that they were making a movie of it with those people just blew my mind. I've never, ever worked harder on a tape than I did for that movie. It still stands out for me, because it was such a dream project and the fact that I got to be a part of it, I still pinch myself.
What tips do you have for actors who are making self-tapes?
Trust your instincts, do what you think is right. But I don't think a lot of this is in our control as actors. I think so much of it is our physicality, how we appear, what the rest of the cast might be looking like. We don't know that, we don't have that information. What pressures there might be on the financial side of the movie. What I always say to myself, and what I would say to anybody else, is, Enjoy the process. Treat it as an acting class for yourself. Imagine that you've been asked to prep a scene for your weekly class and enjoy it and don't go into it with any expectation. The most useful thing about auditioning is the practice.
What performance should every actor see and why?
The first thing that came to my mind is Holly Hunter in "Broadcast News." I don't know why! It popped into my head. It's such an amazing, dynamic performance.
How do you typically prepare for an audition?
I'm very bad at remembering lines, so I normally make sure I know the lines. And make a choice. I think the more prepared you are, the more you can relax in the room, and acting is so much about being present and listening. So, I think the more that you can allow yourself to be open in the space, the better off you're going to be.
Looking for remote work? Backstage has got you covered! Click here for auditions you can do from home!