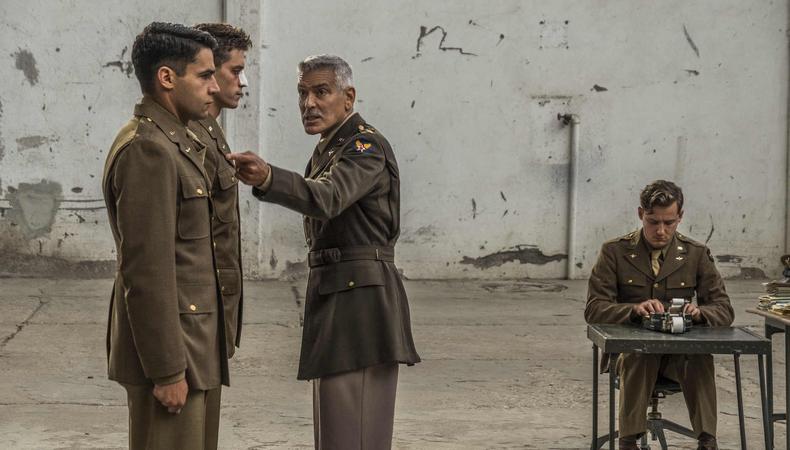 Though a veteran production designer for film, television, and theater, two-time Oscar nominee David Gropman ("The Life of Pi") faced an entirely new set of challenges for Hulu's World War II miniseries "Catch-22," which stars Christopher Abbott, Kyle Chandler, and George Clooney and streams its first two episodes May 17. Chief among them was finding a mile-long runway on which to actually land a plane, and then figuring out how to design around it. Here, Gropman reveals how he did it while also recounting how actors like Denzel Washington and Meryl Streep use production design to deepen their performances.
How would you describe the role of a production designer for television and film?
The title is confusing, right? You're assuming it's some sort of office job. The way I describe it is [this]: Imagine you're about to see a play, and you're sitting in the audience and the curtain goes up, and there is a set, or, as I would like to call it, a world in which the story is going to take place. That's what I do: I'm in charge of creating the world in which the story is going to take place.
How did you get started in the field?
I started as a theater designer, and I actually started studying theater at San Francisco State, and then at the Yale School of Drama. That's all I ever wanted to do: be a theater designer. I worked for about 10 years in New York, and I think it was in 1980 [that] Robert Altman had decided to leave the world of film for theater and came to New York City and directed a play called "Come Back to the Five and Dime, Jimmy Dean, Jimmy Dean" by Ed Graczyk. He interviewed designers, and he asked me if I wanted to design the play—which I did. And after its somewhat controversial opening, he decided to do a film version of it, and asked me if I wanted to design the film—which I did. Then there were several years where I would do a Broadway show and then I would do film and then suddenly it became all film all the time. I learned how to read a script from studying theater, and I learned how to design a set for film by working with Robert Altman.
Since you have also done set design for theater, can you speak to the major differences?
The main difference is that there is not a fourth wall. In theater, the most you can offer up is three walls. In film, you can complete that world with a fourth wall. It's funny, because if you had asked me two years ago, I'd have said there is no difference at all. I approach every film the way I approach every play, which is to read the script and to figure out how to create an environment with the fewest brush strokes, so that nothing would distract from the story itself, from the words. But just recently, I got back into stage work because I was asked one after the other to do two new operas, and I realized the difference is with film, there is magic because there is a kind of psychological depth that the audience imagines. If you're designing well, the movie theater or the television set goes out of the picture and somehow you're emotionally drawn into this world. With theater, that is quite difficult to accomplish. The last thing you want a set to do either in film or in theater is be two-dimensional or take focus where it shouldn't be taking focus. I'm not really into a lot of scenery as much as I'm into creating the world and creating the environment that becomes the home for the story.
READ: Actors Should Engage With Production Design + 1 Way to Do It
What was unique about working on "Catch-22"?
The big difference was just the scale of it, the number of pages. I sat down and read the script and I was just blown away, but the challenge of this miniseries was there were a lot of moving parts—literally. First off, you have to create a 1940s U.S. base that feels like it's on some Italian island, and you have to imagine a fleet of World War II military planes. The show travels all through Italy and northern Africa, so it's a vast number of sets; I did some calculations the other day, and we had 92 sets and locations. The first order of business was, "Where are we going to make the show?" Any time you figure out where you're going to make [the project], the first thing you find out is that there is no stage space available, so although Italy was an obvious choice, we also had to look at the U.K., we looked at Germany, Spain, Malta, and the Canary Islands. And in each one of those places, the first order of business is you have to have a location where you can land a B-35 plane, for which you need a mile of runway. I've never had that sort of requirement, and that makes it a very tricky search.
Do you work with actors at all?
Every once in a while, you'll have an actor who really wants to talk about the sets that they're working in, but that's pretty rare. ["Catch-22" star] Chris Abbott happens to be an easy, great guy, so we would chat between takes. The only actor I ever took directions from in terms of set dressing was Vanessa Redgrave, when she and her sister [Lynn Redgrave] did their TV movie based on "What Ever Happened to Baby Jane?" She had very specific ideas about what her bedroom should look like. I worked with Meryl Streep a number of times, and Meryl is someone who is very aware of what's going on around her at all times. For "August: Osage County," there were a lot of discussions about her bedroom, and she was very keen that all of furniture show a lot of age.
Do you appreciate when actors have input about production design?
My feeling is that I'm there to be the eyes and the sort of brain and heart of the director. I always felt in theater and in film that if the final product is going to be successful, it's because it's one vision. It's not that I wouldn't happily have a conversation with the actors about the sets they are a part of, but I would always want it to be with the blessing or the input of the director. Otherwise, it's too many visions, and you really only want one.
Would you say that production design is helpful for deepening an actor's performance?
Well, I hope that's true. A very specific situation was the film "Fences," and of course the director was one of the stars of the film [Denzel Washington]. So, obviously, Denzel's involvement as the director was everything for me in terms of the set, because he was very much coming at it as an actor, as well. He had to live and breathe in that space. The first time Denzel brought Viola [Davis] through the set, he wanted to make sure that Viola felt absolutely at home in that kitchen, and she had some choices about what might be on the wall, and I think it was Viola who said that the dining room should have a Last Supper [print].
Ever wonder what agents are really thinking? Get more from Secret Agent Man here!