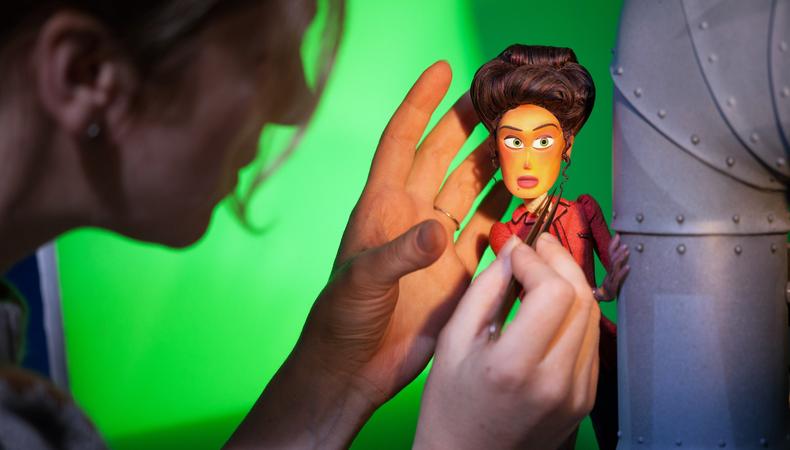 To comprehend Chris Butler, the Academy Award–nominated animator whose Oscar contender "Missing Link" won the Golden Globe this year for best animated feature, you've got to understand "Jason and the Argonauts"; you've got to know the plaster bones of seven skeletons rising from the earth to fight hand-to-hand against Jason and his men, and the four and a half months Ray Harryhausen spent animating the two-minute sequence. You've got to know the Disney of yesteryear and the strikingly beautiful two-dimensional animation of its 1967 film "The Jungle Book," how animators could convey the subtlest human emotion in well-rendered illustrations. And you've got to know the moment Indiana Jones got caught in the path of that boulder as it gained speed.
READ: Voiceover 101
It's a fascination with the impossibility of action-adventure, with the striking intimacy of moving illustration, and with the childlike wonder of inanimate objects—toys, really—brought to life that drives Butler, a director and writer creatively dedicated to stop motion. "It speaks to your childhood," he says. "It's like playing with a toy when you're a kid and imagining it come to life. An inanimate object has become animated."
Butler, whose previous work with the stop-motion production studio Laika includes "Coraline," "ParaNorman," and "Kubo and the Two Strings," is the kind of director you might want at the helm of your $100 million animated film, a philosopher of sorts consumed by the humanistic potential of his medium.
"What defines stop motion is real light on real objects," he says. "Though CGI impressively chases the look of realism, what we are animating is real. It's real objects under light. It's about tangibility. It's about tactility. It's about how light reflects and refracts off different surfaces, how a costume that's been hand-stitched has fuzz on the surface of the fabric. There's something fundamentally chaotic about stop motion. It's the imperfection of reality, and I think that's what makes it so compelling," he says.
READ: A Seasoned Voiceover Actor on the 4 Things to Consider When Getting Started in VO
That dedication to realism defines each step of Butler's filmmaking, particularly his relationship with actors. Butler, who often writes with actors in mind, shaping the rhythm and pace of his dialogue with an established voice, thinks of casting as the first step in his creative process. "As soon as we have a script locked down—even as we're still working on designs, even when we're still storyboarding—we are already reaching out to actors who will play these roles," he says.
In stop motion, the delicate balance between actor and animator is accentuated—the raw, tactile nature of the medium and the absence of CGI's distractions necessitates a more perfect match. "We want the audience to see purely the character and be compelled by the performance of that character on the screen," he says. "It should be singular."
READ: 'The Dark Crystal' Design Supervisor Pulls Back the Curtain on Netflix's Magic
That's when the creative potential of working with voice actors becomes particularly salient, Butler says. Perhaps unlike any other filmmaking, in stop motion "it's the voice actor who provides the raw material for the animators, for the designers, for all the stages that come after them." This was the case with "Missing Link," Butler says, its cryptozoologist and Sasquatch protagonists shaped immensely by the personalities and comedic styles of Hugh Jackman and Zach Galifianakis.
"Disney started to play around with the idea of voice casting influencing the look of the movie with George Sanders as Shere Khan in 'Jungle Book,' " he remembers, "and a lot of people were put off by the idea. They thought it crass. But when you look back, Shere Khan is one of the most beautifully animated, most memorable characters that's ever been realized in animation. It worked."
Why? Because according to Butler, animation (and particularly stop-motion animation) isn't a style but a medium, as much an area of artistic expression as a mode of expression itself, where the "synthesis of creator and actor transcends, magically or otherwise."
This story originally appeared in the Jan. 16 issue of Backstage Magazine. Subscribe here.