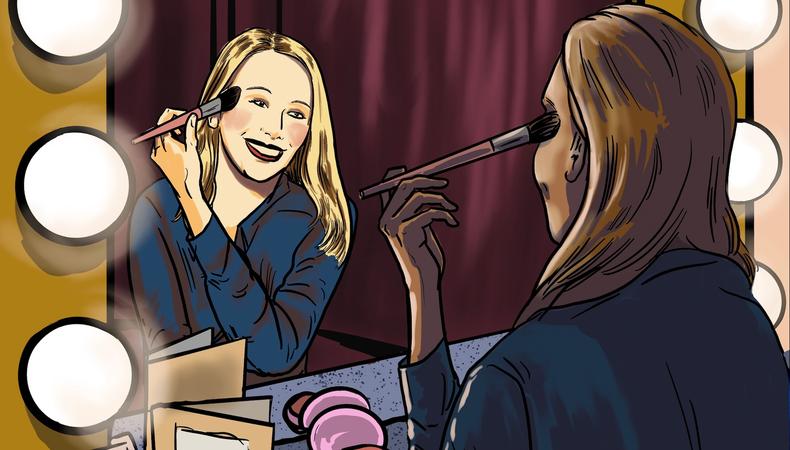 The following Career Dispatch essay was written by Molly Ranson, who this season starred Off-Broadway in "Prayer for the French Republic" and is currently on Broadway in "Plaza Suite" opposite Sarah Jessica Parker and Matthew Broderick.
On March 12, 2020, hours before our final dress rehearsal of "Plaza Suite," our cast and crew gathered in the house of the Hudson Theatre and got the news that Broadway would be shutting down. Would it be for a few days? A few weeks? Weeks turned into months (which turned into nearly two years), and Broadway's reopening date became one giant question mark.
The reassurance that the show would eventually go on was a light during those dark days. Even so, with an abundance of time to ruminate on the future and the state of the world, I enrolled in grad school to get a social work degree.
READ: How to Get Cast in an Off-Broadway Show
Two months into my grad school program—and during a particularly low point for me—my friend, playwright Josh Harmon, texted me to ask if I was available to do a Zoom reading of a play he was working on called "Prayer for the French Republic." It's an epic, moving, multigenerational play about antisemitism in France, interwoven with his signature biting humor that I first came to adore when I did his play "Bad Jews" in 2012.
I fell deeply in love with "Prayer" through several Zoom workshops over the next few months. The play was set to have a full production in 2022, right around the same time "Plaza Suite" was supposed to return. I found myself in a position I'd never experienced in my career: potentially needing to choose between two jobs. As lucky as I felt to have these two fantastic opportunities when so many others were still out of work, the thought of being onstage again was unfathomable.
The pandemic had taken a toll on my nervous system, and I realized it would take some time to heal. I discovered a modality called Holistic Biomechanics, which I still practice daily. I also took up pottery. Both have been tremendously helpful. I left grad school and geared up to resume acting again.
Thanks to the generous and accommodating teams of the two plays, I was able to do both, even with a slight overlap. I rehearsed during the day while performing at night, and ended my run of "Prayer" early to jump into performances of "Plaza Suite" literally the next day. It was exhausting and thrilling in equal measure.
I did a lot of work to prepare for it, but even so, I was very nervous going into the first performance of "Prayer." But then, when I stepped onstage, nerves were eclipsed by something else: an unexpected wave of emotion. How beautiful that an audience showed up during this crazy time in the world to participate in this communal experience.
That feeling followed me to "Plaza Suite," where I now get to hear audiences roar with laughter every night, despite all that's happening outside the theater. What a profound relief that we're finally able to do this again.
This story originally appeared in the May 19 issue of Backstage Magazine.