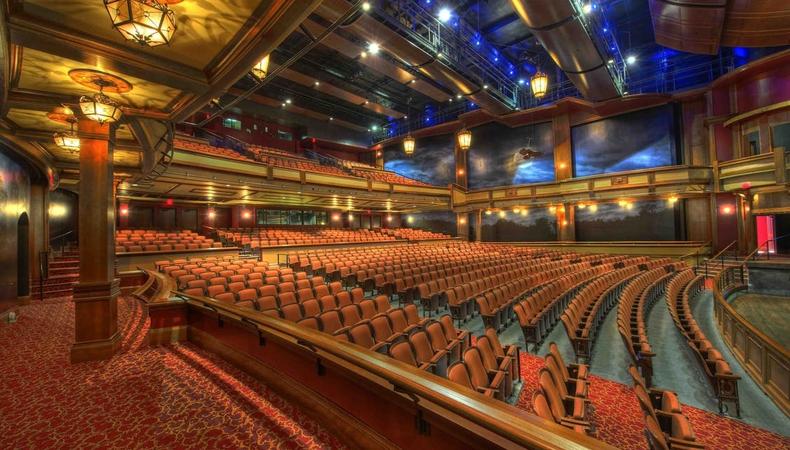 A theater's designation as Broadway, Off-Broadway, or Off-Off-Broadway has absolutely nothing to do with its proximity to the actual avenue. The determining factor for a theater's classification is the number of seats. In general, the biggest theaters are Broadway, medium are Off-Broadway, and small ones are Off-Off-Broadway.
That said: yes, every Broadway theater (with one exception) is Times Square-adjacent.
But there's a little bit more to it than that. Below, we break down the differences between Broadway, Off-Broadway, and Off-Off-Broadway theaters—and some of the most well-known examples of each type.
Broadway Theaters
Number of seats: 500 or more
With 2017's addition of the Hudson Theatre, there are 41 Broadway theaters, each of which is within the confines of 41st St. (where the Nederlander is located) and 54th St. (where you'll find Studio 54). The only Broadway house outside of Midtown is the Upper West Side's Vivian Beaumont, Lincoln Center's biggest stage.
The Broadway houses have three major "landlord" organizations: Shubert, Nederlander, and Jujamcyn. Roundabout is the primary nonprofit proprietor and boasts just three Broadway houses. Every single Broadway theater is an Actors' Equity Association-affiliated house and thus every actor working in them is also Equity; no exception.
Off-Broadway Theaters
There are approximately 60 Off-Broadway theaters in New York City. That number is less precise than its Broadway counterpart for a few reasons, but mainly due to the fact that some houses, such as New World Stages, actually contain multiple performance spaces. Compared to Broadway, there is also a greater mix of commercial and not-for-profit houses: The aforementioned New World, Theatre Row and its six stages, and the Soho Playhouse fall under the former; Atlantic Theatre Company, Ars Nova, and 59E59 being the latter.
Whether a given Off-Broadway house is Equity or not varies, too—the bigger stages (like the Atlantic or the Public or New World Stages) are union, while some smaller houses are not. It should also be noted that countless shows that have ultimately made it to Broadway got their starts Off-Broadway before moving to a bigger house. "Hamilton" and "The Band's Visit" are two prominent examples.
Off-Off-Broadway Theaters
Number of seats: Up to 99
Where definitions become truly murky is Off-Off-Broadway. The primary characteristic is supposedly that a performance space has no more than 99 seats. By that logic, then, couldn't anywhere qualify as Off-Off-Broadway? It is true, to an extent, which is why Off-Off-Broadway has very nominal associations with commercial theater—it's more frequently regarded as grounds for experimental or nontraditional performance. As such, Equity contracts are few and far between on Off-Off-Broadway, making it an ideal venue for early-career actors to add credits to their résumés and meet other up-and-coming creatives. Some of the most well-known Off-Off-Broadway houses include Dixon Place, HERE, the Laurie Beechman Theatre, and Under St. Marks.
To book your own gig, check out our NYC audition listings!