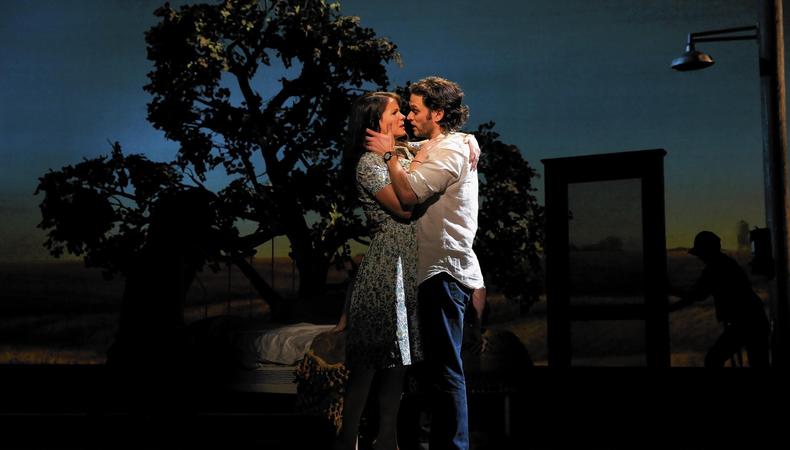 Love comes and goes, but belting is forever.
In honor of Valentine's Day, here are eight musical theater songs (in no particular order) that will certainly break your heart in two. These tunes are best enjoyed while treating yourself to tons of chocolate, but can also double as excellent audition songs to flaunt your emotional range!
"Still Hurting" from "The Last Five Years"
This is arguably the most heartbreaking musical opening number of all time. Below, Lea Salonga sings this rendition impeccably, and we can all relate to the person at 1:27 who murmurs, "Nice."
"My Man" from "Funny Girl"
An ultimate be-all and end-all of musical theater—yet never performed in a Broadway production. This show-stopper was made famous by the classic film version of "Funny Girl," and no one can do it better than Barbra Streisand.
"Another Life" from "Bridges of Madison County"
Whitney Bashor's angelic tone paired with a simple yet enchanting acoustic melody makes this song soar. If you can make it to the last verse without breaking down, you'll hear some of Jason Robert Brown's most poignant lyrics: "Back there in a shadow, find a picture of a woman wearing four years of confusion like a scar." Ow.
"If I Loved You" from "Carousel"
Audra McDonald and Josh Groban sound heavenly together in this instant-classic cover from "Carousel." But frankly, McDonald could sing anything and we'd still sob for ages.
"Where Are All the People?" from "Chaplin: The Musical"
Rob McClure gave a genius performance in the short-lived production of "Chaplin: The Musical," embodying Charlie Chaplin's distinct physicality and charm with the utmost precision. In this 11 o'clock number, he tearfully recollects the admirers he once held close. The final note is as vocally impressive as it is haunting.
"Being Alive" from "Company"
Bobby's iconic moment of clarity in Stephen Sondheim's "Company" is portrayed here by Raúl Esparza. The actor's unrestrained outcry of "Mock me with praise" is unapologetic and raw; combine his total focus with the tight camera angle and suddenly the lavish Tony Awards ceremony seems extremely personal.
"Pretty Funny" from "Dogfight"
This musical hasn't hit the Great White Way (yet) but this performance will bring the tears for years to come. At the end of act one, Rose (played by Lindsay Mendez) learns that her date only brought her to a party in the hopes of winning a contest. The rules: whoever brings the ugliest date wins. Mendez's vulnerability becomes our own, and her outward combination of deep disappointment and humiliation is riveting.
"Satisfied" from "Hamilton"
At a speed of about five words per second, this anthem speaks for itself. Renée Elise Goldsberry, who plays Angelica Schuyler, spits at one of the quickest paces in "Hamilton's" score, and leaves her listeners hanging on every bitter word. What makes "Satisfied" so heartbreaking is the utter remorse in Angelica's voice as she walks us through one of the most painful decisions she ever had to make. Angelica's choices may have been calculated, yet Goldsberry's performance seems effortless.
Inspired by this post? Check out our theater audition listings!