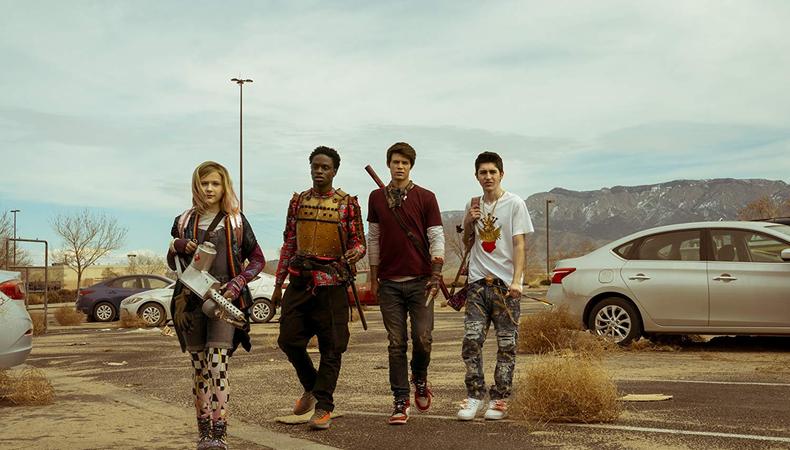 We've seen quite a few versions of the apocalypse on our screens through the years but with "Daybreak," Netflix hopes to bring a new twist on the genre. The streaming giant describes the show as "part samurai saga, part endearing coming-of-age story, and part Battle Royale."
In a post-apocalyptic world, tribes of highschoolers roam Glendale, California while surviving adults have been zombie-fied into creatures called Ghoulies who repeat the last thing they were thinking before the blast.
Intrigued? Just wait until you hear from the cast⁠—which includes Matthew Broderick in his first regular TV series role⁠.
Backstage caught up with the ensemble at New York Comic Con to talk about the Netflix audition process, cast chemistry, and more questions submitted by our readers.
Krysta Rodriguez (Ms. Crumble): It was very different from any audition I've ever had. I live in New York full-time and they were auditioning in L.A. so you have to put yourself on tape. The character that I play is the witch and she is very unlike anything I've ever read and I was a little nervous about knowing how to play it. When that happens, I try to find an action that the character would do. I happened to be eating pistachios at the time and I was like, you know, this woman is hungry. She is a ghoulie. She wants to eat people and she can't. So maybe she's constantly trying to eat other things.
I grabbed the handful of pistachios, shells and all, shoved them in my cheeks and did the whole scene with pistachios falling out of my mouth. I legit sent it to my agent with the headline "don't ever show this to anybody" and then three days later, they called with the offer to do it. There was no callback. There was no test. There was no meeting with anybody. They were just like, you went for it. So it's definitely the fastest and most ridiculous audition I've ever had and [it] did not feel like it was going to pan out. I thought it would come back to haunt me forever and here I am.
Gregory Kasyan (Eli Cardashyan): I didn't even test for this one. I originally got the breakdown, my agent sent it to me, and I read the breakdown and did a double-take. I went and told my parents "can you believe this?" It correlates so well to my life because I'm born and raised in Glendale and I went to the rival high school of Glendale high school. It was insane. So I went in and I read and did a great job I think—well, I got the part. Thirty days went by and it was killing me. How have I not gotten a callback? I'm so perfect for this role. Did I do a terrible job? It's too perfect for this not to happen.
Then the callback came and it was such a big relief. I went in. Did it. A week passed by and I'm just sitting there waiting...I was driving on my way home one day and I had told my cousin about it earlier, and he's like "what happened to your role, huh? You said you were going to book this new role. It's perfect, this Netflix show." Then I get a phone call from my agent and they told me and I started freaking out. I was hyperventilating. It was crazy.
READ: How to Audition for Netflix
Jeanté Godlock (Mona Lisa): I was in Vancouver when I got the initial audition for this, on vacay. I told my reps I can self-tape [for auditions] while I'm there. The first day I got there, I had just landed, and maybe three hours later they're like, "Hey, so we have this audition for you for this Netflix show. It's due tomorrow." I was like, "Oh, you were serious." So that night I put myself on tape and I knocked it out, which was great. I didn't hear anything for a while. Then I got a callback and here we are.
Sophie Simnett (Sam Dean): Because I'm based in London, to go to the beginning of how you get there, I did a lot of my own work. Films and theater and stuff. All the networking, meeting people, going to the theater, meeting people at functions, whatever, snowballs into meeting agents and people who are interested and believe in you and have seen you act. You go through a couple of rubbish agents or whatever and [I] got to my agent, who I'm with now, who's fantastic. Then I did some English work and eventually got an American manager where I got a bit more international and got the audition through him. I self-taped it from England and someone hired me somehow and now I'm here.
Colin Ford (Josh Wheeler): I have an agent and a manager so I got a breakdown email that had an audition. For someone who is trying to break into the industry, I would suggest that they get with an agent and a manager. That's who sends me my appointments.
Austin Crute (Wesley Fists): The chemistry was really important because even though our characters may not "like" each other at first there does become this bond, this tribe that has to come across, and chemistry's really important to getting that to read.
Alyvia Alyn Lind (Angelica Green): I think we all have an amazing chemistry because we were stuck in Albuquerque for so many months and Albuquerque's in the middle of nowhere. I think we developed a very close bond throughout the project and the more we got to know each other was good for our characters because soon as we got really close, our characters got really close. It was perfect timing for all of us to come together and now we're like best friends.
Godlock: Just experiencing the world that we're in. I remember showing up to set. There are huge cranes everywhere. There are people everywhere. I'm like, "this is insane that I'm a part of this." It's really fun to see how they set up the special effects. It's like that's how you do it? I've never got to experience anything like that so it was really fun to step into "Daybreak" where there's a ton of everything and get to be a part of it.
Kasyan: I really like the craft food. We had some great days of lunch. Our people are amazing. When I'm down, I just go bite on something so I'm good.
Rodriguez: My horror audition story is actually kind of a weird story. I loved the show "The Comeback," the Lisa Kudrow show, from its inception and she had this great episode where she's an actress and she has one line in the series and she spends all weekend trying different versions of the line. It's "I don't want to see that." I had an audition for a movie where I had one line and I came in and I did the line and the director was super bored. He was like, "I mean, do you want to do it another way?" And I was like "I don't want to see that!"
This was 2005. The show got canceled, nobody ever watched it, and I was throwing out this super insidery thing. And I [said] "'The Comeback?' No fans? Nobody? OK, cool." He was like "do you want to start?" And I said "These pretzels are making me thirsty," which is a "Seinfeld" reference from when Kramer only had one line in a movie. He was like, "are you done?" And I said "I got to go," and that was it. I learned not to make super insidery sitcom jokes in auditions because people aren't funny. They don't get it.
Matthew Broderick (Principal Michael Burr): I've had some very awkward hotel room meetings. Not like that, no bathrobe, but you know just "read it with me on a couch in some suite." It's terrible. Halfway through I know I'm not getting it and I'm still doing it. I had a lot of those. I can't think of a single horror story. I've done the thing where you're stopped and they say thank you. I was reading a monologue from a book and it was just the producer who didn't appear to speak English and I was doing this long monologue and I just looked up for a second from my book and I saw him [looking at his watch]. [But] that's not that bad.