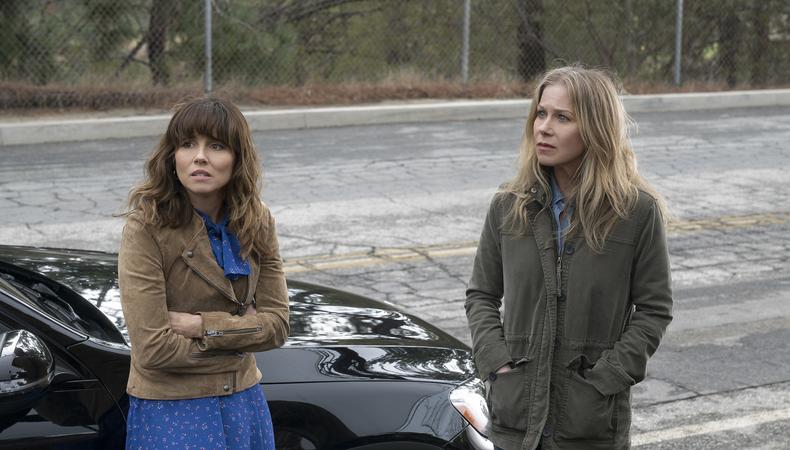 Liz Feldman finds the funny. Her background in standup served her well while writing for "2 Broke Girls," "The Ellen Show," and "One Big Happy," among others, and her latest project, Netflix's "Dead to Me," has her partnering with executive producers Will Ferrell, Adam McKay, and Jessica Elbaum.
The dark comedy was born at a pitch meeting that Feldman was invited to sit in on. When unexpectedly asked at the end for her own ideas, she didn't have anything prepared. Still, she winged it and pulled out the story of 40-something women who meet at a grief group.
"It was weirdly inspired in the moment," Feldman recalls. "I realized later that my inspiration came from where I was emotionally at the time." She had just turned 40, she was trying to get pregnant, and her cousin had suddenly passed away. Such weighty issues are woven into "Dead to Me," which follows Jen (Christina Applegate) as she grapples with her husband's tragic death from a hit and run. Jen befriends Judy (Linda Cardellini) at a support group, and the two become fast friends, bonding over their shared misery. But is Judy who she claims to be?
READ: Linda Cardellini Talks Career Longevity
Equal parts drama, mystery, and buddy comedy, there are a lot of twists and turns packed into the half-hour single-cam series. It's "not just about death, loss, forgiveness, and friendship, but also about what it's like to be a woman in your forties going through all of that," says Feldman. "These are things that you never really see women go through in a real way on television."
The creator says that storyboarding its 10 episodes was a learning experience, considering her background in network TV. "Writing for multicamera shows [is] pretty straightforward and pretty formulaic," she admits. "We were sort of making this up as we went along."
Despite its grim plot points, "Dead to Me" is also very funny. "There's nothing inherently hilarious about death, but in anything you go through in life, if you look at the details, you will find something funny," Feldman says. She and her fellow writers consulted with real-life grief counselors and shared their own experiences of loss to craft the show.
Straddling her scripts' fine balance of heartache and hilarity are the series' more than capable actors, and with classics like "Married With Children" and "Freak and Geeks" on their respective résumés, Applegate and Cardellini are no strangers to the small screen, either. Having them on board was "just absolutely more than I could have dreamed of," Feldman says. "The way that they elevated every word and the way that they connected with each other and to me as we made it—this was such a team effort. It was a really incredible, creative relationship."
With "Dead to Me," Feldman is grateful to get to explore something entirely new. "I've had a weird career trajectory," she says with a laugh. It all started at the age of 15, when she responded to an ad for kid comedians in Backstage. From there, she got a writing gig, and "the rest is history," she says. "You never really know where things are going to go."
Her advice for aspiring writers who want to create and drive their own projects is to not "get in your own way, if you have something to say, let people hear it. Something that I realized in creating this show is that we all have a story inside of us that we want to tell, [but] we might be scared to be vulnerable or to look messy." It's by exploring deeply personal topics on "Dead to Me" that Feldman has broken through to a new level of storytelling.
Want more great advice from creators of film, television, and theater? We've got all that and more right here!