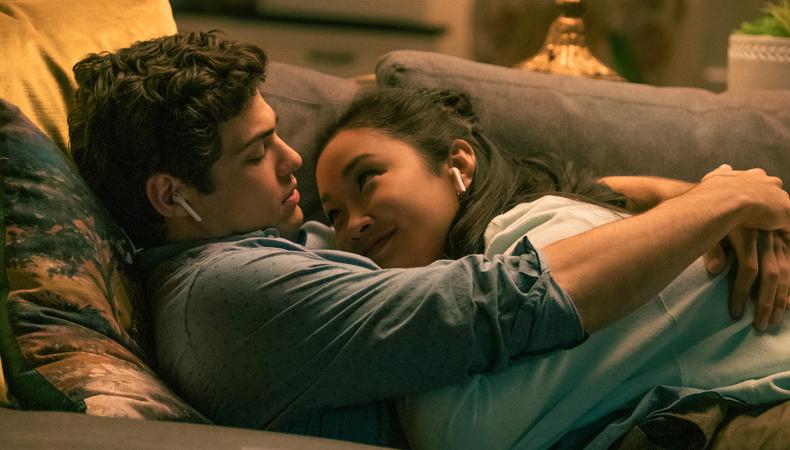 The "To All the Boys I've Loved Before" franchise set a new media precedent as the first film series ever created specifically for streaming. However, producer Matt Kaplan initially took a very old-school approach: He picked up the phone and called the author of the books on which the movies are based and asked if he could have the rights. Ahead of the Feb. 12 premiere of "To All the Boys: Always and Forever," the third and final installment of the Netflix series, Kaplan reflects on the gamble that paid off—and led the rest of the streaming industry by example.
What about the books jumped out to you as perfect for an on-camera adaptation?
I had actually read the books years prior to getting involved in making [the films]. They were at another film studio, and that studio hadn't yet made them. So, I just cold-called the author [Jenny Han] and said how much I enjoyed her books, and that I was interested in developing them into movies, and she was just lovely about it. She and I kind of saw the films the same way, and we collaborated over the course of about a year. We started working on the script, and we had met a playwright by the name of Sofia Alvarez, and we went with her. She wrote an amazing script, and we were off to the races. God, it feels like yesterday and also years ago that we were in that process. It really just started with me calling Jenny Han.
This was the first film series ever created for streaming. Why was that the right format for telling this story?
Obviously, as a producer, I've grown up thinking about my films being in theaters. I kind of have stuck to making movies in the YA space. We made a film that I was really proud of called "Before I Fall," with Zoey Deutch, and we put it in theaters and it went to Sundance and ultimately got a great response, but in theaters it performed OK. It was the highest-grossing indie of that year, but again, in terms of return and in terms of sheer volume of eyeballs, I felt like we could've even done better. And so when we had made "To All the Boys" and I looked at the movie, I was like, Wow, this one could be special like that one. I felt like maybe it was time to explore these streaming services.
Netflix at that moment was not yet making the 150 or whatever it is massive tentpoles at that time [that it is today]. I felt like, wait a minute, people like myself and younger were all on Netflix. At that moment, my parents weren't, but everyone my age and below me was. And I felt like that's probably where we were gonna get the biggest reach of young adults—and, ultimately, they came and they seemed to love the movie. And Netflix has been such an amazing partner in distribution and marketing and their ability to get it out to the world. They helped us build this into a massive franchise.
"I've had most success in just having a point of view and then having the chutzpah to go out there and try to make it happen."
Do you feel like you were ahead of the curve a bit in the streaming sense, given the state of the streaming industry today?
Yeah, we did a lot of things on that particular film that I'm really proud of. It was really important to Jenny Han, from the day that I approached her wanting to adapt her books, that we made sure the lead character, and the culture around that lead character, was from the perspective of a Korean American. The idea that Asian markets could get this movie at the same time as the American market when we put it out, I just felt like, Wow, this is kind of how we're all interacting on Instagram and on Twitter, why should film ultimately be any different? That's what's happened with the streaming services: We're all watching content globally in a much more user-friendly way. And now, as we're all sitting at home, you kind of can't get enough. I watched "The Queen's Gambit" over a weekend. All of us are now in that cycle.
The films have turned its leads, Lana Condor and Noah Centineo, into superstars, but they were unknowns prior. How did you find and cast them?
I wish there was a better or a more fun answer, but we cast a wide net, because it wasn't as if there was some massive teen female Asian demo. And Lana just came in and knocked it out of the park in her audition. And then, ultimately, between Lana and Noah, their chemistry, which obviously has translated through the films, it was kind of just the traditional process. We just fell in love with them in the way I think audiences have. It was so apparent from the start.
What are general things you look for when casting, particularly when casting younger actors?
For me, it's about being true to yourself as an actor, especially when you're dealing with younger actors. Some people are trained, some people aren't. But, ultimately, when you come across someone who has a voice and you can kind of tell what their voice is, whether it's comedic or dramatic, there's something unique about them. I don't think I respond well when it feels like they're trying too hard or it's not authentic to them. And many times, at least how I've cast, it's, Are they true to the role? Lana is very much Lara Jean, she is the sweet, kind, thoughtful, book-reading, letter-writing human in real life. I guess my advice would be, to young actors, just be who you are, because we feel it. With Noah, it was the same thing. Noah just is a leading man even in the way he carries himself on set; he exudes energy and makes everyone better around him. You feel that when you're in the room with him, and you feel that when he's onscreen.
What are you as a producer looking for in prospective projects that makes you say, "I want to put my muscle behind this"?
We're always trying to break new talent and new voices at our company. One of our company mottos is, Let's be the people who continue to take the risk, and break people, and look for the new voice. Whether that's a new writer—like Sofia Alvarez, she was a playwright when she wrote "To All the Boys." Lana Condor and Noah Centineo had been in stuff, but they weren't where they are today, in terms of the public eye. That's something we get great satisfaction from. For example, the last movie we just completed, there's a young actress by the name of Talia Ryder who we're absolutely obsessed with. I hadn't known her, and I hadn't even seen her movie yet ["Never Rarely Sometimes Always"]. She just came in and auditioned for us across from Jordan Fisher and was just unbelievable.
The same thing goes across the board. A lot of the directors we work with are first-time feature directors. We spend a lot of time going to the festivals, watching shorts. Everyone wants to say, "Well, how do you find [new talent]?" The short answer is: There is no short answer; it's doing the work. It's meeting with a lot of people, talking to a lot of agents and managers about who people are excited about. But then you've got to spend the hours watching those shorts and those movies and having a real strong sense of what you believe is right. All the executives at our company love what we do, and I think you can see it in our work. Time and time again, we're hiring directors who have never made movies, but I think we've had some success because we've bet on a lot of the right people.
What, then, is the advice you'd give to the next generation of producers?
Ultimately, it's about having great mentors and having the proper training. I would say, just jump into an agency or jump into a production company and find a way to get started. But once you do, it is a little bit of—circling back to how it all happened with "To All the Boys"—don't be afraid to just cold-call that author or that agent when you actually have the passion. Because it's never gonna be easy. And the fact is, if I don't pick up the phone and call Jenny Han, who I have no idea who this person is personally, then she probably doesn't allow me to run with her book. The same thing happened with "Before I Fall." I called the author and asked for her blessing. I've had most success in just having a point of view and then having the chutzpah to go out there and try to make it happen.
Looking for remote work? Backstage has got you covered! Click here for auditions you can do from home!