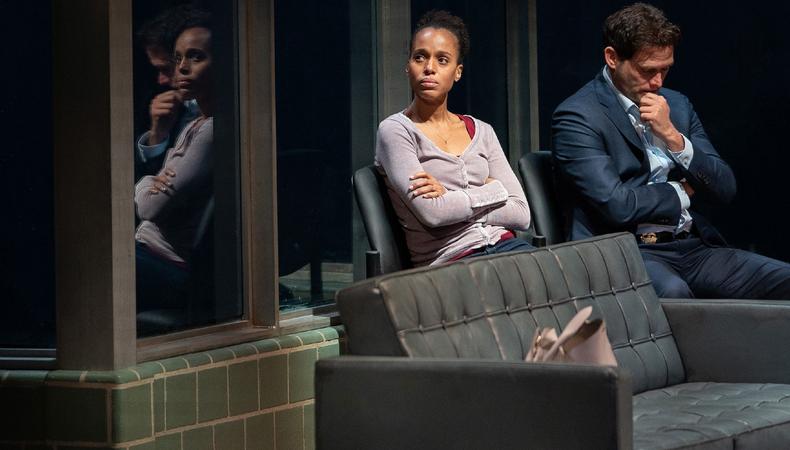 Netflix is looking to the theater for one of its latest projects. The streamer has announced the Broadway play "American Son," starring Kerry Washington ("Scandal") and Steven Pasquale ("Rescue Me"), will be adapted for its platform, indicating a growing trend for the industry giant: making stage performances digitally accessible.
Netflix has already begun building its canon of live standups from comedy giants including Dave Chappelle, Chris Rock, Ellen DeGeneres, and dozens more, and has dipped its toe into the Broadway terrain before with John Mulaney and Nick Kroll's play-standup hybrid "Oh, Hello," John Leguizamo's one-man show "Latin History for Morons," and the recording of Bruce Springsteen's "Springsteen on Broadway." But the filming of "American Son" signals a tonal shift for the company away from comedy and into drama.
Written by Christopher Demos-Brown, "American Son" centers on an interracial couple seeking information from Florida police officers on the whereabouts of their missing son. The play, which closed on Broadway Jan. 27, received rave reviews for its compelling portrayal and analysis of race and policing in the United States. With television star power courtesy of Washington and Pasquale, Netflix is making a bet that political theater pieces backed by big names will find a larger audience with its users. The production's original cast and crew—including director Kenny Leon and co-stars Jeremy Jordan and Eugene Lee—will reassemble for a run of the show in February that will be filmed without an audience present.
READ: How to Get Cast in a Netflix Original Film
"American Son" is not the first play exploring such poignant themes to be professionally filmed and streamed online. In 2018, Amazon Prime commissioned Oscar nominee Spike Lee ("BlacKkKlansman") to film Antoinette Nwandu's "Pass Over." Amazon has also begun circulating theatrical enterprises with its sibling company Audible, creating a theater division that's worked with Carey Mulligan's "Girls & Boys" Off-Broadway and developed an endowment for new play development. (Audible recently announced its newest group of playwrights set to receive funding from the audiobook company to create original theater content for the digital service.)
Investments from these titanic organizations indicate a rejuvenated focus on theater in a competitive digital media landscape, and an opportunity for theater actors to receive the same exposure as their small- and big-screen counterparts.
Netflix has been on a mission to produce as much original content as possible while companies providing a bulk of that content—Disney, NBC, and CBS to name a few—develop their own streaming platforms. This drive has led to a dynamic global campaign of content development that will likely include the live stage if "American Son" is any indication.
Keep up to date with all things Netflix (including casting calls) here!