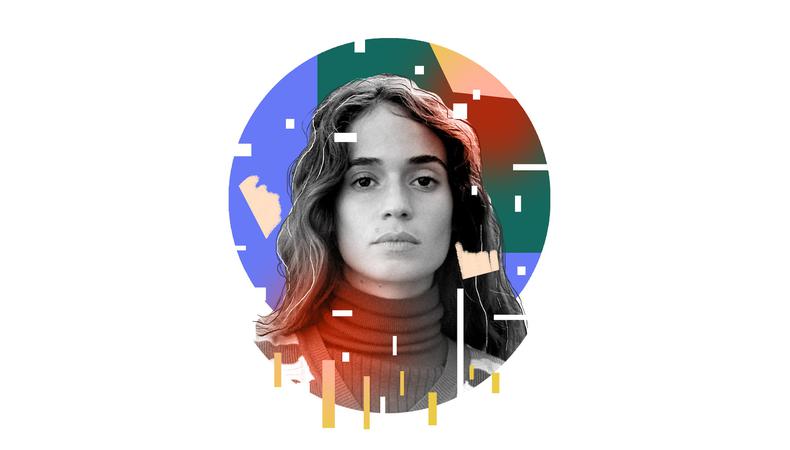 Niv Sultan has an origin story most actors only dream of. After accompanying her friend to a meeting with an agency in Israel, she was noticed by one of the office's agents, who promptly sent her on an audition. She landed the part, a role on an Israeli teen show. Now, Sultan has been introduced to international audiences, starring on the Apple TV+ thriller "Tehran," where she stars as Tamar, a Mossad agent on her first mission in Iran. The Season 1 finale premieres Oct. 30.
"When I finished my army service, I decided this is the time. Then, I went to an agency here in Tel Aviv, started to do some auditions."
What was the moment you decided you wanted to be an actor?
Ever since I was a child, watching TV and movies, I always felt some kind of connection to this profession and felt that I wanted to be inside the TV and portraying these kinds of characters. I was born in Jerusalem, and Jerusalem is so far from show business in Israel. Everything happens in Tel Aviv. As a child, I took some drama in school, but nothing else. When I finished my army service, I decided, This is the time. Then, I went to an agency here in Tel Aviv, started to do some auditions, and had some parts here in Israel. After two years, I went to a drama school for three years at an amazing program here in Tel Aviv.
What performance should every actor see and why?
For an actor, "Black Mirror," "Game of Thrones."
How did you land your first agent?
It's a funny story: A very good friend of mine, he already had an agent. I had just finished my army service and he told me he had some meetings with an agent and he was like, "Why don't you just come with me?" So I went and I sat there in the lobby of the agency. They were inside the room, talking and meeting and I was waiting and hoping for someone to notice me. I read some magazines that were on the table, I was super patient. And she noticed me! The agent, when she came out of the room, the moment she saw me, she was like, "You know, there's an audition for a character and they can't find the right actress, and you seem good for the role. Can you memorize lines?" And I was like, "Yeah," and then she was like, "Do you think you could do it by tomorrow," and I was like, "Yeah!" And so it was. I went the [next] day to the audition and got the part. It was a teen TV series.
READ: How to Know It's Time to Fire Your Reps,
According to This Apple TV+ Star
Tell me about your first day on that set.
I was so nervous. I couldn't understand so many people, so many things that you had to think about going throughout the scene. You have a camera inside your nose. I remember being like, how can I focus on something when the camera is so close to my face? But it was fascinating and super exciting.
What advice would you give your younger self?
Stay cool, always.
Do you have any nightmare audition stories you can share?
One of my auditions, we started the take, it was a huge panel of six or seven people. I started the text and suddenly someone just started to laugh really hard. They were like, "I'm sorry, I'm sorry." I was like, "Did I do something wrong? Am I out of focus?" And they were like, "No, it's something between us." As an actor, people are laughing in your face—it wasn't easy. I took a deep breath and did it from the top. And I didn't get the part. [Laughs]
How do you typically prepare for auditions?
Focusing on not looking right or left, not focusing on who is before me [or] who is after me in the audition room. Focusing on being there in the moment.
"Tamar's journey is so fascinating. She's so strong physically and emotionally. I had to deal with so many challenges as an actress."
Tell me about the audition process for "Tehran."
When I first got the audition, I remember I was standing in my kitchen and I was thinking out loud, This part has to be mine. I got really obsessed about it. I wanted it so bad. When I stepped into the room, I was super nervous, I was super stressed. I wanted it so bad that things go wrong. It was a very emotional scene [and the emotions] didn't happen. I was so stressed and so inside my nerves. Danny [Syrkin], the director, said, "I don't feel anything. I don't know what to say, I can't feel anything." I was so depressed. I went out of the audition and I started to cry. I was thinking to myself, "Now you're crying? You should cry inside, not here." I thought I'd lost the role. Two or three weeks after, they called me for another one and I was super happy. I remember thinking, This time you're going to be relaxed and focus just on the character and the part and the text.
I read you darkened your hair and eyebrows before your audition for "Tehran." Was that the wildest thing you've ever done to get a role?
I thought there's no way I'm going to lose that part because of my light hair, just because I don't look Persian enough. I sprayed my hair with some disgusting black spray and colored my eyebrows. In fact, most of the time, I'm focusing on being a good actress. But this time I thought I had to do a bit more.
What has your role in "Tehran" added to your acting skills?
It was an action role, which I've never done before. I had to learn some Krav Maga, which was super fun. It's not only an action role—it is, in that it's an espionage, thrilling show—but much, much more than this. Tamar's journey is so fascinating. She's so strong, physically and emotionally. I had to deal with so many challenges as an actress, not only with the Krav Maga and the Farsi I had to learn. It's the first time I'm acting in English and not Hebrew. We shot everything in Athens. It was a very special experience. It wasn't like anything I'd done before.
Looking for remote work? Backstage has got you covered! Click here for auditions you can do from home!