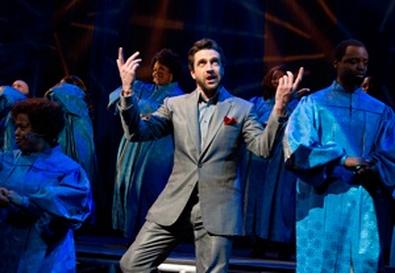 You know you're in trouble at "Leap of Faith" even before the show starts, when actors pretending to be revivalists distribute what are supposed to be dollar bills to the audience, so we will have something to put in the collection basket when it's passed. How many phony preachers distribute money to the audiences they plan to fleece? It makes about as much sense as this ersatz musical does, which, like its cinematic source, is a compendium of formulaic characters and clichéd situations all too obviously cribbed from better and more original works. Bathed in composer Alan Menken and lyricist Glenn Slater's generic score and driven to an artificial frenzy by Christopher Ashley's desperately meta direction and Sergio Trujillo's repetitive choreography, the show is busy, empty, and, worst of all, boring.
After
an unsuccessful tryout
at Los Angeles' Ahmanson Theatre in 2010, where under director-choreographer Rob Ashford's aegis "Leap of Faith" was a straight-ahead, character-based, narrative-driven musical, the producers brought in "Memphis" collaborators Ashley and Trujillo. They also relieved Slater of his book-writing chores (which he shared with Janus Cercone, author of the original screenplay), replacing him with Tony Award–winning playwright Warren Leight. The new team then proceeded to address the musical's myriad dramaturgical problems by burying them under flash and trash, framing the proceedings with the conceit that con man Jonas Nightingale is conducting a revival right here, on the stage of the St. James Theatre. The result is seriously unpersuasive and allows the authors to indulge in an endless stream of interchangeable gospel performance numbers and unmotivated direct addresses to the audience that add nothing while robbing the show of the stage time necessary to properly develop its characters and story.
When the bus carrying Jonas' itinerant troupe breaks down outside the small town of Sweetwater, Kan., the charlatan and his cynical sister, Sam, the group's company manager, decide to pitch their tent. The drought-ridden townsfolk are ripe for the plucking, but widowed local sheriff Marla McGowan isn't impressed. (Leight's one good idea has been to create Marla out of two of the film's characters: a skeptical male sheriff and a vulnerable waitress.) Marla's also worried that Jonas will raise false hope in her wheelchair-bound teenage son, Jake, who was injured in the car accident that killed his father. Her concerns somehow don't stop her from leaping into the sexy Jonas' bed. He admits that he's a phony and promises that he won't try to heal Jake onstage, but we all know how that is likely to turn out. Also in the mix are Ida Mae Sturdevant, the goodhearted African-American leader of Jonas' backup choir; her flashy daughter, Ornella; and her serious-minded son, Isaiah, who is studying to be a preacher.
Trapped in this mess is Raúl Esparza, a first-rate musical theater actor being asked to elevate the material through the kind of charismatic star power that is antithetical to what he does. When handed a decent if unremarkable book song, such as "I Can Read You," in which Jonas and Marla size each other up, Esparza connects and a character momentarily crystallizes. Most of the night, however, he is stranded center stage with nothing but attitude to play, and the results are awfully hollow. Jessica Phillips brings a dry presence and a strong voice to Marla but can't negotiate the character's contradictions. The talented Kendra Kassebaum is a rigorously honest Sam and sings with an appealing bruise in her voice. As Jake, Talon Ackerman is boyishly ingratiating but unconvincing in the young man's deep faith. Kecia Lewis-Evans, as Ida Mae, delivers sass, dignity, and soulful vocals, Krystal Joy Brown is a vivacious Ornella, and Leslie Odom Jr., late of TV's "Smash," plays a construct with sincerity.
The disappointingly unimaginative physical production from such top talents as Robin Wagner (set), William Ivey Long (costumes), and Don Holder (lights) suggests budgetary constraints. But what's really disheartening is that all the problems should have been foreseen in one viewing of the film. Perhaps the creators believed they'd get their own miracle.
Presented by Michael Manheim, James D. Stern, Douglas L. Meyer, Marc Routh, Richard Frankel, Tom Viertel, Steven Baruch, Annette Niemtzow, Daryl Roth, Robert G. Bartner, Steven and Shanna Silva, Endgame Entertainment, Patricia Monaco, Debi Coleman, Dancap Productions, Steve Kaplan, Relativity Media, Rich/Caudwell, and Center Theatre Group, in association with Michael Palitz, Richard J. Stern, Melissa Pinsly/Celine Rosenthal, Independent Presenters Network, Diana Buckhantz, Pamela Cooper, Vera Guerin, Leading Investment Co., Christina Papagjika, Victor Syrmis, Semlitz/Glaser Productions, and Jujamcyn Theaters, at the St. James Theatre, 246 W. 44th St., NYC. Opened April 26 for an open run. Tue. and Thu., 7 p.m.; Wed., Fri., and Sat., 8 p.m.; Wed. and Sat., 2 p.m.; Sun., 3 p.m. (212) 239-6200, (800) 432-7250, or www.telecharge.com. Casting by Telsey + Company
.