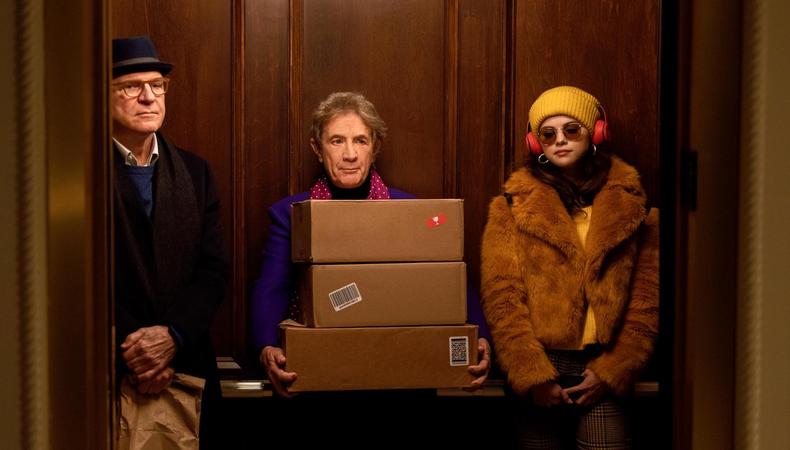 As we prepare for the 28th Screen Actors Guild Awards, Backstage is breaking down this year's film and television ensemble work for your consideration. For more voting guides and roundups, we've got you covered here.
Main cast: Aaron Dominguez, Selena Gomez, Jackie Hoffman, Jayne Houdyshell, Steve Martin, Amy Ryan, Martin Short
Casting by: Destiny Lilly
Created by: John Hoffman and Steve Martin
Distributed by: Hulu
Hulu's "Only Murders in the Building" is a prime example of how unlikely pairings in casting can make for something spectacular. Who would have thought a banjo-playing comedian, a Canadian improv legend, and a former Disney Channel kid would give us one of the best whodunits in years?
Starring Steve Martin, Martin Short, and Selena Gomez as neighbors and true-crime podcast lovers who find themselves attempting to solve a murder in their building, the Arconia, this series proves to be almost as fun as its actors.
Martin, who co-created the show with John Hoffman, leads the trio as Charles-Haden Savage, an actor who was popular in the 1990s and is now hungry for excitement. In what's perhaps Martin's most true-to-life role yet, he gets some classic "actor's life" moments: hanging out with his stunt double (played by Jane Lynch, in one of the series' best gags) and skipping an audition to interrogate a suspect. But he also gets the chance to build dramatic tension and deliver satisfying comedic payoffs. Martin makes it easy to root for Charles—even if his neighbors at the Arconia won't.
Frenemy and fellow resident Oliver Putnam (Short) is along for the ride; he's an eccentric, washed-up Broadway director who's struggling to pay rent. Short is no stranger to playing oddballs, and his over-the-top charisma shines on all 10 episodes. The series deals with heavy subject matter (like, you know, murder), but Short's perfect timing offers much-needed levity. The running gag of Oliver's zany fantasy sequences, in which he casts and directs every one of the suspects, never gets old.
Gomez is fun to watch as their counterbalance, the straight-faced Mabel Mora, a mysterious young woman and Arconia resident who joins the investigation. From the get-go, Mabel is obviously an asset to the mission, but she initially comes off as cold. Still, she maintains genuine chemistry with her co-stars and soon gets the opportunity to explore her character's vulnerabilities.
Acting alongside these three powerhouses makes the standout supporting cast all the more remarkable. Aaron Dominguez stars as Oscar, a friend from Mabel's past who served time for a crime he didn't commit. The actor plays it oh so cool; his confidence makes him seem likable and trustworthy—which shouldn't be the case on a show in which no character is automatically innocent. Even with the twists and turns Oscar's path takes, he makes you feel that you're standing on solid ground.
Nathan Lane plays Teddy Dimas, an Arconia resident and former investor in Oliver's stage productions. Teddy's exchanges with Oliver as the latter tries to convince him to support his podcast, as well as Teddy's dynamic with his deaf son, Theo, gives the scene-stealing Lane time and space to breathe.
Theo, played by James Caverly, gets some pivotal moments himself—particularly in Episode 7. There's almost no audible dialogue in the course of the half hour; instead, the episode focuses on communication through American Sign Language and physicality. Caverly doesn't miss a beat, offering an inside look at both the beauty and the challenges of deafness.
Amy Ryan, as professional bassoonist Jan, adds a wholesome energy—with some surprising kinks thrown in—that underscores her developing relationship with Charles. Da'Vine Joy Randolph as Detective Williams—who rules the murder in question to be an open-and-shut case of suicide—delivers a straightforward, impatient attitude that makes her one of the series' most relatable characters. Despite being in way over their heads, leaving it to professionals like Williams is never an option for the trio, and that tension makes for comedy gold.
"Only Murders in the Building" is one of the surprise hits of the year thanks to a charismatic cast with pitch-perfect overlaps and complementary skills. Season 2 has a clear launchpad— which is a relief, considering how attached we are to these characters already.
Want more? Stay in the loop with everything you need to know this awards season right here!