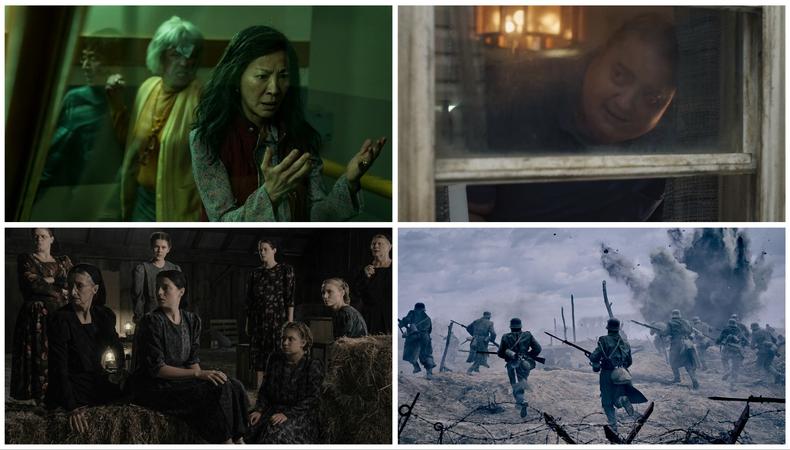 On March 12, the 95th annual Academy Awards honored the best films of 2022. A24's "Everything Everywhere All at Once," directed by filmmaking duo Dan Kwan and Daniel Scheinert, was the night's big victor, taking home seven statuettes—including for best picture.

The sci-fi action-comedy headed into the ceremony with a whopping 11 nominations, then kicked off the proceedings with back-to-back wins for Ke Huy Quan for best supporting actor and Jamie Lee Curtis for best supporting actress. "Dreams are something you have to believe in. I almost gave up on mine," Quan said in his acceptance speech. "To all of you out there, please keep your dreams alive."
Later in the night, the Daniels took home gold for original screenplay and directing. Soon afterward, Michelle Yeoh capped off the cast's run with a win for best lead actress—not only the Hollywood legend's first Academy Award, but also the first statuette for an Asian actor in the category.
"For all the little boys and girls who look like me watching tonight, this is a beacon of hope and possibilities," Yeoh said. "This is proof that dreams come true. And ladies, never let anybody tell you that you are past your prime."
Brendan Fraser tied a bow around his own comeback story with a best lead actor win for "The Whale."
"I started in this business 30 years ago, and things, they didn't come easily to me. But there was a facility that I didn't appreciate at the time, until it stopped," he said. "And I just want to say thank you for this acknowledgement. Because it couldn't be done without my cast."
Best international film winner "All Quiet on the Western Front" rolled its way to four Oscars—the second-highest tally of the night—a run that also includes best original score, cinematography, and production design. Elsewhere, Ruth. E Carter became the first Black woman in history to win two Academy Awards thanks to her best costume design win for "Black Panther: Wakanda Forever."
Here's the full list of this year's Oscar winners.
Best picture
"All Quiet on the Western Front"
"Avatar: The Way of Water"
"The Banshees of Inisherin"
"Elvis"
"Everything Everywhere All at Once" (winner)
"The Fabelmans"
"Tár"
"Top Gun: Maverick"
"Triangle of Sadness"
"Women Talking"
Director
Martin McDonagh, "The Banshees of Inisherin"
Dan Kwan and Daniel Scheinert, "Everything Everywhere All at Once" (winner)
Steven Spielberg, "The Fabelmans"
Todd Field, "Tár"
Ruben Östlund, "Triangle of Sadness"
Performance by an actor in a leading role
Austin Butler, "Elvis"
Colin Farrell, "The Banshees of Inisherin"
Brendan Fraser, "The Whale" (winner)
Paul Mescal, "Aftersun"
Bill Nighy, "Living"
Performance by an actress in a leading role
Cate Blanchett, "Tár"
Ana de Armas, "Blonde"
Andrea Riseborough, "To Leslie"
Michelle Williams, "The Fabelmans"
Michelle Yeoh, "Everything Everywhere All at Once" (winner)
Performance by an actor in a supporting role
Brendan Gleeson, "The Banshees of Inisherin"
Brian Tyree Henry, "Causeway"
Judd Hirsch, "The Fabelmans"
Barry Keoghan, "The Banshees of Inisherin"
Ke Huy Quan, "Everything Everywhere All at Once" (winner)
Performance by an actress in a supporting role
Angela Bassett, "Black Panther: Wakanda Forever"
Hong Chau, "The Whale"
Kerry Condon, "The Banshees of Inisherin"
Jamie Lee Curtis, "Everything Everywhere All at Once" (winner)
Stephanie Hsu, "Everything Everywhere All at Once"
Original screenplay
Martin McDonagh, "The Banshees of Inisherin"
Dan Kwan and Daniel Scheinert, "Everything Everywhere All at Once" (winner)
Steven Spielberg and Tony Kushner, "The Fabelmans"
Todd Field, "Tár"
Ruben Östlund, "Triangle of Sadness"
Adapted screenplay
Edward Berger, Lesley Paterson, and Ian Stokell, "All Quiet on the Western Front"
Rian Johnson, "Glass Onion: A Knives Out Mystery"
Kazuo Ishiguro, "Living"
Ehren Kruger, Eric Warren Singer, and Christopher McQuarrie, "Top Gun: Maverick"
Sarah Polley, "Women Talking" (winner)
Cinematography
James Friend, "All Quiet on the Western Front" (winner)
Darius Khondji, "Bardo: False Chronicle of a Handful of Truths"
Mandy Walker, "Elvis"
Roger Deakins, "Empire of Light"
Floran Hoffmeister, "Tár"
Documentary feature
"All that Breathes"
"All the Beauty and the Bloodshed"
"Fire of Love"
"A House Made of Splinters"
"Navalny" (winner)
Film editing
Mikkel E.G. Nielsen, "The Banshees of Inisherin"
Matt Villa and Jonathan Redmond, "Elvis"
Paul Rogers, "Everything Everywhere All at Once" (winner)
Monika Willi, "Tár"
Eddie Hamilton, "Top Gun: Maverick"
International feature film
"All Quiet on the Western Front" (winner)
"Argentina, 1985"
"Close"
"EO"
"The Quiet Girl"
Animated feature film
"Guillermo del Toro's Pinocchio" (winner)
"Marcel the Shell With Shoes On"
"Puss in Boots: The Last Wish"
"The Sea Beast"
"Turning Red"
Original song
Diane Warren, "Applause" (from "Tell It Like a Woman")
Lady Gaga, "Hold My Hand" (from "Top Gun: Maverick")
Rihanna, "Lift Me Up" (from "Black Panther: Wakanda Forever")
M.M. Keeravaani and Chandrabose, "Naatu Naatu" (from "RRR") (winner)
David Byrne, Mitski, and Ryan Lott, "This Is a Life" (from "Everything Everywhere All at Once")
Original score
Volker Bertelmann, "All Quiet on the Western Front" (winner)
Justin Hurwitz, "Babylon"
Carter Burwell, "The Banshees of Inisherin"
Son Lux, "Everything Everywhere All at Once"
John Williams, "The Fabelmans"
Sound
"All Quiet on the Western Front"
"Avatar: The Way of Water"
"The Batman"
"Elvis"
"Top Gun: Maverick" (winner)
Production design
"All Quiet on the Western Front" (winner)
"Avatar: The Way of Water"
"Babylon"
"Elvis"
"The Fabelmans"
Visual effects
"All Quiet on the Western Front"
"Avatar: The Way of Water" (winner)
"The Batman"
"Black Panther: Wakanda Forever"
"Top Gun: Maverick"
Costume design
Mary Zophres, "Babylon"
Ruth E. Carter, "Black Panther: Wakanda Forever" (winner)
Catherine Martin, "Elvis"
Shirley Kurata, "Everything Everywhere All at Once"
Jenny Beavan, "Mrs. Harris Goes to Paris"
Makeup and hairstyling
Heike Merker and Linda Eisenhamerova, "All Quiet on the Western Front"
Naomi Donne, Mike Marino, and Mike Fontaine, "The Batman"
Camille Friend and Joel Harlow, "Black Panther: Wakanda Forever"
Mark Coulier, Jason Baird, and Aldo Signoretti, "Elvis"
Adrien Morot, Judy Chin, and Anne Marie Bradley, "The Whale" (winner)
Short film (live-action)
"An Irish Goodbye" (winner)
"Ivalu"
"Le Pupille"
"Night Ride"
"The Red Suitcase"
Documentary (short subject)
"The Elephant Whisperers" (winner)
"Haulout"
"How Do You Measure a Year?"
"The Martha Mitchell Effect"
"Stranger at the Gate"
Short film (animated)
"The Boy, the Mole, the Fox, and the Horse" (winner)
"The Flying Sailor"
"Ice Merchants"
"My Year of Dicks"
"An Ostrich Told Me the World Is Fake and I Think I Believe It"