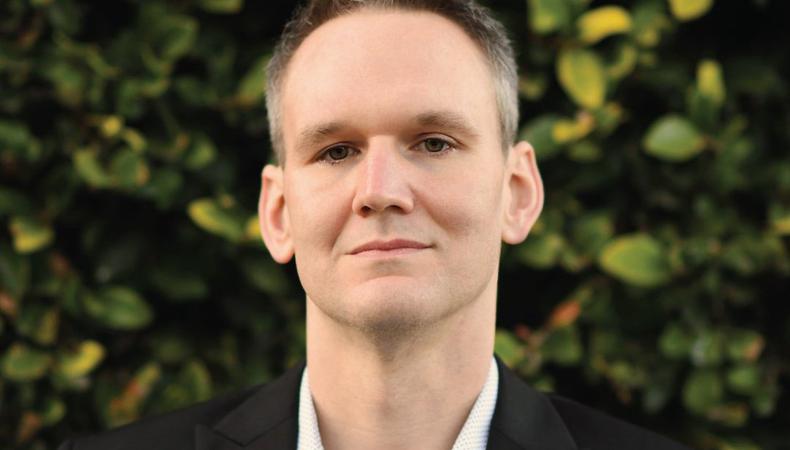 Welcome to Behind the Fest, Backstage's questionnaire series with film festival figures looking for that next big festival hit. Featuring behind-the-scenes insight from the organizers and programmers at Sundance, TIFF, Cannes, and more fests from around the globe, these tips might just hold the key to your indie film success story!
For the first time in its 38-year history, the LGBTQ film festival Outfest Los Angeles will be going digital. For a flat membership fee of $59.99, audiences will be given access to the most diverse lineup the fest has ever seen with over 70 percent of films directed by filmmakers who identify as women, transgender, and people of color.
With more than 160 features and short films across 11 days, the festival will be fully online via the organization's Outfest Now portal plus weekend drive-in screenings at Malibu's Calamigos Ranch and Hotel Resort.
Backstage spoke with Director of Festival Programming Mike Dougherty about the new digital landscape this year and how the organization continued their fierce commitment to sharing LGBTQIA+ stories even against drastic new changes. Outfest Los Angeles will take place August 20–30, 2020.
Tell us about the festival and how this year's shift to digital has been, and the new collaboration with other LGBTQ fests.
Outfest's origins trace back to 1982, when two UCLA students started an on-campus, gay- and lesbian-focused film festival. Since then, it has grown into an organization that not only includes arguably the world's foremost LGBTQIA+ film festival, but educational programs for the next generation of queer storytellers, preservation, restoration, and exhbition of queer media by the Outfest Legacy program, and more programs still being devised.
Having to shift the entirety of the organization—not only the film festival, but everything—to the digital space has of course been a challenge, but our team joined Outfest because of their fierce commitment to our mission statement, and I've been really moved by the dedication our small, talented team has shown.
Back in June, Outfest alongside Frameline (San Francisco), Inside Out (Toronto), and NewFest (New York City) started the North American Queer Festival Alliance, intended as a partnership not just among those four organizations, but as many similar organizations in North America looking to connect to queer audiences on a larger scale now that everyone's attention has turned to the digital space. All of our organizations have similar goals, and different strengths we can bring to making them happen, and it only makes sense in these difficult times to join forces and get as many eyes on queer artists as we can. We began with a livestream discussion about Sam Feder's brilliant documentary on Netflix, "Disclosure," led by Raquel Willis and featuring Sam, Laverne Cox, Jen Richards, Brian Michael Smith, Chase Strangio, MJ Rodriguez, and more.
What is Outfest's purpose, mission, outlook?
I think as the years have gone by, the original mission of Outfest has strengthened and expanded. We always want to give visibility to the diverse range of stories within the LGBTQIA+ community, and the festival does that beautifully. But we've got lots more in addition to the festival to think about. We are uniquely placed in Los Angeles to give our filmmakers access to key industry players through meetings, through workshops, through our educational programs. There's a hunger for storytelling from our community, and we can directly connect the industry with extremely talented people who are equipped to tell those stories.
What sets Outfest apart from other festivals?
In terms of the broader festival landscape, we're crucial to showcasing stories that offer a much broader scope of our community than most mainstream festivals could ever offer. Lots of mainstream festivals reserve a percentage of their lineup for queer stories, but at most they're a sidebar, not the main focus. For queer audiences who want to hear from a multitude of voices within our community, there's nowhere better.
What's the film selection process like? What do you look for when evaluating submissions?
We get over a thousand submissions every year, in addition to the films on the festival circuit we look at. We have a team of assistant programmers who represent a diverse cross-section of our community, because we want our program to reflect that diversity. It's fantastic to be able to look at these submissions through several different pairs of eyes, to see what someone else's experiences of a film might be, how it might differ from yours. The favorites tend to rise to the top, where our senior team makes final selections.
What are the benefits for a filmmaker of submitting to the festival?
If you're selected, your film is going to be seen by people who can give you even longer life on the festival circuit, by people who can assist in your career, and by people who simply love queer art and will connect with you simply on a human level. We make industry connections, we help further your education, and we're in your family for life.
What's your advice on networking, digitally or otherwise, and getting the most out of navigating any fest?
We're working hard to migrate our industry experience into the digital space this year. It'll be a little different, but roundtables, one-on-ones, meet-ups can all be adjusted to the online environment. But all we can do is put you in the room; if you want an exec to take notice, you have to make sure you're prepared to make a case for why your film, or your future work, is something they should concern themselves with. Work through any nerves you might have and make the best case for yourself—the execs wouldn't be there if they didn't want to hear about you!
What's your number-one piece of wisdom for early-career filmmakers?
A friend of mine put it so succinctly to me a few years back when I was waiting to hear about a job and wondering if I should reach out to the employer or just wait for them to call: "I never got any of the jobs I had by not being persistent."
What's your favorite project you've seen recently?
This year—outside of our Outfest lineup—the films that have really stuck with me are Sam Feder's "Disclosure," and Eliza Hittman's "Never Rarely Sometimes Always." I'm also a super-fan of Michaela Coel's series "I May Destroy You." And you know what? "The Old Guard" was a damn blast.