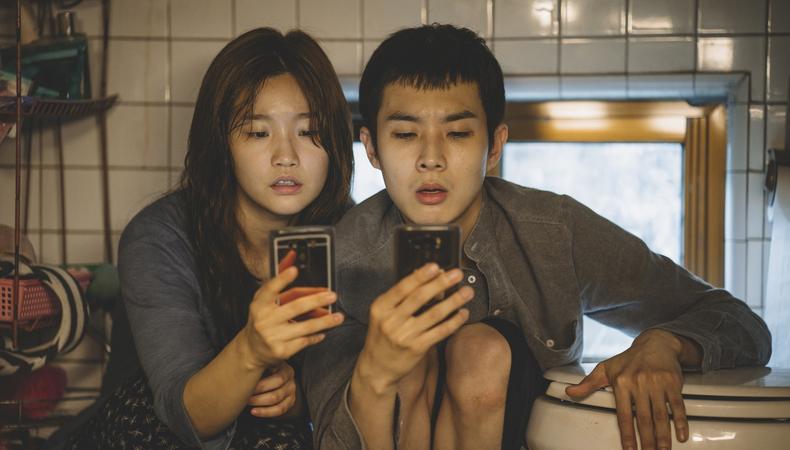 With this Year in Review, we at Backstage have picked through the weeds and found 2019's true gems of the best big- and small-screen ensemble work. And don't worry: We've got you covered with everything else you need to know this awards season right here.
Does Bong Joon-ho make films, or would they be better described as audacious forays into the writer-director's imagination, surgically removed from his brain and implanted into the big screen? Such are the questions that come to mind with his latest cinematic mindfuck, "Parasite," a movie that combines witty satire and edge-of-your-seat horror to tell the story of two vastly different but increasingly entwined families.
It's also the kind of story about which a moviegoer preparing to see it (more like experience it, on a visceral level) should know as little as possible. Bong's past efforts, including South Korean classic "The Host" and Hollywood epics "Snowpiercer" and "Okja," have relied on plot zigzags big and small, the kinds of twists you can't see coming because his stories keep shedding genres like skins. Clever comedy, rip-roaring adventure, abrupt violence, timely satire—Bong somehow shifts gears from one to the next without contradiction, creating seamless pastiches that defy classification.
READ: 'Parasite' Director Bong Joon-ho: A Film's Genre Shouldn't Change Your Performance
"Parasite" makes several shifts in its second act, the detailing of which would deprive audiences of one of the movie's greatest effects: keeping you guessing. When Kim Ki-woo (played by the wonderful Choi Woo-shik), the son of a basement apartment-dwelling family from the wrong side of the tracks, is invited to tutor for the wealthy Park family (Cho Yeo-jeong and Lee Sun-kyun play the well-heeled matriarch and patriarch, respectively) in their luxurious masterpiece of a home, a plan is formed. His sister (Park So-dam) could pass as an art therapy teacher for their son, his father (Song Kang-ho) could be offered to replace their driver, and his mother (Chang Hyae-jin) could displace their longtime housekeeper (Lee Jeong-eun). The only thing you'll be sure of is that the parasitic scheme will all come crashing down around them. But how?
Bong is rightfully already taking home statues for direction and screenplay (with co-writer Han Jin-won), becoming the first Korean filmmaker to win the Cannes Film Festival's top Palme d'Or prize. Hong Kyung-pyo's cinematography, Lee Ha-jun's production design, and Jung Jae-il's music work hand in hand to create unforgettable cinematic moments; there's a shot of the housekeeper disappearing into a dark stairwell that combines all three elements to bone-chilling effect.
But its cast, largely unknown to audiences outside South Korea, deserves to be similarly showered with accolades. Schlubby and sad-eyed, Song's Kim Ki-taek brims with pride for his poor family, getting us to root for him even as their exploits become criminal. Park So-dam's devil-may-care attitude as Kim Ki-jung would be dangerous if it weren't so fun. And Cho's ditzy Park Yeon-kyo sobs with concern for her children, making us laugh but convincing us of her essential goodness. In fact, the whole Park family is played with enough tenderness that we sympathize with rather than simply demonize them; yes, they're a little insensitive, but it's the fault of a society that fundamentally and unquestioningly separates rich from poor.
That's the most important theme to emerge from "Parasite," and the reason Bong's film will be remembered for years to come. In a world of haves and have-nots, there will always be those looking to leech off others, which is bound to get people hurt. Seeing the film's gut punch of a final shot, you'll blame the system over the flawed, funny characters brought to life by this ensemble.
This story originally appeared in the Nov. 13 issue of Backstage Magazine. Subscribe here.
Want more? Stay in the loop with everything you need to know this awards season right here!