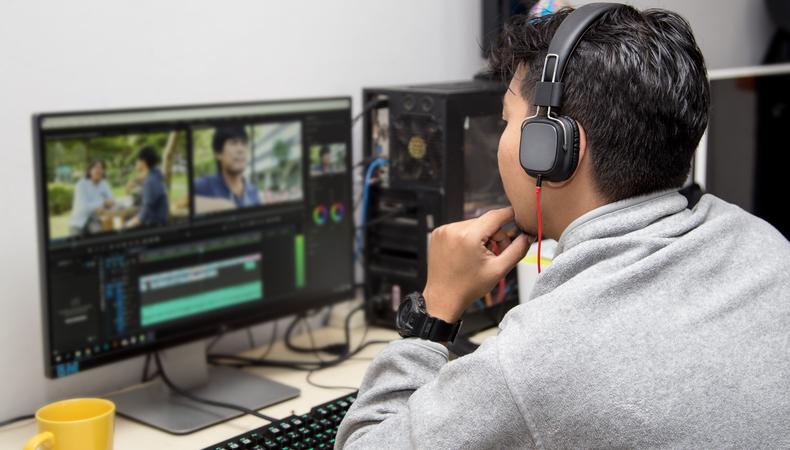 Post-Production Supervisor Job Description: What Does a Post-Production Supervisor Do?
The post-production supervisor is responsible for supervising the post-production process: pulling the final project together, making sure deadlines are met, overseeing reshoots and visual effects (particularly to make sure a project doesn't go over budget in the editing process), editing, printing, delivery, and maintaining communication between producers, editors, and companies work has been outsourced to (like film labs, FX studios, etc.). Ideally, they will also consult with the team about expectations and budgets during in pre-production.
Simply put, the post-production supervisor is the one who ties it all together down the assembly line. "We make sure everything happens when it needs to because a lot of post-production…unfolds in a domino effect, so certain things need to happen before something else can happen," Sheryl Benko ("Inglourious Basterds," "Chef"). "You have to keep all of the pieces moving together in concert to get to the finished product."
Department
Post-production
Alternate Titles for Post-Production Supervisor
n/a
Crew Hierarchy
The post-production supervisor is both the last and everpresent stop in the filmmaking process. According to Nancy Kirhoffer("Memento," "50/50"), "I basically take over from the line producer. My job is to get the film through post-production. I oversee the editing, sound, music, and I make sure it's delivered."
The post-production supervisor manages a small team including a post-production coordinator, bookings staff, and post-production assistants, but works with all departments. They answer to the producer and work collaboratively with the heads of each post-production department: production, picture and sound editing, sound mixing, music, VFX, graphics, and lab, including color, finishing, and deliverables.
Says Benko, "I have the best of both worlds with my job because I get to work with all of these great artists behind the scenes but also work closely with the directors, then the actors will come in to do their voice work, and you get to work with them on a level that you would not get to work with them on a set."
Post-Production Supervisor Salary
As a post-production supervisor, your take-home is going to depend largely upon a project's budget. Alex Ferrari of Indie Film Hustle says a good range for a post-production supervisor is 10 to 15 percent of the overall budget, so the smaller the project, the smaller the salary. But according to LinkedIn statistics, most post-production supervisors pull in a base salary of $80,800 per year on average, ranging between $57,000 - $122,000 before bonuses and additional commission. The outliers are those working on top studio projects—a Marvel movie's post supe is going to make more than the indie studio down the block—or those at significantly smaller studios.
(Post-production supervisors do not belong to a union.)
How to Become a Post-Production Supervisor
Many post-production supervisors first climb the ranks in a single post-production department, such as video or sound editorial. Not only does this get you in the door, it also allows you to become very familiar with one of the post-production aspects you'll one day oversee.
Another route to the top is to become a post-production assistant and build a list of credits. An assistant or runner position can lead to a post-production coordinator position, which can lead to a post-production supervisor position.
Post-Production Supervisor Required Experience + Skills
Because of the hands-on nature of being a post-production supervisor, the skillset for the job is incredibly multifaceted. The role requires previous experience as a post-production trainee or in a post-production role, be it an assistant or a specific department role.
In terms of education, a degree in film with additional technical training is a valuable step to take, although studies in management and/or accounting will also be beneficial. It's not a necessity to be a master in all of the different areas of post-production, but an understanding of each will be required, and if you can master one area, your chances of getting in the door are better, especially if you stay up-to-date with the way the industry and technology are changing.
30 Films Schools You Should Know
Overall, a post-production supervisor requires you to be an expert in multitasking, organizing priorities, and especially problem-solving. According to Bill Wohlken ("Green Book"), "it's a lot of plate spinning. You're dealing with managing creative people in a creative environment, but it all comes down to money and time." Part of that plate spinning will require you to understand how to plan and budget through film budgeting software, such as Movie Magic Budgeting and Gorilla.
Above all, considering a post-production supervisor has to move from department to department and facility to facility to make sure the product gets finished on time and within budget, excellent communication skills are a must. Not to mention excellent negotiating skills— how else are you going to get producers, finance companies, and studio executives to all agree?
For more on how to get work on a film crew, visit Backstage's crew hub!