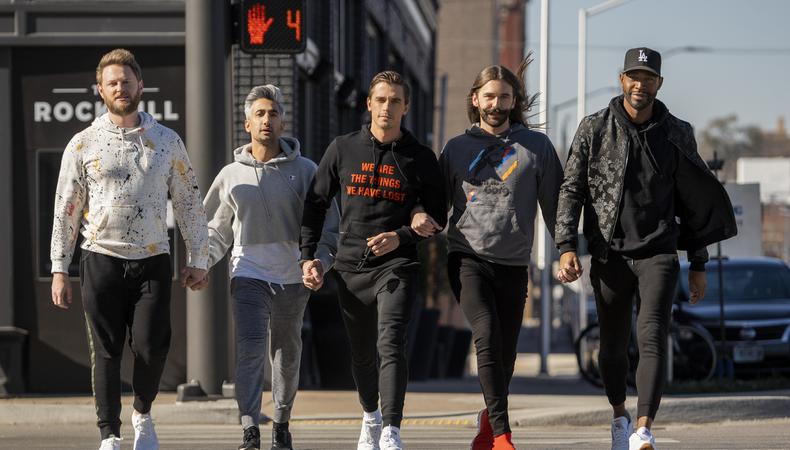 Auditions for "Queer Eye" were, in Bobby Berk's memory, " 'American Idol' meets 'America's Got Talent' meets 'Hunger Games.' Meets 'Rupaul's Drag Race!' People are crying. Wigs are getting pulled."
When casting for Netflix's reboot of the David Collins–created reality series took place in early 2018 at the Embassy Suites in Glendale, California, none of the assembled executives and 40 hopefuls could have imagined it would become such a widely impactful, lives-changing (and Emmy-winning!) hit. Hosts Karamo Brown, Tan France, Antoni Porowski, Jonathan Van Ness, and Berk have made "Queer Eye" more than just a makeover show. Despite specializing in the 2003–2007 original series' categories—food and wine, fashion, culture, grooming, and design, respectively—the new Fab Five have worked together, with irresistible chemistry and charisma, to help nominees in Georgia and the Kansas City, Missouri area transform inside as well as out. (Season 4 drops July 19.)
To commemorate LGBT Pride Month as it comes to an end, Backstage sat with the "Queer Eye" stars to relive that fateful audition and solicit advice for aspiring entertainers, be they hosts of reality-documentary franchise or otherwise, on how to book such a gig.
What do you remember about the "Queer Eye" audition?
Jonathan Van Ness: It was a really fun time. Stress-free! [Laughs.] It all took place at this Glendale Embassy Suites and I do remember very distinctly that the [casting directors are] filming it and they're watching and we're getting to know each other. And I remember David came up from behind the camera where everyone was observing and said, "Congratulations, you're five of the top 10." And I remember my heart dropped through my butthole. I just couldn't believe it. I realized in my mind, your brain has turned into like every single top two girl from "America's Next Top Model." The whole time I was like, I'll be fine if I don't get it, whatever. And then you get that close and you're like, Oh my God, I want this more than I've ever wanted anything in my whole life.

Karamo Brown: I will tell you this, what set the tone for what I think became "Queer Eye" was from David and the casting at ITV and the executives at Netflix. Because I remember distinctly there was this guy who got cut, and he felt he didn't have the best performance or day and he was sad. And they actually brought him back the next day because there was such love and compassion in the room. Normally auditions don't happen like that! You know, it's, "You're cut, go home." And I remember him crying and them saying, "We'll give you another shot." And I was thinking, bitch, if I get cut, I'm crying! No. [Laughs.] It 100 percent set the tone for all of us, the tone of being emotional, the tone of forgiveness, of love. From the beginning, in casting, we all felt it.
JVN: Oh please, I was ready to cut a bitch, girl.
[All laugh.]
KB: You were not, you were so sweet!
Tan France: The audition process is obviously a little bit nerve-wracking. I had never auditioned before and actually I do agree, I was expecting people to be mean but everybody was really lovely, they were so supportive. But my favorite part of the audition was on the first full day when we did a show and tell situation. Jonathan got up and did this show and tell. And I'd met him the night before and he was the loudest person I've ever met, he's never nervous—until he started doing his show and tell. He brought his suitcase with him, and I don't know what you'd call it—
JVN: My cassette tapes.
TF: And he was looking at us and he just kept doing this. [Twirling in place.] He was like, "I twirl when I get nervous." His whole thing was him twirling! I started journaling when I got this audition and I remember in my journal writing, "There's this guy called Jonathan van Ness who will not stop twirling."
Antoni Porowski: The second day, when people started getting cut out of the room, this is all thanks, and not thanks, to [casting director] Beyhan Oguz—she's now an Emmy Award winner, so it's fine—I asked if I could go get a coffee and she said, "Hurry up because you're up in seven minutes." So I ran across the street and jaywalked and got a $380 ticket.
READ: How the Fab Five Got Cast on 'Queer Eye'
Bobby and Tan, given your areas of expertise, you were less familiar with auditioning than Antoni, Karamo, and Jonathan, correct?
Bobby Berk: I think both of us went in thinking, there's no way we're going to get this. So just have fun.
TF: Yeah. That legitimately, truly is how I think I got it. Because I did not think I was going to get it.
KB: That's called being authentic. Being yourself!
TF: I remember thinking, I'll make friends because I'm never going to get it. And yes, that made it a lot more authentic.
JVN: Honestly, this was the first one I ever booked. I feel like after "Gay of Thrones" I would go to like two auditions a year. I got laughed out of...um...all of them. Cuz I'm a hairdresser, you know?! But with auditions I do feel like I nailed the hardest and best one ever.
So what would be your best audition advice?
BB: I almost want to say, don't want it too much.
AP: Here's the thing, if you don't want it, that's great. Because I didn't think it was humanly possible I could get this and that's part of the reason why I was invited to come back. But if you do really want it, I think the most important thing is to stay cool. That was the advice given to me: stay cool. Because whether you get it or whether you don't get it actually has nothing to do with you. You may botch it, you may not have the right nose for a part, it may be something completely out of your control. But if you keep your cool, you're able to be yourself and you're allowing them to see you for who you really are.
KB: I would say for auditioning, remember that there is a camera in the room and casting people, and that the people you're trying to impress are in the camera. So make sure you're really projecting and speaking to them.
All: Wowww! [chattering]
BB: Yeah, make sure you never forget that camera and those microphones are there. Because even if there's not an executive in the room, they're still in the room. They're in another room watching.
KB: There's a lot of people watching! So make sure when you're engaging, you're engaging with them. When you do your slate—"My name is Karamo"—it's like, "Hey, how are y'all doing? My name's Karamo." Engage.
By the way, Antoni, are you aware you have a Backstage account?
AP: I'm aware I still have one or two! I get casting notices for the most random things and I get a lot of messages on the platform—but I can't log into my account. Can you help? My headshot is very old. It's from another time.
We'll see what we can do. Before this life-changing audition, did you all have gigs that prepared you with applicable skills?
JVN: Glamour shots! I sold glamour shots at the Mall of America in Minneapolis and my job, when I first started at hair school, was to stand outside with this other girl, whose name was Destiny, to convince ladies [to take photos]. Like, "Oh my gosh, you need [hair and makeup], come in and get pictures!
This was when it all came to an end for me though. This is when I said, I have got to stand up for something—because my mom always taught me, "If you don't stand up for something, you fall for anything, honey"—we sold these two sisters from Minnesota a package. My job was just to get them in for the [shoot]. They do their little sister photoshoot and it's a hot mess. The mom who had Munchausen [syndrome] and the kid killed her? "The Act"? They looked just like her. Picture two of those ladies, from rural Minnesota.... The sales team, they sold them on life-sized cutouts of their pictures, magnets, eight-by-tens, everything. It was like a $10,000 package! They had to go to the bank in the Mall of America to take out a line of credit to pay for it.
TF: Oh my gosh.
KB: Uh, that's horrible.
JVN: Because they were like, "We look so pretty!" And me and Destiny were like, I don't even want the commission. This is a robbery, it's so wrong!
[All laugh.]
Headshots: Everything You Need to Know
KB: I sold newspapers outside the grocery store. [I learned about] communicating with complete strangers! That was it.
JVN: Look how gorgeous Karamo is, ew. Wow.
What about your worst survival jobs?
BB: Um, graveyard shift at a gas station that got robbed twice while I was working. Called Get & Go, but they've since renamed it to Kum & Go? K-U-M.
TF: Bobby Bobby Bobby, was it at gunpoint?
BB: Well, it was in a jacket. So it could have been a gun it could have not been a gun.
TF: Did you give the money over?
BB: I could only give the little bit that was in the register.
AP: That's gonna be in your Lifetime memoir. The best job I ever had was a camp counselor at a tennis camp.
BB: No, we want the worst one.
AP: Oh. Well, it was also the worst because I was in my twenties and hungover all the time.... Tanny, what was yours?
TF: My favorite one has nothing to do with what I do now.
JVN: [imitating France's accent] I was a stripper.
TF: A go-go boy, yeah. No. A flight attendant!
JVN: You were not, Tanny!! For how long?
TF: For three months.
AP: That's where he invented cropped jackets.
[All laugh.]