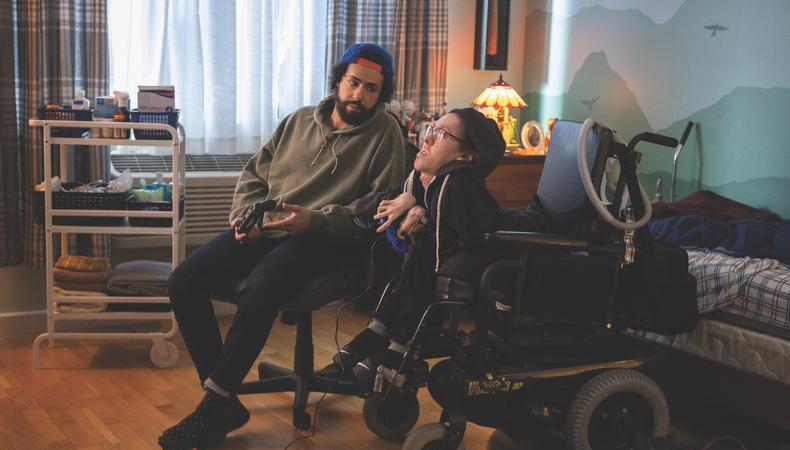 As we look back at 2020, we at Backstage have pinpointed the year's best big- and small-screen ensemble work for your SAG Awards consideration and beyond. For more voting guides and roundups, we've got you covered here.
MAIN CAST: Hiam Abbass, Mahershala Ali, Mohammed Amer, MaameYaa Boafo, May Calamawy, Rosaline Elbay, Dave Merheje, Laith Nakli, Amr Waked, Steve Way, Ramy Youssef
CASTING BY: Rebecca Dealy, Jessica Kelly (Season 2)
CREATED BY: Ari Katcher, Ryan Welch, Ramy Youssef
DISTRIBUTED BY: Hulu
When a series is named after its lead character, you might not think you're in for much of an ensemble acting showcase. But in "Ramy," it's the ensemble that makes the show's namesake shine.
Ramy Youssef, creator of the Golden Globe–winning Hulu comedy, who also acts in the leading role as Ramy Hassan, sets the tone for the series. In Season 1, Youssef the creator established its specific tone and point of view; "Ramy" is a long-form scripted adaptation of his standup material about living in New Jersey as a first-generation American with Egyptian immigrant parents. In Season 2, Youssef the actor is more visible, as the character's journey begins to stray from the writer-star's real life: He reconnects with his faith and pursues love within his mosque. By the end of the season, Youssef achieves something that only a skilled performer could be capable of—creating audience empathy for his character despite a stunning act of betrayal.
Ramy's mother and father (Hiam Abbass and Amr Waked) and his younger sister Dena (May Calamawy) create the context we need in order to understand the central character. The older generation's values stand in contrast to their children's modern American way of life, as they try to adhere to tradition while also forging their own paths; the result creates rich conflicts and full characters. Performances that are by turns painful, sympathetic, humorous, and sincere bring this loving yet often discordant household to life. Dena acts as a type of foil to Ramy; like any siblings, they have fraught moments, but also share a deep history.
Ramy's relationships with his friends fill in further shades of his character, and their portrayals establish those friends as well-rounded human beings. Mohammed Amer as Mo, Dave Merheje as Ahmed, and Steve Way as Steve act as Ramy's mirrors. Ramy does not always come off as the hero when he goes head-to-head with his peers. However, real-life friends Youssef and Way have developed a disabled character in a comedic role in a thoughtful way that has never before been seen on television; as an actor, Way rises to the occasion with his expert timing and delivery.
In Season 2, we're introduced to new characters, including Sheikh Malik (Mahershala Ali) and his daughter Zainab (MaameYaa Boafo), who becomes Ramy's love interest. The Academy Award–winning Ali brings his trademark serene intensity to the role of Ramy's mentor, spiritual leader, and elder. As Zainab, Boafo brings new energy to "Ramy"; her character's devotion to Islam is combined with easy humor, romance, and playfulness within the boundaries of the ways she observes her faith. In Season 2, we also see Uncle Naseem (Laith Nakli) in a new light thanks to a whole episode that depicts his struggle to accept, explore, and express his sexuality. It's an anguished performance that's not easy to forget.
How the "Ramy" CDs cast the show's second season
Semi-autobiographical series with a creator-star at their center don't often leave room for rich relationships with supporting players, but "Ramy" is a notable exception. The show's tone and subject matter combine to create American television that is literally one of a kind. So it makes sense that its cast of characters, and the actors who bring them to the screen, are singular as well.
This story originally appeared in the Jan. 20 issue of Backstage Magazine. Subscribe here.
Want more? Stay in the loop with everything you need to know this awards season right here!