Rian Johnson wants to keep you guessing. Not just with his whodunits—though his latest, "Glass Onion: A Knives Out Mystery," is just as deliciously twisty and surprising as its predecessor—but with everything, including what does and doesn't pique his own interest. You might think, for example, that someone who's methodically working his way through Agatha Christie's novels and already planning a third "Knives Out" installment would love the board game Clue, but you'd be wrong. "Have you tried Clue as an adult?" he asks.
In the same way he likes to bring an air of the unanticipated to his work, Johnson says he also counts on performers to knock him off balance. "I like casting actors [when] I can't picture how they're going to play it," he says. "[Are they] going to bring it to life in a way that I didn't see, and it surprises me and it feels surprising to the audience?" The unexpected casting in "Glass Onion" includes everything from Janelle Monáe in a central, conversation-generating role to a few bonkers cameos, such as cellist Yo-Yo Ma popping into frame to help solve a complex puzzle.
Where Johnson's surprising approach ends is with his steadfast behind-the-scenes team. He credits his films' ability to pull off intricate double- or triple-blind structures to his relationships with his creative collaborators. He tends to work with the same people over and over again, including casting director Mary Vernieu and cinematographer Steve Yedlin, whom Johnson met when he was a freshman in college and Yedlin was a senior in high school. That's not even his longest creative partnership: The filmmaker's go-to composer, Nathan Johnson, is his cousin.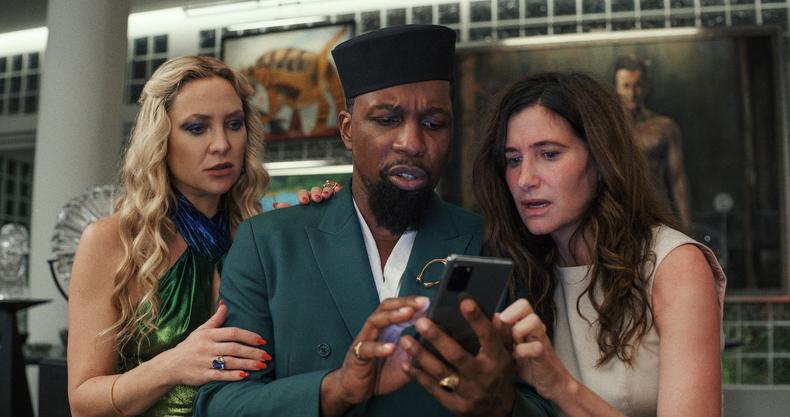 "We've been making movies together since we were 10," he says of the musician. "The hope is that having longstanding, comfortable relationships with collaborators helps you feel the freedom to push out farther and to take risks, so you can just dive in, hopefully, and push each other into new places."
Johnson's approach when it comes to his deliberate scriptwriting is also surprising: He admits to procrastinating until "I absolutely need to [do it]"—and he has the 1,078-day (at the time of publication) New York Times crossword streak to prove it. "I'll do anything else until it's humiliating how far behind I am, and then I do nothing but write. I'm very good at wasting time." But he's always thinking about the plot at hand, spending months internally sketching out arcs and planning scenes.
He maintains that the key to great mystery-writing is, paradoxically, to not think of the story as a mystery at all. "The biggest trick…is to remember that first and foremost, it has to work as a movie, not as a mystery. [You have] to remember the pleasure the audience gets out of it—it's not actually from solving a puzzle," he says. "So you have to think: Does the audience care about what they're following? How is it satisfying at the end beyond just [finding out] whodunit?"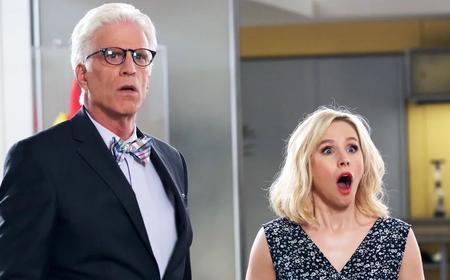 How to Write a Plot Twist
Johnson's advice for writers, directors, and those who walk in both worlds is the same: "Just do it, whatever you do. [Do] as much as you can with whatever you have.
"For filmmakers, I think my real film school was making a ton of short films with my friends growing up. They were not things that I polished up and sent to festivals…. They were just these little fragments of things we got together [to make] on weekends. But doing so many of them is what taught me to be comfortable with a camera in my hand. It taught me editing. And it demystified visual storytelling in a very fundamental way."
Today, Johnson still uses what he learned as a kid goofing off with his friends to coax authentic performances out of actors and hit satisfying story beats.
"The stuff that matters is still the stuff that matters, and it doesn't matter how many trucks are parked outside," he says. "It's still just kind of trying to feel something real and translating it [to the] screen."
This story originally appeared in the Dec. 29 issue of Backstage Magazine.