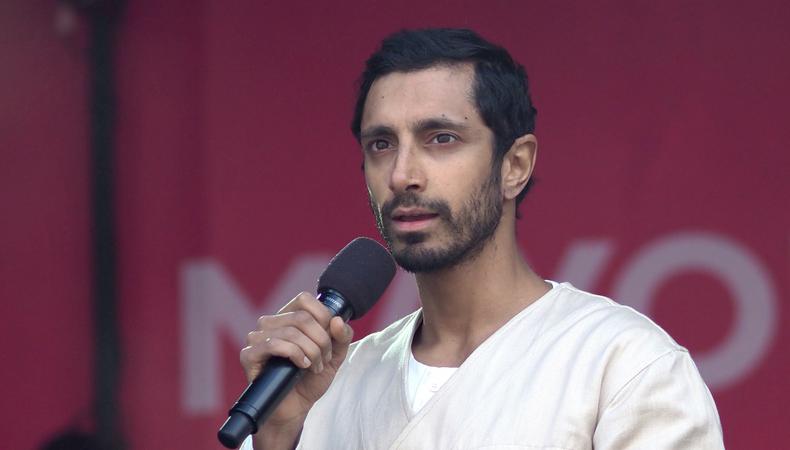 Riz Ahmed may have made history as the first Muslim actor to be nominated for the best actor Oscar, but he's determined to not be the only one. Ahmed is helping launch a multi-pronged advocacy effort to increase Muslim representation in Hollywood. The effort includes a study showing that in film, Muslims only had speaking roles 1.6% of the time. It also includes the Blueprint for Muslim Inclusion, which proposes solutions for change, and the Pillars Artist Fellowship, which will offer $25,000 grants to Muslim artists.
"The representation of Muslims on screen feeds the policies that get enacted, the people that get killed, the countries that get invaded," said Ahmed in a statement. "The data doesn't lie. This study shows us the scale of the problem in popular film, and its cost is measured in lost potential and lost lives."
Ahmed has teamed up with the USC Annenberg Inclusion Initiative, the Ford Foundation, and Pillars Fund. The groups have released a report called "Missing & Maligned: The Reality of Muslims in Popular Global Movies." The report examined 200 popular films from the U.S., U.K., Australia, and New Zealand released between 2017 and 2019. It found that although Muslims make up 24% of the global population, they only received speaking roles in film 1.6% of the time. Only 19 films out of 200 had at least one Muslim character, and only six films had a Muslim character in a lead role.
The study also found that Muslim representation perpetuated stereotypes: 53.7% of Muslim characters were depicted as being victims of violence, while 39% were perpetrators of violence. Muslim characters were also overwhelmingly depicted as foreigners who spoke no English or English with an accent (87.8% of the time). They're also primarily depicted as being subservient, and being an immigrant or refugee.
"More than half of the primary and secondary Muslim characters in these films were immigrants, migrants, or refugees, which along with other findings in the study consistently rendered Muslims as 'foreign,' " said Al-Baab Khan, one of the study authors, in a statement. "Muslims live all over the world, but film audiences only see a narrow portrait of this community, rather than viewing Muslims as they are: business owners, friends and neighbors whose presence is part of modern life. By presenting Muslims in an abundance of storylines, audiences can see and resonate with the innumerable experiences of Muslims from all walks of life."
Alongside the study, the groups also released "The Blueprint for Muslim Inclusion: Recommendations for Film Industry Professionals." It details solutions for improving Muslim representation on-screen and behind the scenes. The recommendations include eliminating the storytelling tropes of Muslims as being violent and terrorists, and investing in Muslim creators—from nurtering them when they are in school to helping fund their projects.
"The Blueprint for Muslim Inclusion offers a direct response to these findings by providing a broad set of recommendations for film industry professionals," said Pillars Fund Co-Founder and President Kashif Shaikh in a statement. "We're excited to support the industry to take practical steps towards more nuanced portrayals that amplify Muslim voices, from sunsetting terror tropes and signing first-look deals with Muslim creatives to including Muslims in diversity, equity, and inclusion programming."
The Pillars Fund supports Muslim individuals and organizations in the United States, and has distributed more than $6 million in grants to Muslim organizations and leaders who advance social good.
The Pillars Fund is also collaborating with Riz Ahmed and his production company, Left Handed Films, to create the Pillars Artist Fellowship. It will provide early career Muslim artists in the U.S. and U.K. with $25,000 and career development support.
The Fellowship is intended to be a multiyear program. The first year will focus on supporting film and television directors, producers and writers. The Pillars Artists Fellow will be selected via a nomination process. The fellowship recipients will be announced on Dec. 1. The advisory committee for the fellowship includes Ahmed, Mahershala Ali, Sana Amanat, Karim Amer, Rosa Attab, Lena Khan, Nida Manzoor, Hasan Minhaj, Jehane Noujaim, and Ramy Youssef.
Said Ahmed in a statement: "I know the industry has the imagination and the resources to fix this problem. Now it must show the will, and the Blueprint for Muslim Inclusion can offer a practical roadmap for change. The Fellowship also offers a meaningful way to intervene. Having a source of unrestricted funding for Muslim artists and storytellers will be game changing. Muslim communities in the U.S. and U.K. are amongst the most economically disadvantaged, and yet currently there's nothing else out there like the Pillars Artist Fellowship, which really invests and believes in the talent pipeline. Had I not received a scholarship and also a private donation, I wouldn't have been able to attend drama school."