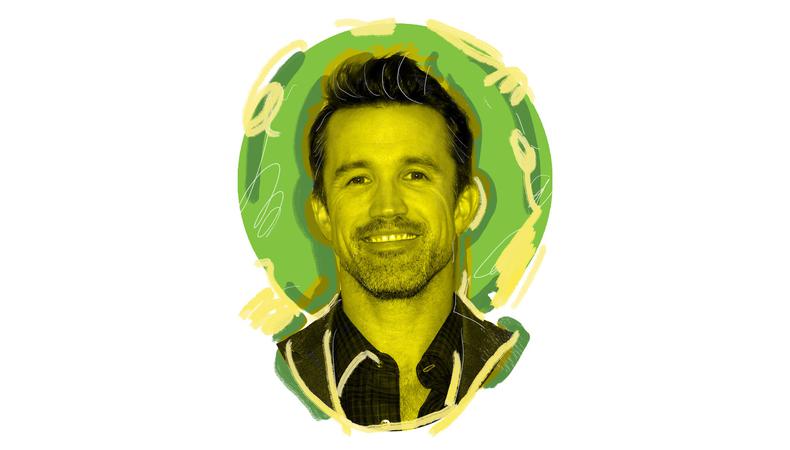 Best known for the irreverent FXX cult comedy "It's Always Sunny in Philadelphia," which as of its 14th season ties "The Adventures of Ozzie and Harriet" as the longest-running live-action sitcom in TV history, co-creator, showrunner, and star Rob McElhenney is now taking the reins on "Mythic Quest: Raven's Banquet." The new Apple TV+ comedy series has him starring as Ian Grimm, creative director at a burgeoning but chaotic video game development studio.
You started acting in grade school. What was the moment you decided you wanted to be an actor?
I don't know if there was a distinct moment. I always knew I enjoyed it when I was in grade school. I went to an all-boys' Catholic school. I was a junior, maybe even a senior in high school, and all my friends were these great athletes, so they had lots of things to do after school. I tried everything and I was terrible at everything athletically related. I remember one day there was an announcement on the loudspeaker that one of our sister schools needed boys for their plays. I was like "Hmm, sign me up for that." It seemed like a good thing to do after school, and it was a good way to meet members of the opposite sex. That's what I wound up doing. What I found that I really loved to do was actually get on stage and act. I certainly didn't think it could ever be a profession. That wasn't something that was encouraged in Philadelphia at all.
READ: Kaitlin Olson's 1 Tip for Nailing Your Next Comedy Audition
What is your worst audition horror story?
I would say that the vast majority of the auditions I had I absolutely bombed. I realized, and I think a lot of people feel this way, that I do not audition well. I know my wife ["Sunny" actor Kaitlin Olson] is like that, as well. It's not because she feels above it, but it's just a very specific skill that has very little to do with acting and what the job will end up being. It becomes a one-person show as opposed to being engaged in a scene with a partner and really listening. That's the No. 1 thing you learn in school: Listen. You're not there to perform, you're there to behave, and the only way you can behave is if you're present in the moment. The only way you're present in the moment is by listening to what your scene partner is giving you. All of a sudden, you're put in an audition scenario, and often you're with a casting associate who's seen 300–400 people a day. They don't really have time or energy to really engage with you in a particular scene. Even the best ones, it's difficult for them to do that. It's hard to create the effect of what the job will be in a 10-minute audition.
What advice would you give your younger self?
Start writing earlier. This is the only advice I ever give: Make your own stuff. Make it and make it now. The phone that we are talking on right now, that we all have in our pocket, is a better camera than what we shot Season 6 of "Sunny" on. That's not an exaggeration. You have the ability right now to make your own stuff. You're seeing people all over the world doing it. They're doing it in short-form content, TikTok videos or Instagram stories. If you're looking to get into short-form or longer-form stuff, you can certainly make a movie on an iPhone that will look beautiful. It's just a matter of recognizing when it's not great. And guess what? The first time out, it's not going to be great. We learned that with "Sunny." The first iteration was bad, and we threw it out and did it again and then we did it again. We kept doing it over and over again until we felt we had something great.
How did you first get your SAG-AFTRA card?
I believe I got into SAG with a Nike commercial. That probably would have been in 1996 or 1997. I've been in the union for a long time. I remember seeing [the ad] and thinking it felt really innovative and cool. I think it was an MTV rip-off.
READ: What Actors Can Learn From the 'Always Sunny' Season 13 Finale
What was your most memorable survival job?
I worked in a restaurant on the Upper West Side in New York. I waited many a table. I've said this before and I truly believe it: I think every human being on earth should have a job in the service industry for at least six months. You get a really great appreciation for humanity; you understand what it's like to be in a very difficult and demanding job. It's actually really fun, and you make a good amount of money, but I think it really teaches you about perseverance and respect and treating people kindly.
How did you land your first agent?
I had a very strange advantage in looking so young and being older. I wound up going to a convention where various commercial agents were looking for people they thought had interesting looks for commercials. By the nature of being 18 and looking 15, I found my first [agent]. There were a few agents that were interested in me, and I signed with my first one, an agency that doesn't exist anymore. They were called SEM&M. That was my first commercial agent, and I was with them until they folded.
What's the wildest thing you've ever done to get a role?
You really put your life in the balance when you go into some of these commercial auditions. The answer is always "Yes." "Can you ride a horse?" Yes. "Can you gallop on a horse?" Absolutely. "OK, the shoot's tomorrow. So, you're sure you can ride a horse?" Oh, yeah. And then you walk out of the audition and you go, "Oh god, I hope I don't get that because I can't ride a horse." I've definitely said that before, and, luckily, I didn't get the job. I auditioned for a Burger King commercial and they said, "OK, if you get this job, we have to shave your head because you're supposed to be in the military." And I reluctantly said OK. I got the job and I had to shave my head. Then I shaved it myself and kept a little hair on top, thinking, Maybe this'll work, and when I got there every single person had their own barber and they took a razor to everybody's heads and we were skinheads basically for a solid week.
What performance should every actor see and why?
I would say pretty much anything and everything my wife has ever done onscreen, because she is the Lucille Ball of our time.
This story originally appeared in the Feb. 27 issue of Backstage Magazine. Subscribe here.