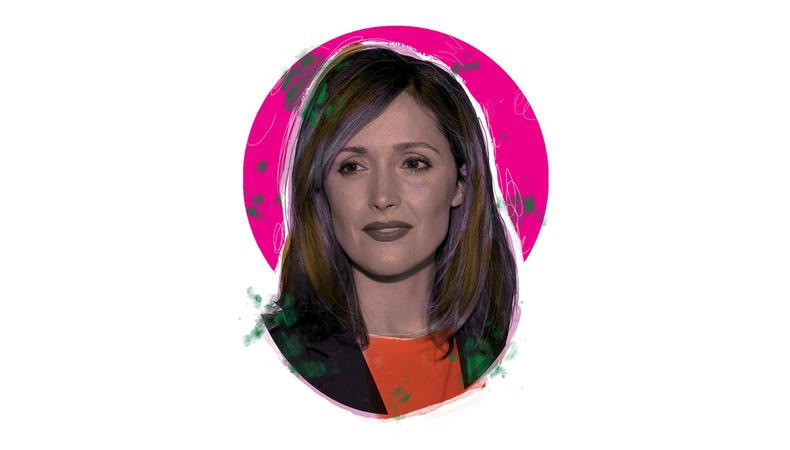 Rose Byrne's career can be exemplified by the two projects she has happening simultaneously this January: a contemporary adaptation of the Euripides tragedy "Medea" opposite her partner, Bobby Cannavale, and the raucous debauch-fest "Like a Boss" opposite everyone's favorite funny gal, Tiffany Haddish. But back when she was starting out, the actor—like so many—just wanted a job. Here's why the Australian-born star is certain she'd be less successful if she were breaking in to the industry today, and why a bag of potato chips may still factor into her nightmares.
You Can't Pin Rose Byrne Down—and That's Just the Way She Likes It
What's the wildest thing you've ever done to get a role?
I've written letters before, kind of campaigning for myself behind the scenes to get in, even though it might not work. On top of it, now, with young actors, there's the social media aspect, which I didn't have to deal with. I have a social media account; I'm not prolific or really popular or anything, but it's now part of the deal. I get it, but it's added pressure. If it doesn't come naturally to you, it's not very fair. Now I have another thing I have to learn how to do in order to get a job? I didn't have that, and I'm glad I didn't have to do that starting out. For me, I find it hard; for other people, it's a natural fit. Like Tiffany, she's so good at it, and my friend Olivia Wilde is great at it. But if it's not necessarily the right fit, then it's a problem. I don't think it would be going very well for me if I was starting out now.
What's your worst audition horror story?
I had to wait 3 and a half hours, and then when I got in, I had a long monologue, and there were so many people in the room. One of the producers opened a pack of potato chips really loudly, and as I'm doing the monologue, all I could hear is the "crackle, crackle, crackle," then "crunch, crunch, crunch," and he starts eating the chips right during my lines. I'm trying to concentrate after hours of waiting! I never heard back from that one.
READ: How to Audition
Were you a good auditioner?
No, I was terrible at it. I was not a good auditioner at all. Occasionally, I would have some that were mildly better, but I could never take control of the room. It's just [about] coming in and having the control from the street, from the taxi ride there, from the subway—just being in control there and being so prepared. I just never had the confidence to get me through. Again, I've come a long way, and it's a miracle. It's really hard, and some people don't prepare. I have a lot of friends who just wing it and they find that the best way. But for me, if I know it inside out and upside down, I feel a little more relaxed.
What advice would you give your younger self?
I would say, lighten up. Don't take it all so seriously. Take the work seriously, but don't take yourself so seriously, and be more truthful with yourself about what you want to do. I think you'll be more confident if you're just truthful about what you want. But in a way, you can't really give your younger self advice, because you have to go through what you go through. You're only going to be who you are every day at every age. Sure, I'd like a time machine like every other person, but the curveballs in life are good, because that's when you learn. When things are hard, that's when you learn something. When things are good, you don't learn anything.
How did you get your SAG-AFTRA card?
It was on a job called "The Dead Girl"; it was my second job. Gary Lucchesi and Tom Rosenberg were producers, and a woman named Karen Moncrieff was the director. But Gary and Tom were big fans of mine, and I had already done "Wicker Park" for them, which was shot in Canada. They got me the job, and then they got me my SAG card, which was very cool. I still remember the thrill. I mean, I got dental! It was a huge deal.