Rose Byrne loves to read actor profiles. And since you're reading this actor profile, maybe you'd like to know why.
How a Bag of Potato Chips Led to Rose Byrne's Worst Audition Ever
"You line up 10 actors, and there are 10 different stories—10 different journeys," Byrne says on a bitterly cold November afternoon in Brooklyn. "I love to hear those stories. I do read profiles of people with other careers, but, of course, I particularly like to read about actors—because I understand it."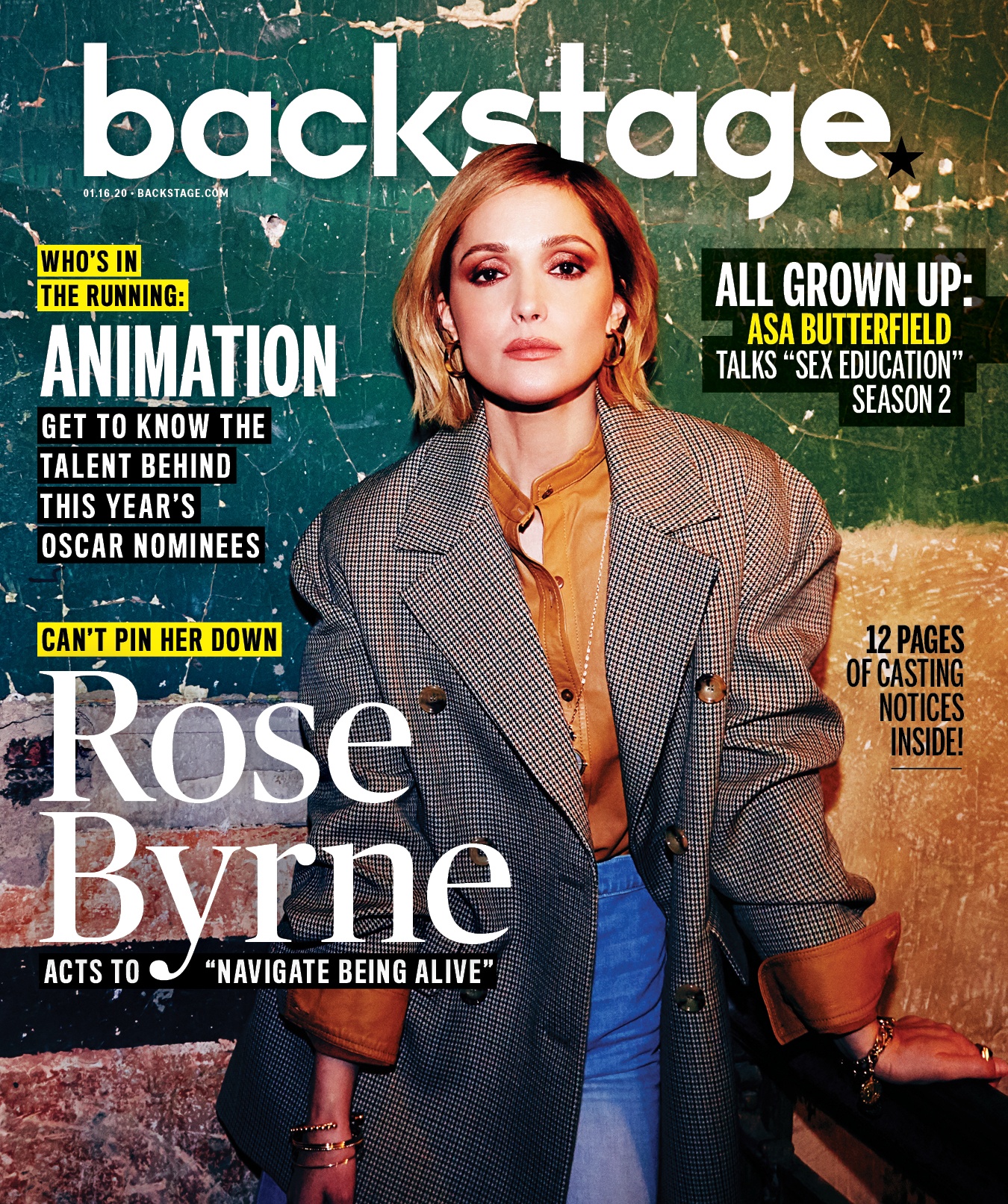 Over the next hour and an endive salad, Byrne is precise but not precious as she grapples with what that "it" actually means.
"Acting has helped me navigate being alive, because it's not easy being a person all the time," she says. "But acting is strange. You have to have a thick skin to take the 'noes' you get 90% of the time, yet you have to remain very vulnerable and open to receive every piece for building characters. It's a very strange thing the job asks of you, and I just don't think you can have much ambivalence about it if you want to do it. People ask my advice and I'm always like, 'Don't do it!' And if you're gonna do it anyway, you have to have that blind faith and not listen to anybody."
It was her own blind faith that lured the Australian-born Byrne stateside in her early 20s, where she's worked steadily for nearly two decades. After emerging in Hollywood with a small part in "Star Wars: Episode II—Attack of the Clones," she turned heads with her vixenish portrayal in "Troy." However, it was her starring role opposite Glenn Close on all five seasons of FX's "Damages"—an early harbinger of TV's golden age—that changed everything (and notched her two Emmy nominations).
And that's to say nothing of her forays into comedy, which include her instantly infamous starring role in "Bridesmaids" (but more on that later). None of it, though, would have come to pass were it not for what Byrne calls her "wanderer" proclivity, something she muses must be inherent in most actors.
READ: How to Book a Job, According to Bryan Cranston
"It's a chaotic kind of existence, but I think within that chaos is some kind of dreadful addiction that actors have," she says. "Different things get people through, whether it's faith or family [or,] unfortunately, actual addiction sometimes, but it's a tough thing to complain about, because actors are journeymen and there are so many worse situations in the world you could be in. But the struggle of trying to act when you're not getting the work you want to get, when you can't get an agent or a manager…" she pauses with a hint of relish, "...is the best and the worst thing."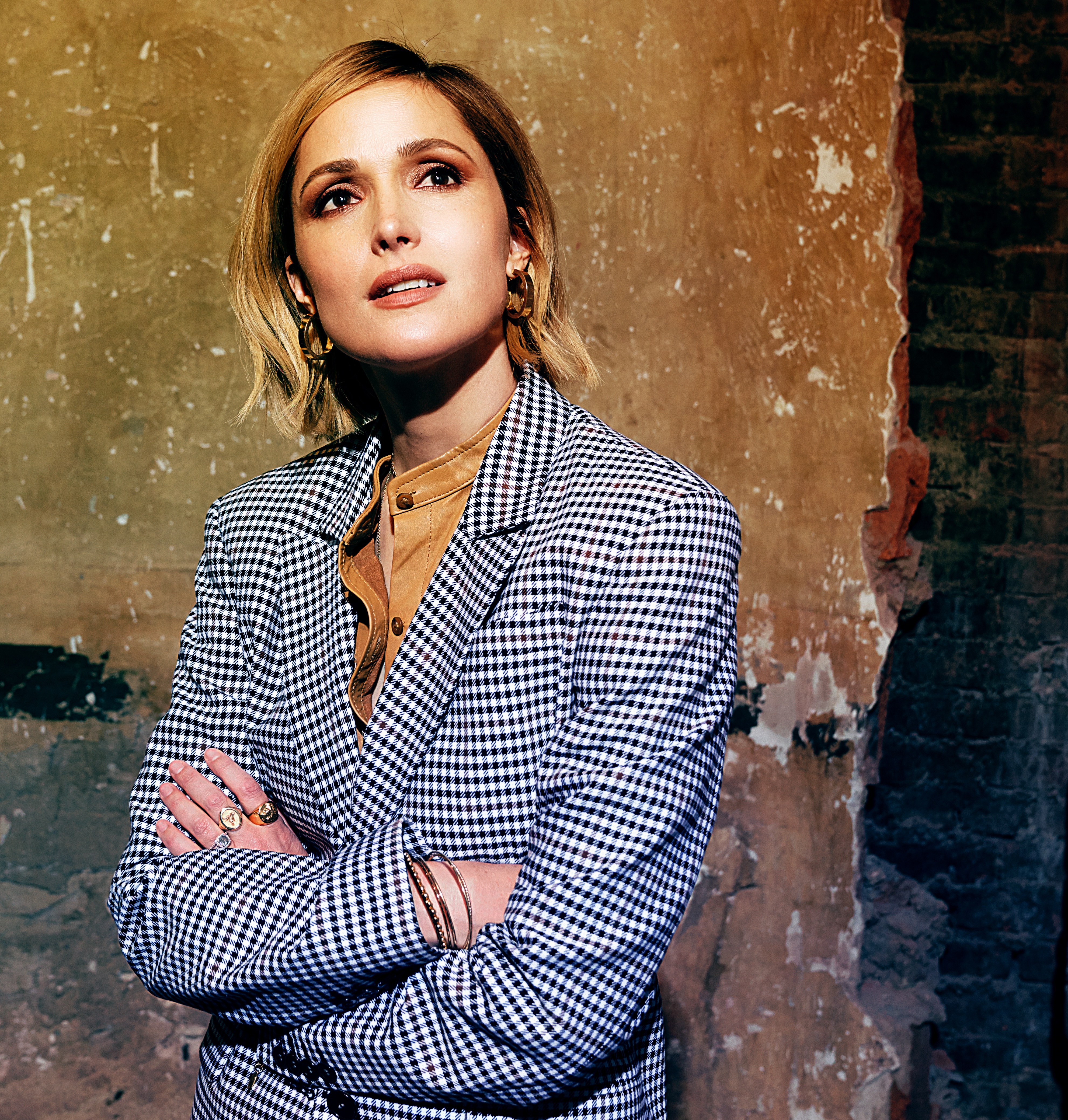 Despite the ambiguity of a life spent acting, Byrne never doubted that it was how she would spend hers. But that doesn't mean she had an easy go of it; she struggled with insecurity, angst, work-life balance, and all the turmoil that comes with being a young person forging ahead in Hollywood or otherwise. "My 20s were full of lots of highs, lots of lows; getting little roles in huge films and huge roles in tiny films, periods of not working and then periods of working too much," she recalls. "I had such a tumultuous time. It wasn't until I hit my 30s that I felt a bit more comfortable."
Byrne admits that any level of comfort can only ever result from age and experience, and even then, it's hardly a given. The same could be said of advocating for oneself on set; whether in reference to your performance or your treatment, speaking up acknowledges a by-design caste system that can't quite be understood early in your career.
"I used to be so destroyed when something would be cut that I'd worked hard on or that I thought worked well," she remembers of her younger self. "Don't get me wrong; I still get upset about it when I really think it needs to be in there, but I pick my battles more carefully. If you don't ask the questions, you're going to be in your head about it. You've got to know so you can learn from it. I've only been vocal about it the past couple years. In my 20s, I would never have [asked a director] something like that! Now, I have more of an ability to communicate. [When you're young,] you just want to work, you don't want to upset anybody.
"It's like the #MeToo movement," she goes on. "Thank god I was never at the hands of a predator like that, but you see these stories and it's the same thing: Young actors who are scared, they're intimidated, they have no power in the room, and you can't say anything until 20 years later when you're like, 'You know what? Fuck it, I'm someone who's brave enough to come forward.' "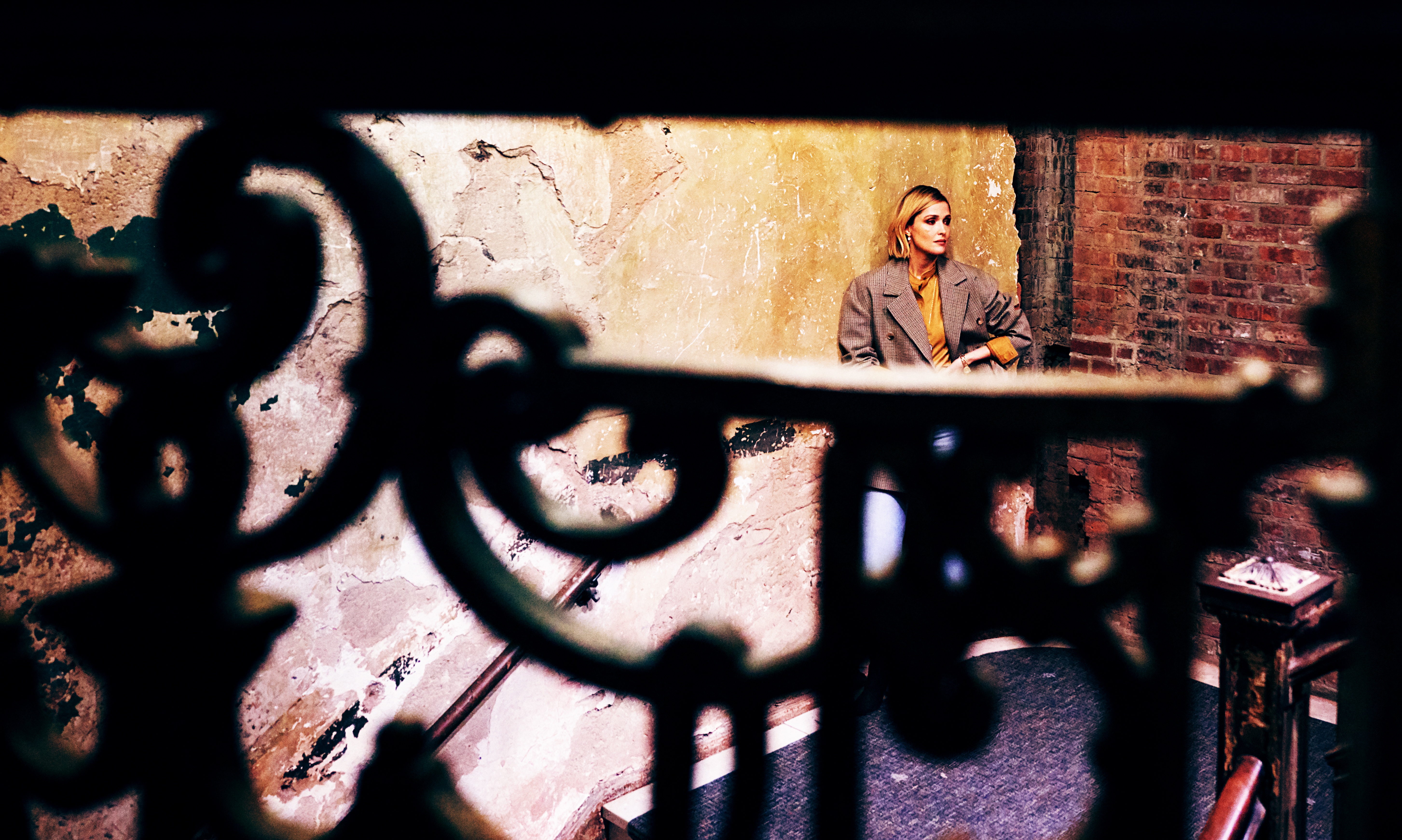 But even when a certain level of success has been attained, the pressures of the job remain. Actually, Byrne reasons, they are often heightened. "There's a different set of challenges, and in a way, the stakes are higher because there's more to lose," she says. "There is always a vulnerability that we hold on to because it is essentially just a vulnerable position, being an actor. There's a scrutiny for well-known actors. Of course there's a level of [knowing] you can pay rent, and with any level of success comes a level of being happier. But after that, you have to keep your inspiration and creativity and ambition in check."
It was that pressure that led Byrne to pursue comedy about a decade ago. Knowing as well as anybody that the entertainment industry loves to neatly categorize a performer—whether it be film versus stage or dramatic versus comedic—she was determined to subvert that kind of pigeonholing.
It worked, of course; Byrne is known today as a pre-eminent (and bankable) comedy actor, but when she first made the decision to try her hand at the genre, no one assumed she could "be funny." She had to prove herself—to her representation, in the audition room, and, ultimately, to audiences.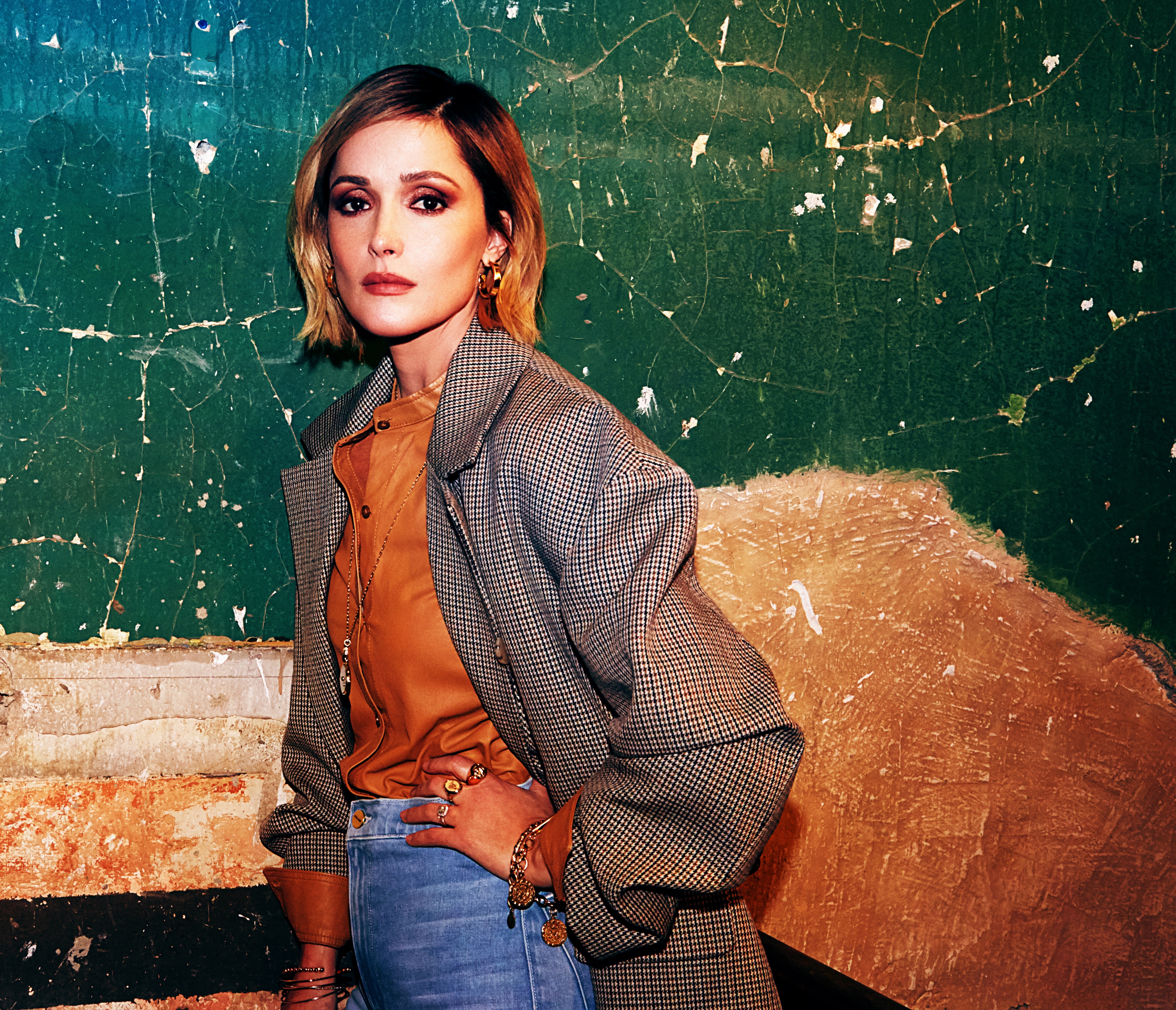 "I just desperately wanted to try it. I love comedies; I grew up watching 'Fawlty Towers,' this iconic British comedy show with John Cleese, and my favorite actors have always been the ones who could make you laugh and make you cry," she says. "I just said to my agents and managers, 'Please, please, can I try to start auditioning?' And I did—I got into rooms and it was hard. It was a different energy in the room, a different pressure."
Byrne made her comedy debut in the 2010 Jonah Hill–Russell Brand feature "Get Him to the Greek." And, yes, she was very funny. She spent the next decade leading Kristen Wiig's aforementioned "Bridesmaids," the "Neighbors" franchise opposite Seth Rogen, and the Melissa McCarthy vehicle "Spy," all while continuing to work with weightier material like the foster care drama "Instant Family" and HBO's Oprah Winfrey–starrer "The Immortal Life of Henrietta Lacks."
Because what Byrne understands—and the industry is still working to grasp—is that within the greatest drama there is comedy, and in the greatest comedy drama.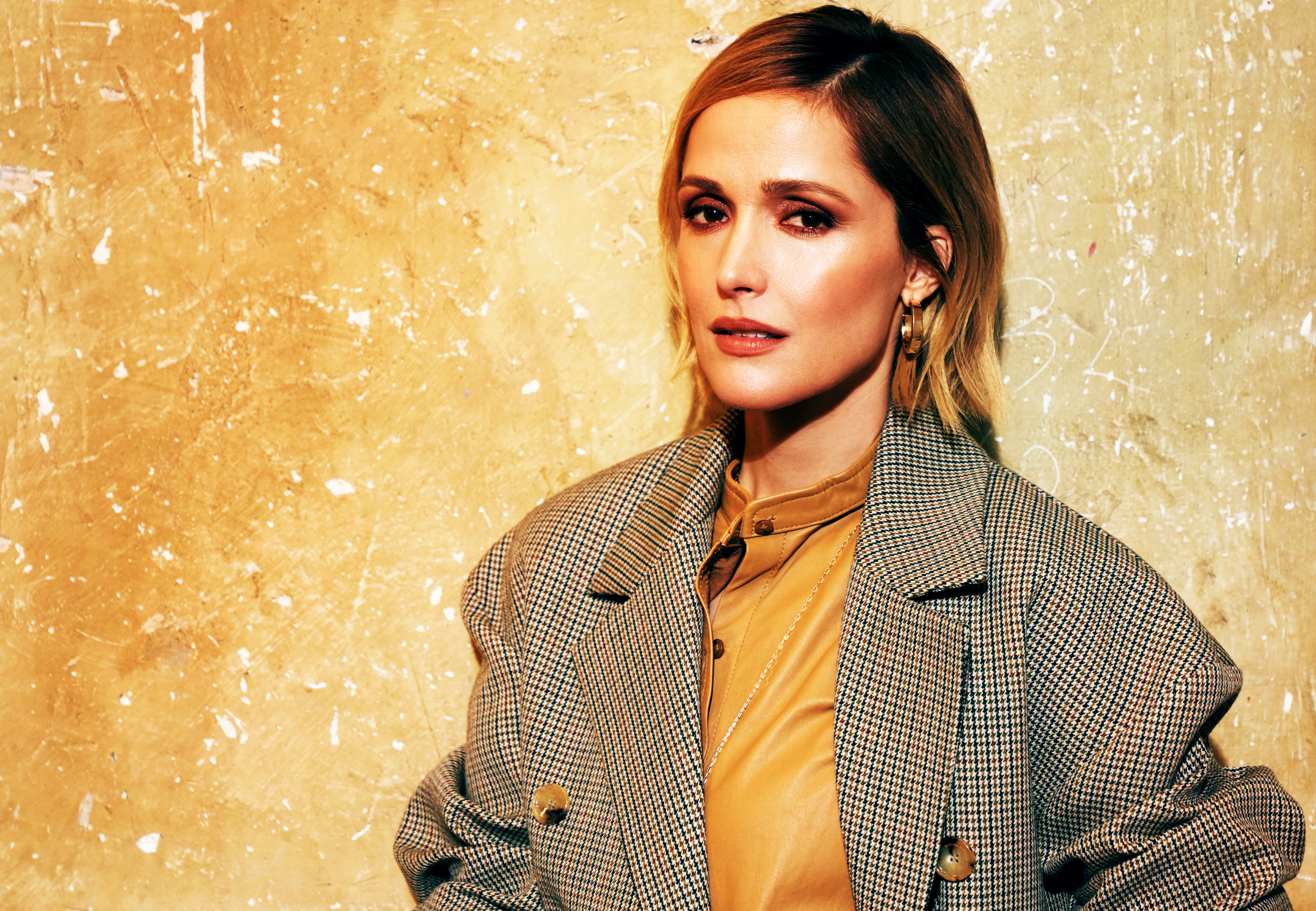 "They're from the same well, and that's how I've always approached it: They are the same thing," she insists. "There's a technicality to comedy, a musicality. It's like catching lightning in a bottle and then, on top of that, you have to get a laugh. With a comedy, you know if it's working or not, and there's a brutality to it that I now understand. I just think it deserves such respect that it doesn't always get. And it was absolutely a conscious effort, for sure. My favorite actors are the ones who are unpredictable."
Speaking of those favorites, Byrne has now worked with quite a few of them, learning immeasurably along the way. She advises all actors to glean all that is possible from your scene partners, because you'll excavate more that way than you ever could alone. "You might go in thinking the scene is about one thing, but working with Margo [Martindale] or with Glenn, or with Melissa, they just elevate the scene into something else," she says. "And they ask the best questions; they're demanding in the best possible way; they get everybody to do their best work. It's so exciting going to set with someone like that."
In that sense, Byrne is thoroughly an actor's actor, to the extent that her own "process"—those elusive steps by which a performance is derived—is informed entirely by her collaborations. "It's such a personal craft for each actor, how they get there and what they do. You never know what's going to happen until the person is in front of you. I don't know what an interview is going to be until I'm sitting in front of you," she says, gesturing around our rustic restaurant setting. "Same thing when you're in a scene: You don't know what the other person is going to do, so acting is essentially reacting. I try to remember that as the saving grace if I can't find my way through a scene or I'm confused about something."
The roster of those great actors Byrne has worked with—and learned from—now includes her partner Bobby Cannavale, with whom she's starring at the Brooklyn Academy of Music in a contemporary adaptation of the Euripides drama "Medea," and Tiffany Haddish in the screwball feature film "Like a Boss." The two projects, which debuted almost concurrently (the play on Jan. 12, the film on Jan. 10), in many ways define Byrne's very indefinability.
One is onstage, the other is on film; one is among the most somber tragedies in dramatic history, the other is a raucous romp. "I'm craving to learn something new, because that's when your brain changes, when you can learn something different," she explains. "And that was a big reason to do 'Medea.' I wanted to challenge myself in a way that's going to be incredibly intense and manage that and learn something—and the other is the lightest, most fun girls' night out with Tiffany Haddish."
Want to see Rose in action? Get "Medea" tickets today!
But unlike previous efforts to diversify her work, doing these diametrically opposed projects simultaneously was not planned. Byrne knows that sometimes, the best-laid plan is to have none at all. "It was just one of those unpredictable things about the business, about this career," she says, before slipping on her coat to brace for the chill outside. "It's nice to live on the edge."
This story originally appeared in the Jan. 16 issue of Backstage Magazine. Subscribe here.
Photographed by Kareem Black on Nov. 8 at Harvey Theater at BAM Strong in NYC; hair by Harry Josh; makeup by Hung Vanngo; styling by Beth Fenton
Disclosure: This post is brought to you by the Backstage team. If you purchase tickets through these links, we get a small share of the revenue from the sale from our commerce partner but that does not influence our decision to highlight a production.