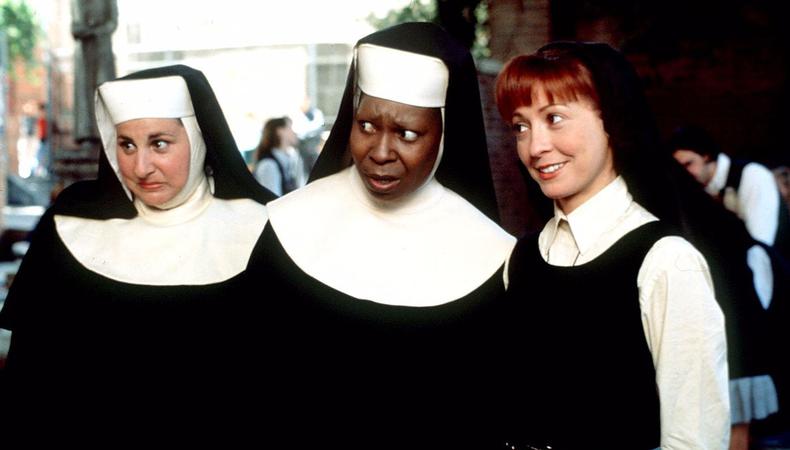 Welcome to Rumorville! Here you can learn about casting news that's about to break in Hollywood. These speculations might be only rumors, but that doesn't mean you can't follow the trail all the way to the audition room.
"Sister Act 3"
Get in the habit to (hopefully) get back in the habit! In a recent interview on "The Late Late Show with James Corden," Whoopi Goldberg told the host that a "Sister Act 3" is in the works. Said the star, "For a long time, they kept saying no one wanted to see it. And then quite recently, it turns out, that that may not be true. People may want to see it. So, we're working diligently to try to figure out how to get the gang together and come back." It's been a couple of years since an update, but at the end of 2018, Regina Y. Hicks ("Insecure") and Karin Gist ("Star") were hired to write the script to a three-quel to be released on Disney+. Back then, Goldberg said she would cameo but that a new cast would come in to bring a fresh twist to the original; it's unclear if that's still the case or if Goldberg will have a bigger role if it comes to light.
"The Social Network" Sequel
A lot has happened in regards to Facebook since 2010's hit "The Social Network," enough so that a sequel could be warranted. In an interview on the Happy.Sad.Confused podcast, screenwriter Aaron Sorkin confirmed that both he and producer Scott Rudin would like to see a sequel happen to the Oscar-winning film. However, Sorkin said he will only write it under the condition that original director David Fincher returns for the second installment. (Sorkin says he has stayed in contact with the director and had even recently spoken to him in regards to his upcoming film "Mank.") The drama, which starred Jessie Eisenberg as founder Mark Zuckerberg, was nominated for eight Oscars and won three, including Best Adapted Screenplay. Meagan Lewis and Fincher's longtime casting director Laray Mayfield were the CDs for the original.
"The Witcher"
While it's difficult to predict the future of Netflix's programming, especially with so many recent cancellations, it looks like at least one series is set for more episodes than we're already aware of. According to Redanian Intelligence and confirmed by Games Radar, the Writer's Guild of America West posted a directory reference for a third season of "The Witcher," even though the series has only recently resumed filming Season 2 after COVID-19 restrictions forced a production pause. The WGA directory isn't always accurate, but right now it lists showrunner Lauren Schmidt Hissrich as executive producer and 2020–2021 as the production dates for the season. Season 2 is slated to be released on the streamer sometime next year after its production delay. Sophie Holland is the casting director—learn how to get cast on the series here at Backstage!
Looking for remote work? Backstage has got you covered! Click here for auditions you can do from home!