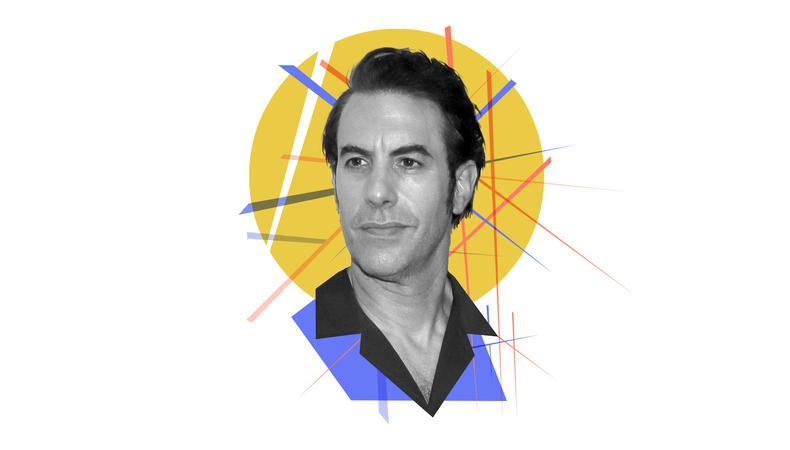 Sacha Baron Cohen has long been sitting pretty as Hollywood's godfather of mockumentary comedy. But 2020 ushered in two of his most audacious projects yet: "Borat Subsequent Moviefilm" and "The Trial of the Chicago 7," both of which are garnering major awards buzz this season. There's no doubt about it: Baron Cohen has officially refuted any claim that he's anything but one of our greatest screen performers. Below, he takes our Backstage 5 questionnaire detailing everything from a gut-wrenching audition for Steven Spielberg to what he looks for when casting his own work.
How did you first get your SAG-AFTRA card?
It was while making "Da Ali G Show" for HBO. That, I believe, was 2000—20 years ago.
Do you have an audition horror story that you can share with us?
It's connected with Abbie Hoffman. I rang up Steven Spielberg 13 years ago and asked whether I could audition for Abbie Hoffman [when Spielberg was signed on to direct "The Trial of the Chicago 7"]. He said, "Sure, but I want to make sure you can do the accent." At that point, I'd done "Borat," and there was not much evidence that I could do a good American accent. I studied every night with this brilliant dialect coach, and every night for two weeks we said, "OK, you're going to meet Spielberg in two weeks' time." Every night, we recorded three versions of the same two-minute speech Abbie Hoffman had done. We recorded it on one CD. By the end, I was doing six nights a week.
"The life of an actor, no matter how good you are, no matter how much talent you have, is so dependent on luck, so when the opportunity comes, you've got to be great."
At the beginning, it was dreadful. I sounded like I do now—with a tinge of an American accent. Then, take 47, I called up my assistant, and I said, "OK, deliver this to Steven Spielberg's house; he wants this by 10 a.m. tomorrow. Just take 47." At 3 p.m., I meet up with Steven in the Milky Way, which was his late mother's Kosher restaurant. He says, "All right. Sit down. Listen, let's talk about the accent. I've got to be honest: The first 10 takes were not very good at all." I said, "What?" He goes, "I've got to say, take 30, you were really getting close, and by the late 40s, you were pitch-perfect." I said, "Oh, my God. You spent 100 minutes listening to the same speech?" By the way: That's an indication, those people like Martin Scorsese, Steven Spielberg, or Aaron Sorkin—they're incredibly talented, but they work amazingly hard.
In line with that, I'd love to hear your No. 1 piece of audition advice.
Oh, Jesus. I think I'm a terrible auditioner. I don't know if I have any advice. Prepare.
You cast Maria Bakalova for "Borat" and others for your own films; what do you look for in actors when you are casting?
I look to see if they can move me. Maria, who I really believe is one of a kind—we didn't move forward with the movie until we found Borat's daughter. We interviewed hundreds of actors, and Maria is a revelation. She's hilarious, she's courageous, she's filming scenes with real people and was involved in some terrifying situations. We interviewed her three times. One of them was with real people, and seeing her ingenuity, she did stuff that I hadn't seen any other actor do.
"Imagine that you've got an interview process that involves trying to convince real people that you are real. It's not easy."
Imagine that you've got an interview process that involves trying to convince real people that you are real. It's not easy. And, by the way, we had brilliant actresses who came in and they were hilarious in the room and they were brilliant improvisers. Then they'd sit down with a real person in public, and the real person, within a minute, would say, "You're an actor. What is this? Some kind of a joke?" Some of them were brilliant. They were very accomplished. I won't say who they were. [Bakalova] had it because I knew for the movie to really work, you had to believe despite the madness of all the stuff and the layers it's playing at and the satire and the comedy, I knew that at its core, you had to care about these two characters. You had to believe that this was a dad who was growing into being a real father and growing to respect and admire and love his daughter. This was a daughter who was growing to disrespect and reject her father and the lifestyle that he had given her. At the end, for the movie to be powerful, they both have to exist on their own terms.
What is one screen performance that comes to mind that every actor should see?
There are so many; so many actors who I completely admire. I'd say Daniel Day-Lewis in "There Will Be Blood." He's my acting crush. It's such a large character that you could imagine people not believing [him]. Also, in "Gangs of New York"—now I'm thinking about [Day-Lewis]. That character is so extreme that in the hands of a lesser actor, it would have been unbelievable. That's what I love, a larger-than-life character that you believe exists—that's what I aspire to.
What advice would you give your younger self?
When I left university, I was quite arrogant. The life of an actor, no matter how good you are, no matter how much talent you have, is so dependent on luck, so when the opportunity comes, you've got to be great. It's tough; it never gets easier. "Borat" the movie was the hardest thing I've ever had to do in my life. "Chicago 7" had its own incredibly hard challenges. It's never easy to do really, really good stuff. Some people find it incredibly easy; I find it so hard. It's why I work very rarely. I think actors are really brave, because you're inherently living a life that's deeply unstable. Peaks are followed by troughs. You need luck, you need talent, and you need to work your ass off.
Looking for remote work? Backstage has got you covered! Click here for auditions you can do from home!