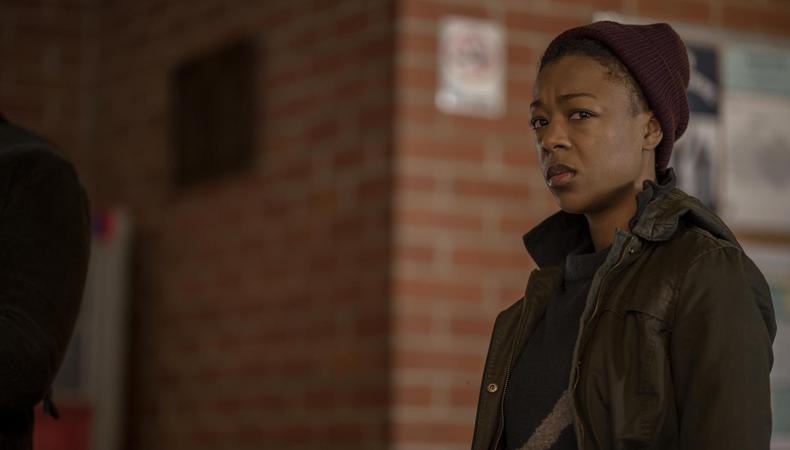 The following Backstage Live was compiled in part by Backstage readers just like you! Follow us on Twitter (@Backstage) and Instagram (@backstagecast) to stay in the loop on upcoming interviews and to submit questions live on camera.
Samira Wiley recently joined Backstage for an Instagram Live interview, covering everything from her early career roots to her Emmy-winning performance on "The Handmaid's Tale" (for which she's nominated again this year) to her advice for others in the field who are chasing the dream. Plus, she shared how playing Moira Strand on "Handmaid's" ignited her activism, and which causes are especially close to her heart today.
As an actor, you never want to be too rigid to play.
"Being on 'The Handmaid's Tale,' I've been blessed with scene partners that push me and make me a better actor.... For me, [a good scene partner] is gonna be all about someone who doesn't have their lines and their performance stuck in their head by rote, where they have rehearsed it a certain way and they're not able to deviate from that. They're just not able to, I feel like, listen and respond in the moment, because you never know how your scene partner is gonna say a line, you never know what they're gonna do spontaneously in the moment. And if you're [able] to be malleable and go with whatever they're doing, almost like a tennis match—that is what makes a wonderful scene partner for me."
The Juilliard School gave her character-building tools that she still uses today.
"One thing that [Juilliard] really taught us is how to use animals. It's the weirdest thing, but it always helps me. You know, if you're in a certain scene or you're playing a certain character, what kind of animal comes up for you? How do they move? How do they react to certain things? That's always something that I think of from [back] then, because even just from the very beginning of getting to know a character, thinking of that tiny little thing—does this person move like chicken?—it's helpful, even if you don't say, 'This person is an animal,' to think about it in that way."
Playing Moira for three seasons has made Wiley a stronger activist in her own life.
"I've learned things from Moira in terms of how I want to use my voice and use my platform to speak about the things that I am passionate about. She's such an activist.... First and foremost, I'm always going to be a champion for my communities, including the LGBTQ+ community and the struggles that we have had [since] the beginning of time. And then, of course, everything that's been happening in the Black Lives Matter movement. It was really hard for me when [the] George Floyd and Breonna Taylor news came out. It's hit me, I think, in a way that it hasn't before. I knew how horrible it was with all of these events that have been happening for years and years with my people; but this time, it really, really hit me. [I've been] having conversations with my wife, who is white, about things that I've been taught and things that she'd been taught when she was a child. It's really interesting, just having to come to a reckoning of what is happening in this country. But those are my communities, and I love y'all."
Want to hear more from Wiley? Watch our full interview below, and follow us on Instagram: @backstagecast.
This story originally appeared in the Aug. 27 issue of Backstage Magazine. Subscribe here.
Looking for remote work? Backstage has got you covered! Click here for auditions you can do from home!