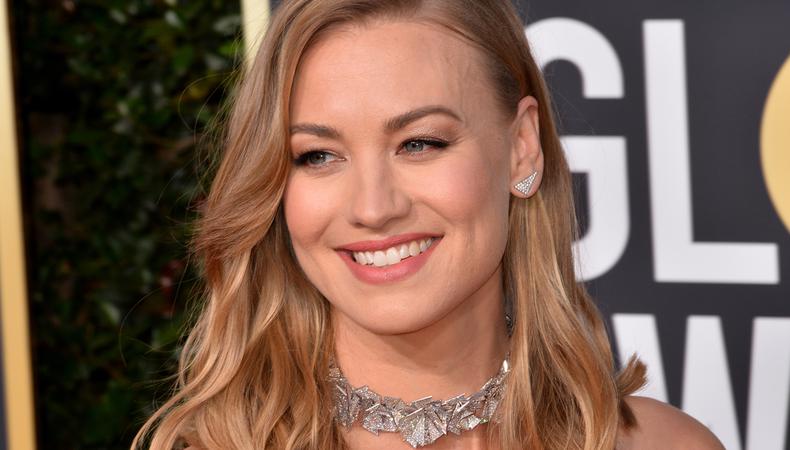 "In the Envelope: The Actor's Podcast" features intimate, in-depth conversations with today's most noteworthy film, television, and theater actors and creators. Full of both know-how and inspiration, "In the Envelope" airs weekly to cover everything from practical advice on navigating the industry, to how your favorite projects are made, to personal stories of success and failure alike. Join host and Awards Editor Jack Smart for this guide on how to live the creative life from those who are doing it every day.
Unlike typical careers that require one or two interviews to secure a long-term job, working as an actor requires "job interviewing a thousand times a year," as Yvonne Strahovski points out with a laugh. "You're just constantly going in, so I don't even know if 'rejection' is a good word for [not booking jobs]…. It's just part of the exercise."
Among Strahovski's many valuable pieces of advice in her "In the Envelope" interview is that auditions are better thought of as a means to display yourself and your talents. "People who are up and coming and building their career: Treat each audition as just another day and another exercise and a way to sink your teeth into some new material and give your spin on it," she advises. "It's just a thing that you're going to be doing in your life, you're presenting yourself and you're showcasing yourself constantly. Maybe that's a better word for it, you're always showcasing yourself. And then every so often, someone will say, 'Hey, you're really great.' "
Ever since she moved from her home in Australia to the U.S. in 2007 for what she initially thought was a temporary trip (she instead booked her breakthrough leading role on the hit show "Chuck" opposite Zachary Levi), Strahovski has been bringing that philosophy to her stellar work. She's also performed consistently in a wide variety of mediums; although in recent years she's considered herself more of a screen actor (starring on "Dexter," "24: Live Another Day," "The Astronaut Wives Club," and now ABC's drama "Stateless" from producer-star Cate Blanchett), her Broadway debut (in 2012's "Golden Boy") called back to her theatrical roots, studying at the University of Western Sydney's Theatre Nepean and reading plays to adapt for the theater company she co-founded.
Strahovski may now be best known as the sinister, remarkably restrained Serena Joy on three seasons of Hulu's "The Handmaid's Tale." Led by producer-star Elisabeth Moss and creator Bruce Miller, the award-winning drama brings to vivid life author Margaret Atwood's dystopia Gilead, a world bearing a disconcerting resemblance to our own. Strahovski's profoundly multi-layered performance has earned nominations from the Golden Globes, SAG Awards, and, in 2018, the Primetime Emmy Awards.
Listen to advice from Elisabeth Moss on 'In the Envelope'
Speaking about her relationship with Serena—and the way it's evolved, as long-form TV demands of its actors—Strahovski reveals the inner workings of her thorough character-building process. What audiences see is the final product, she explains. "It's easy to describe her from her actions as despicable and horrendous and whatever else—and she is. My job is to look beyond those words and ask: Why is she despicable? Why did she do that action? What is it in her heart that got messed up? What happened to her to make her this way?… It's always been very important for me to have a lot of clarity on her intentions because then I can work backwards and peel it back and get to the bottom of it."
She adds, "The more you're familiar with yourself, your strengths as an actor, your character, your material, and where you're sitting and what your thoughts are on it, the more you can go on set and utilize all that—and at the same time throw it all away and do something completely different and unplanned and have fun while you're doing it!"
Strahovski's advice for her younger self? "Enjoy the journey," she says simply. The actor's journey may require 100 auditions before booking the one job that makes it all worth it, so you might as well find a way to relish that process. Besides, as she says, "all those auditions prepped you for 101." For more valuable insights, including tips on voiceover and accent work, tune into Strahovski's "In the Envelope" interview wherever you listen to podcasts.
To read Backstage's statement of solidarity with the Black Lives Matter movement, click here.
Listen now on:
Looking for remote work? Backstage has got you covered! Click here for auditions you can do from home!