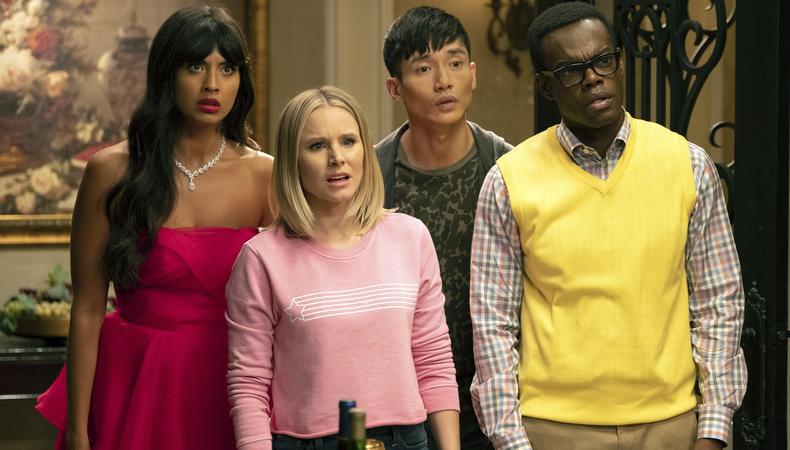 NBC is saying goodbye to the hit show "The Good Place" while the CW bids farewell to its long-running "Arrow." Meanwhile, the cast of NBC's "Brooklyn Nine-Nine" is excited to continue their journey on their new network after being canceled somewhat unexpectedly only to be saved by a competing network. The stars of the shows offered advice for actors while talking about the upcoming seasons at this year's San Diego Comic-Con.
READ: How to Become a TV Actor
Stay in motion.
Juliana Harkavy ("Arrow"): This show, and because of the trajectory we're taking right now where every episode is so big is like the concept "a body in motion stays in motion." I feel like that's happening and I'm ready for the next thing.
Rick Gonzalez ("Arrow"): For me, it's always been a marathon as an actor—just keep going. Enjoy it. I always try to maintain a perspective that keeps me energetic toward the work and wanting to continue to work. I mean, there are things in the kitchen cooking, but you'll have to wait and see."
Jameela Jamil ("The Good Place"): I don't know how I'm going to follow this, so I've been saying no to everything because I'm spoiled. I've worked for Ted Danson and Mike Schur, so I have to be really careful as to how I'm going to find this family again.
Manny Jacinto ("The Good Place"): As much as I love Jason, and he's always going be in my heart, I want to exercise other roles. We have "Top Gun: Maverick" coming out, and hopefully other projects in the works right now. But before this, it was all drama for me; this was my first comedy project, so maybe [I'll] dive back into drama a little bit and then come back.
READ: The 1 Thing You Should Know Before Auditioning for TV
Embrace the relationship with the characters you play.
Rick Gonzalez: As [actors], we always say this, but you get a job and you realize that job dictates where you are in your life and what you're able to accomplish as the actor because you're going through something that will allow that or give you the perspective for it. I've played a dad before in my career, but the fact that I had to play with Rene, who has Zoe, and I have a 6-year-old at home has definitely prepared me as a father in terms of where Rene is. Everything I went through as a dad has prepared me for Rene. And having to find that in terms of the character, because there's this angst that Rene has, but at the same time where is he in terms of his gentleness with her and how he feels about her and how he shows that. I wouldn't be able to play this character if I didn't have my daughter. I don't think you would have felt it the same.
Terry Crews ("Brooklyn Nine-Nine"): I love being a dad. I've been a dad so long and now I'm a grandpa. [It's great] to represent what that means [on the show] because it's something you can damage very easily; when you look at the legacy of Bill Cosby and this kind of stuff—it makes me cringe. When you look at people you adored and you [think,] Oh no, if they didn't do it right, but if they did do it right, you're like, Oh my god, it's amazing. It's like water on your soul. And I realize when you look at the versions of fatherhood that we [Crews and Joe Lo Truglio's character Charles] portray, it's all good because I know this man and I know he's a good man and I know what's going out is perfect and right and it's going to inspire a whole new generation of new dads and new people.
Joe Lo Truglio ["Brooklyn Nine-Nine"]: I'm a new dad, so a lot of the new dadness is real, [and I] come in and use it for Boyle. And it's a humbling position. I learn a lot from [Crews], and Andre [Braugher], who is also an incredible family man. So I've learned a lot. I'm using the challenges I'm seeing as a new dad to bring that into Boyle's energy and anxieties for Nikolaj.
READ: 5 Steps to Acting on Television
Learn from your experiences, on this set and others.
Stephen Amell ("Arrow"): I spent maybe the first three seasons being a little bit precious about how people behaved on set and that type of thing. Little things would bother me, and then between Season 3 and Season 4 I went and shot [2016's "Teenage Mutant Ninja Turtles: Out of the Shadows"] in New York and nobody gives a shit about anything when you're filming in New York City. They're very, very professional, but people are running by and honking horns or talking, the crew's moving around. Then I came back. So if I could go back now to Season 1 where the show had a real outsized importance because I was semisingle and wasn't a dad, so the show meant everything, I'd go back and I'd say, "Hey man, [calm down]."
Juliana Harkavy ("Arrow"): Women in this series and Dinah, in particular, have really helped me in my personal life because I'm actually naturally pretty shy, a little bit introverted, and I'll question myself. Things that we all do. These characters really show you the juxtaposition of that place in yourself. They teach you to stand like this instead of like that. It's really changed me in my real life. It's helped me become a stronger person.
William Jackson Harper ("The Good Place"): I really hope it exists as this complete story that inspires people to think about how much they're affecting those around them. It's a very basic thing to think. I mean I forget it, and I can only imagine other people might forget, too. I would love for the show to exist as a reminder of how to maybe approach your life and approach other people.
Kristen Bell ("The Good Place"): Recognizing yourself in other people's humanity is one of the core elements of our show and I just love being a part of the piece of art that brings that purpose to people's living rooms.