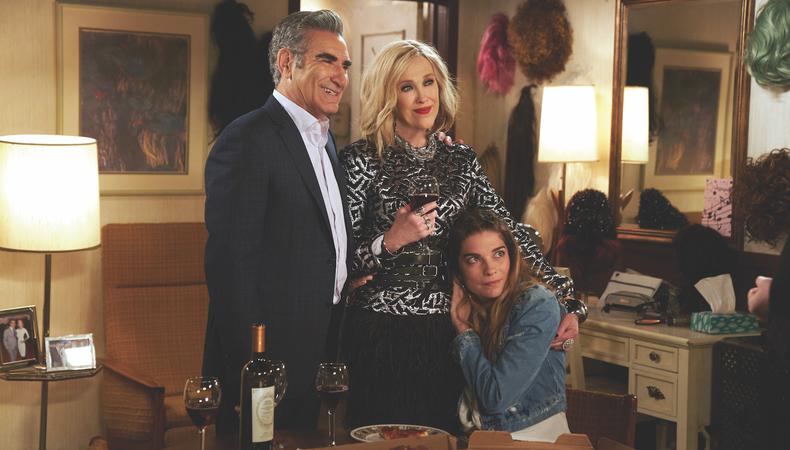 As we look back at 2020, we at Backstage have pinpointed the year's best big- and small-screen ensemble work for your SAG Awards consideration and beyond. For more voting guides and roundups, we've got you covered here.
Main Cast: Chris Elliott, Emily Hampshire, John Hemphill, Dan Levy, Eugene Levy, Sarah Levy, Dustin Milligan, Annie Murphy, Catherine O'Hara, Noah Reid, Jennifer Robertson, Karen Robinson
Casting by: Jon Comerford and Lisa Parasyn
Created by: Dan and Eugene Levy
Distributed by: CBC, Pop TV
Success stories have been thin on the ground in 2020. It's a big part of the reason why it was so incredibly gratifying to watch "Schitt's Creek" clean up at the Emmys in September. In a year pockmarked by loss and cruelty, the final season of the CBC/Pop TV sitcom was a light in the dark; that it swept the best comedy category was icing on the cake.
A sleeper hit that crept its way into the pop culture canon, father-son duo Dan and Eugene Levy's series distinguished itself over its six seasons with a sense of humor that was both arch and loving—biting but not bitter, sweet but not saccharine. And like the great small-town comedies that have preceded it ("Northern Exposure," "Gilmore Girls," "Parks and Recreation"), "Schitt's" succeeds largely on the strength of its ensemble and the clear bonds they've forged along the way.
And what an assemblage of comedy greats it is, from established legends (Eugene Levy, Catherine O'Hara, Chris Elliott) to relative newcomers who knocked it out of the park (Dan Levy, Annie Murphy, Emily Hampshire, Noah Reid).
If you don't know the show's premise, you should firstly stop denying yourself joy. Secondly, a quick catch-up: "Schitt's Creek" follows an absurdly wealthy family who go suddenly broke and must start over in the titular backwater town. Over the course of its run, "Schitt's" went from a sharp satire of the pampered Rose family and the bizarre townies who don't know what to do with them to a deeply loving portrait of a group of outcast oddballs teaching each other to be more human.
The sixth and final season saw the culmination of series-long arcs for the main players, and the cast provided plenty of catharsis without sacrificing an ounce of the show's trademark zaniness. The "Schitt's" actors can deliver high slapstick in a movie premiere besieged by a murder of crows, then turn around just a few episodes later and make us weep in the series finale wedding.
As fan-favorite couple David and Patrick, Dan Levy and Reid had us rooting for their love story right through to its happy ending, the former's nervous poodle energy a perfect foil to Reid's golden retriever sweetness. Murphy, whose Alexis went through perhaps the show's profoundest emotional growth, brought us to tears with her character's bittersweet breakup with longtime boyfriend Ted (Dustin Milligan). And Eugene Levy continues to be Canada's most hilarious straight man in his portrayal of beleaguered patriarch Johnny. Hampshire's Stevie Budd provides a dry-witted counterpoint to David and his family, while Elliott's over-the-top Roland Schitt knows just how to get under Johnny's skin for our enjoyment.
Then there's "Schitt's" first lady, O'Hara's Moira Rose. In a series of increasingly fabulous and strangely fashion-forward getups, O'Hara has created an indelible character, complete with an inscrutable accent (we'll never say the word "baby" the same way again), unhinged diva energy, and warm affection that belies her narcissism.
The chemistry sparking in and among the main cast it exemplified in "The Bachelor Party," the episode in which the Roses, Patrick, and Stevie have to work together to make their way out of a Charles Darwin–themed escape room. It's the perfect setup for the actors to bounce off each other like bumper cars—and it's frankly the best theme park ride of the year.
This story originally appeared in the Jan. 20 issue of Backstage Magazine. Subscribe here.
Want more? Stay in the loop with everything you need to know this awards season right here!