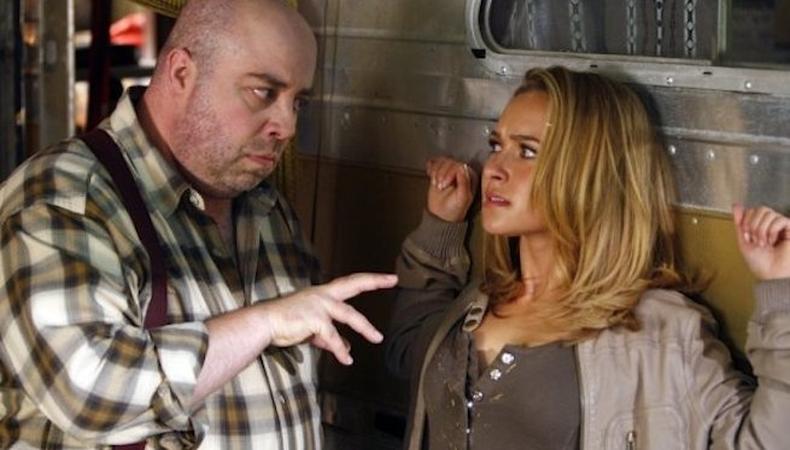 Welcome to another weekly edition of Side Hustle Spotlight where I interview actors and filmmakers at different levels of their career who have used their other passions to capitalize on a fulfilling side hustle. These folks no longer or have never had to do serving work that drained their energy and made them miserable. Be sure to check out the original article for inspiration on discovering your side hustle. This week's actor has been on so many shows, it's unlikely you haven't seen him. He used his computer skills to create an app for actors that gives him a passive income so he can focus on other things.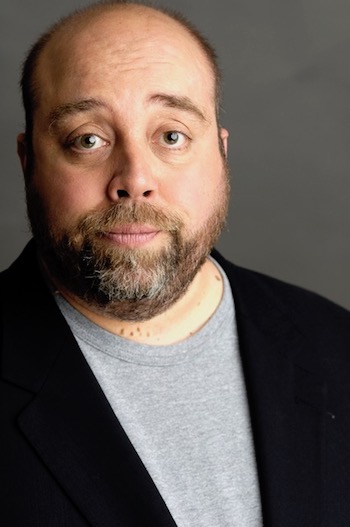 Name: David H. Lawrence XVII
Side hustle: Teaching voiceover and supporting my app, Rehearsal® Pro.
Years acting: 14 (on camera, professionally), 46 (on mic, professionally)
Favorite acting credits/opportunities: Three seasons on the show most people know me from, NBC/BBC's "HEROES." Dozens of studio feature films, over 25 union commercials, close to 100 audiobooks, and nearly 50 network TV appearances. I loved making my kids laugh (and very proud) on a few Disney/Nickelodeon comedies. My mom decided I'd finally made it in show business when I was the fill-in announcer for "The Price is Right" for a month or so.
You've had so many incredible opportunities in your career so far, what makes you feel like you still need a side-hustle?
Despite how it may appear, there can be lots of downtime between gigs. There are times when I've gone for months without a gig and weeks without an on-camera audition. I've always been the restless sort and I can't really stand just sitting around waiting.
I had the opportunity with both VO2GoGo and Rehearsal® Pro to aid and abet my performance practice—both of those side-hustles actually make me a better performer—as I try to hone and refine the experience for both my voiceover students and my Rehearsal® Pro users. I get to experience what they're going through up close, and it only strengthens my goal of doing more of what works and less of what doesn't. And, having a business other than acting but still closely allied with acting, helps make my acting business stronger as well. I learn all kinds of things with VO2GoGo and Rehearsal® Pro that I can apply to my acting practice from a business perspective: marketing, support, upkeep of tools, accounting, copyrights, trademarks, the tech and so on.
What do you do when an audition or shoot comes up?
I've designed both businesses to be able to hope for the best and plan for the worst. When I get work, even if I've canceled other things to schedule the class or the coaching session or the workout, we reschedule. Same goes in the other direction: I expect that my students know that work comes first. I even tell demo clients that are coming to the studio that if they get a call for a last-minute audition or booking, they go to that and we reschedule. I have a team of coaches that can take over an event for me and I cover for them when they need it.
With Rehearsal® Pro, I have a support person I use all the time if I'm not available and for both, I have a virtual assistant (who's also an actor, so she gets it) to help me with keeping things running smoothly.
Have you ever felt like your side hustle was in jeopardy because of acting? How long did it take you to feel like you had security at this side hustle, even if you took time off for an acting project?
Not yet. I always keep the priority of professional performance so I don't worry if acting becomes so plentiful that I need to staff up for the other businesses. That would be a problem that I'd welcome and am prepared for. Even when I was working regularly on "Heroes," or when I had recurring roles on other shows or a longer audiobook, the way I've set things up made everything work out.
What skills or talents did you need for this side hustle? How long did it take you to qualify or complete training for your side hustle?
For VO2GoGo, I'd been doing radio and VO for over four decades before I was dragged into teaching/coaching. And to this day, the week in, week out nature of being a performing VO artist keeps that content nice and fresh when I coach. As far as Rehearsal® Pro goes, I've been a technologist since high school (in the 70's) and I was also in the drama club. Technology and entertainment have been two intertwined paths I've followed all throughout my life and Rehearsal® Pro is just one more example of the two working hand in hand, supporting each other. I outsource the things I don't know how to do or aren't as good as I could be. I think a lot of people in business think they have to know how to do everything. They don't. They do need to know what their metrics for success are, but they don't have to be expert at every single thing they have to get accomplished.
How does this side hustle fulfill you? Do you feel like you're helping people/society/humanity in a tangible way?
Oh my, yes. There's nothing that makes me happier than when a client writes and says, "I just booked this narration gig or animation project or audiobook and I used what I learned from you to get it," or when a Rehearsal® Pro user leaves a comment out of the blue that they nailed an audition, a workshop, booked a gig, got side-booked, or any number of other things because of the app. Of course, the celebrity I-use-this-great-app-Rehearsal®-Pro-to-learn-my-lines shout outs have tickled me to death. I'm like, "Really? Jane Fonda uses my app on 'Grace and Frankie'? Cool!"
Has your side hustle made you better at acting or achieving your acting goals?
I think it's really important that when you consider a side hustle, you consider not only what it pays and what the scheduling is like, but if you can gravitate toward side hustles that are allied with the business of show business. Sure, there's possibly going to be the once in a blue moon moment when a producer is in your Starbucks line and decides you must be in his/her production, but don't count on it. If you can work in a writer's room or teach a performance skill you're really good at or create a service helping other actors...I've seen lots of other examples in your other side hustle columns of actors who do just that and they multiply their chances of being seen and being thought of.
Why did you choose to do this side hustle instead of more stereotypical acting side hustles like serving?
Aside from the fact that I am awful as a server, it was the closeness to the industry that really helped me make the decision in both cases. I've had other opportunities to go to work for Google and for other awesome companies, but despite the pay and the perks, they don't give me the personal satisfaction.
If you produce your own work, do you feel like this current side hustle allows you the freedom/resources to do that?
My side hustles fund a lot more than my mortgage, car, food, and other personal bills; they also allow me to produce whatever I want, whenever I want, and that production has come in the form of short films, feature films, supporting filmmakers' IndieGoGo and Kickstarter campaigns, audiobook projects, and so much more.
Do you have any advice for actors that aren't sure what path to take while they are waiting for acting to pay all the bills?
First, don't give yourself a career time limit. Samuel L Jackson said that it took him 15 years to become an overnight success. This business has to be in your blood, for life. Be persistent, and be in it.
Second, a simple approach to maximizing success that works for me is this: do more of what works and less of what doesn't. Confirming what's working for you and what isn't, and not beating your head against that rock of, "Hey, this SHOULD be working" and then honing and refining your approach to achieving the success you want, is the easiest way to walk that path. More of what works, less of what doesn't. I live and love my acting practice by following that simple approach. Maybe that will work for you too.
Linnea Sage is an award-winning actor, voiceover artist, writer, and producer in NYC and LA. She is the creator of the animated series, "Brainless Agenda" (@BrainlessAgenda on Instagram). She starred in the comedy series "WILDCATS" on the Fullscreen Network. She also voices superheroes in the Marvel video game, "Avengers Academy." Follow her @LinneaSage on Twitter. If you have a fulfilling side hustle and want to be featured in Linnea's column, Side Hustle Spotlight, please introduce yourself at SageScribble@gmail.com.
Get all of your acting questions answered by peers and experts on the
Backstage Community
forums!
The views expressed in this article are solely that of the individual(s) providing them,
and do not necessarily reflect the opinions of Backstage or its staff.