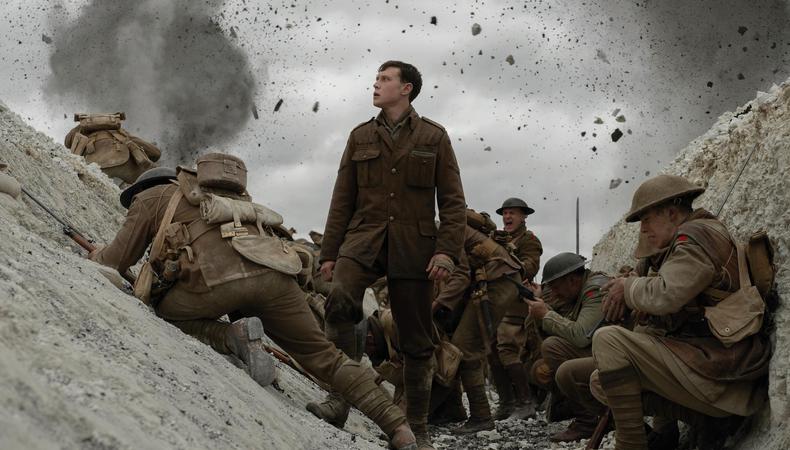 Looking for a new perspective? Here we talk to more of the top professionals in the field to bring you the latest career advice!
The hum of lightsabers and screech of starships in "Star Wars: The Rise of Skywalker"; bombs exploding and planes crashing in "1917"; the sound of spells being cast and a castle crumbling in final the battle at Hogwarts in "Harry Potter and the Deathly Hallows – Part 2." All of these are thanks to Stuart Wilson, the sound mixer behind the noises that transport you to these worlds.
As a sound mixer and recordist, Wilson has also helped bring life to other "Star Wars" installments including "Rogue One" and "Star Wars: The Last Jedi," iconic franchises like James Bond in movies "Spectre" and "Skyfall," and three additional films in the "Harry Potter" cannon. His credits also include "The Two Popes" and "War Horse." His work has been nominated for numerous awards, and he recently won a BAFTA and an Academy Award for "1917."
Curious what it takes to become a sound mixer for feature films? Chatting with Backstage, Wilson fills us in on his career, how he interacts with actors on set, and advice for following in his footsteps.
What does a sound mixer do?
I'm in charge of the sound during the filming stage when the actors are in front of the camera. I have to get rid of all the unwanted noises and try [to] capture their performances at the time so they sound good when people watch it. The director and the actors work hard to get the perfect take on set in front of the camera. Nobody wants to have to try and recreate that if it has to be re-recorded in a studio later.
What's your process when approaching a new project?
I read the script—[the] first time just to enjoy the story and then again to make notes and break it down. I make a list of questions or requests for the director, assistant directors, art department, construction, special FX department, costume department, and locations.
You won an Oscar for "1917." What was it like working on the film?
I was prepared for the worst because the conditions were tough, there were a lot of challenges to overcome, and I would have to be able to achieve things I hadn't done before. Then the weather got better, I had a great team, the whole crew was very collaborative, the equipment worked, and in the end, it was very satisfying!
How did you get started as a sound mixer?
I went knocking on doors of production companies asking if I could help out on any shoots.
What was your first crew job?
A two-day shoot for a director who was applying to film school.

What training do you have? What training does someone need to be a sound mixer?
Most of what I've learned has been on the job. I learned by doing: making films with equipment and other enthusiasts from a film and video workshop. I started volunteering on more professional shoots, then I got on a trainee scheme where I was attached to various productions assisting in different departments—but mostly in sound. After that year, I worked [as an assistant] but was quickly pushed into recording sound for corporate videos and documentaries.
"No two sound mixers will record a scene the same way so it's best to learn from different practitioners."
What skills are essential to work as a sound mixer?
You have to enjoy listening. You have to respect and value everyone else's job on the film unit because you have to cooperate and negotiate with all the other departments on the crew.
How do you find work?
Through word of mouth, mostly. If you're starting out, it's good to keep working on all kinds of projects: any shoots that are going on, amateur or professional. You'll be expanding your skills, your contacts, and your reputation, then one thing leads to another. I've been offered some fantastic jobs through recommendations from people I worked with on unpaid jobs years before.
What do you look for when hiring someone?
Someone who is calm, genuinely interested in sound, responsible, not afraid to get their hands dirty and sweep the floor if that's what is required. Self-motivated. There is no time to carry passengers on a film shoot.
What's the hardest part of your job?
Maintaining the drive that's needed every day to make the film sound good.
How does your work impact actors on set? How do you interact with them?
It's down to us to capture the sound of the actor's performance and we need their cooperation to do this. It's a relationship of trust. I introduce myself, explain what we are doing, and discuss the microphone placement so they can be comfortable, confident, and can then forget about it. It's important they know me and my team so they're comfortable and know who to speak to.
What's one thing you wish everyone knew about sound mixing?
You can't select what is recorded with a microphone the same way you can with a camera lens. A microphone records the movement of the air all around it. The conditions need to be right to record the appropriate sound for the scene.
What advice would you give aspiring sound mixers?
Record things and listen back to them. Record sound for video and watch and listen back to it. Hear what it sounds like, think about what you want it to sound like. Experiment and make changes to try and improve the result. Assist different people. No two sound mixers will record a scene the same way so it's best to learn from different practitioners.
Do you have any advice for someone's first day on the job?
Be early. Be reliable.
What film do you wish you'd worked on?
"Crouching Tiger, Hidden Dragon."