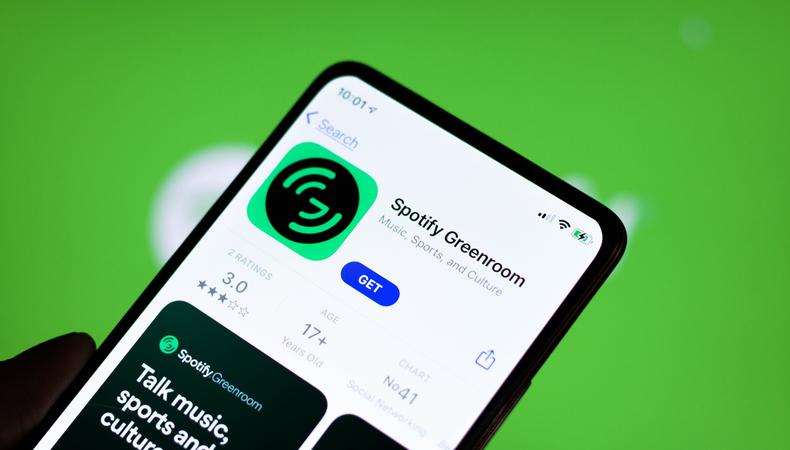 In less than a year, Clubhouse has gone from being a niche audio chat app to one that is frequented by celebrities such as Oprah, Tiffany Haddish, Chris Rock, and Drake. Now it has inspired some competition. Both Spotify and Facebook have launched their own Clubhouse-inspired audio chat rooms with Spotify's coined Spotify Greenroom and Facebook's Live Audio Rooms. Spotify is launching a Creator Fund for Greenroom to boot.
Spotify Greenroom is being launched as a separate app available via iOS or Android. Users do not need to have a Spotify account to join Greenroom. Similar to Clubhouse, anyone can create their own rooms, and invite other users to join them. According to a press release, "When you host a room you'll have the power to moderate, choose speakers, set the tone and topic of discussion as well as record the audio. Greenroom also gives you the ability to surprise and delight your fans by popping up in their conversations too."
Spotify Greenroom is also launching a Creator Fund, which will pay users who regularly create rooms. Registration for the Creator Fund is open to adults 18 and up residing in the U.S. Spotify will regularly pay out creators whose rooms attract a large amount of engagement. The payouts will occur on a weekly basis, though Spotify does not specify the metrics it is using to calculate the payout. According to its website, "payouts are calculated weekly and based on a number of relevant factors, including the consumption of each creator's live audio content and audience size. Creators can earn funds every week with no limit on the number of times they can earn."
Only the user who creates the room will receive a payout. Anyone interested in the Creator Fund can register here. In being willing to pay artists to create content, Spotify is following the lead of TikTok, Snapchat, and Clubhouse, who have all started paying artists and influencers to create exclusive content on those apps.
Meanwhile, Facebook's Live Audio Rooms is more exclusive. Only iOS users can host rooms and for now, only public figures and select Facebook Groups based in the U.S. can create audio rooms. But any Facebook users on iOS and Android can listen to live audio rooms by checking their Facebook news feed or signing up for notifications. Facebook plans on rolling out Live Rooms to more public figures and groups in the coming months, though it has not announced plans for making the functionality available to the wider public.
Omareloff, Reggie Watts, Tina Knowles-Lawson, and DeRay Mckesson are some of the personalities who will be hosting Facebook Live Audio Rooms.