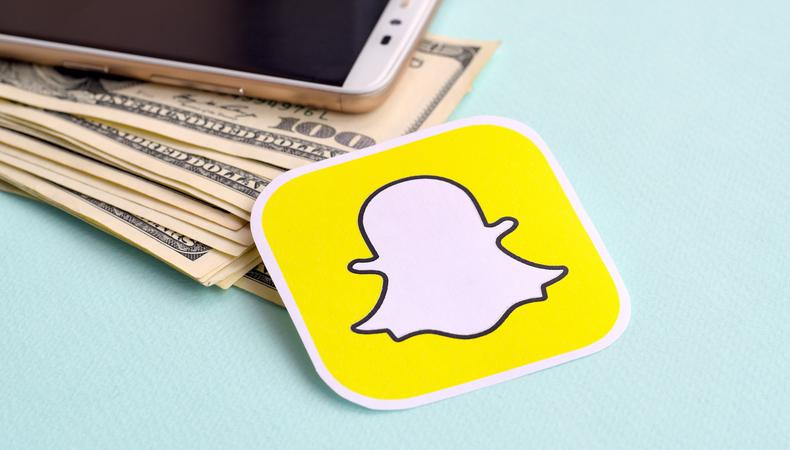 Like many actors in 2020, Nick Lawrence was having a hard time after COVID-19 dried up a lot of his work. Then before Christmas, Lawrence was driving to West Virginia, took a video of the trip, and uploaded it to Snapchat—specifically, he uploaded it using a new feature on the site called Spotlight, a landing page that showcases Snaps from users all around the site, not just people you follow.
"About two days later, I get a notification on Snapchat that says my Spotlight had been viewed over 100,000 times," says Lawrence. Then two weeks later, Snapchat sent him another email, this one more intriguing: "It said I made $5,300 bucks. I really thought it was a scam. Because that's insane. I ended up getting like 400,000 views on that video. " But Snapchat did send him the money.
To date, Lawrence has earned over $100,000 from his Spotlight videos. Lawrence uploads videos daily, explaining, "COVID has kinda hurt the whole acting thing right now, so why not go ahead and make a new source of income from Snapping?"
What is Snapchat Spotlight?
Spotlight is a feature on the social media platform that was launched in November 2020, with a promise to pay content creators on the site $1 million a day. The platform has made good on that promise: Over 2,000 Snapchatters have earned a collective $42 million dollars in the first six weeks of Spotlight's launch. Spotlight now has 100 million monthly active users. Spotlight's biggest earner has been Cam Casey, who has received over $3 million dollars.
"Our hope is that Spotlight lowers the barrier to content creation. You don't have to have a public account, just a great Snap, to be featured," said a representative from Snapchat over email, adding that the fund for Spotlight is expected to go on indefinitely.
Snapchat Spotlight vs. TikTok Creator Fund
When Spotlight was launched, a number of media outlets pointed out its similarity to the TikTok Creator Fund, which has committed $200 million to content creators (it is expected to grow to $1 billion over the next three years). Though there are some key differences between the two funds. On TikTok, you need to be at least 18 years old with at least 10,000 followers and have accumulated 10,000 views on your videos in the past 30 days to apply for the Fund.
By contrast, Snapchat Spotlight is open to anyone, you just need to click 'Spotlight' when you upload. And the payout is potentially higher.
"I've made maybe $120 on the TikTok Creator fund, compared to $75,000 [on Snapchat]," says Mike Metzler, another content creator (Snapchat handle: @metz044).
To Metzler, who is also a social media analyst for Conviva, both of these funds point to the platforms realizing they need to pay for original content, in order to bring in more people to their apps.
"We're one step away from Snapchat and TikTok paying for, like, exclusive creators to stay on their platform," he said, citing when gamer Tyler "Ninja" Blevins signed an exclusivity deal to stream all of his content with Mixer, instead of Twitch. "It's a war for talent and eyeballs, and if you can capture those and bring those to your platform…. And watch time is the ultimate currency for a lot of these social platforms. They want attention, they want eyeballs. So they're willing to do whatever it takes to get that, including paying people to make content on their app."
What makes a successful Snapchat Spotlight?
The more these funds are public, the more people are trying to figure out how to conquer the algorithm. Snapchat and TikTok don't release any information on how they calculate the payout for creators. On their site, TikTok said that the Creator Fund payout is, "worked out by a combination of factors; including the number of views and the authenticity of those views, the level of engagement on the content, as well as making sure content is in line with our Community Guidelines and Terms of Service." And it also depends on how many videos have been "published by our community that day—so this will fluctuate based on the amount of content being published."
The Snapchat guidelines are also similarly amorphous.
Lawrence has started a server on Discord for people who have qualified for money on Snapchat; the server has over 100 people and it's steadily growing. What he and his group have noticed is that Snapchat double checks each video to make sure that it's not stolen content or something that was posted on other platforms, before paying out.
Snapchat's guidelines say that uploaded videos should be original content. In his discussions on Discord, it seems that even if stolen videos somehow bypass Snapchat's anti-copyright infringement AI, stay up, and get "a lot of views, you will not be paid," said Lawrence. Though he also notes that every so often, someone will still make money from a stolen video; the Discord group has kicked out people who post stolen content.
What else has been helpful in getting more views (or at the very least getting Snapchat to prioritize your video in the algorithm so it gets more views), is making sure your video uses Snapchat's music and filters.
"Snapchat, they're paying more money to those creators that make the videos within the app," notes Lawrence. "Use the filters, use Spectacles, use everything Snapchat has to offer because it's got to be exclusive." And the group has also figured out that weekend posts tend to get more engagement on Snapchat than on weekdays.
Metzler recommended Spotlight to his sister (who is not a regular content creator) and she also got around $100,000 for her videos. In terms of what kind of content, he noticed that the videos that do well are "slice of life" themed.
"Don't overthink it," he advises. "It's not TikTok. That funny video of your friend just falling down with a good caption will probably do better than anything you spend three hours trying to make or recreate. It's really life's moments, life's funny moments."
And as for other actors, Lawrence advises using multiple social media platforms as a brand-boosting tool. "I always make an appointment every day to do something on social media, whether I just go live on Facebook...just something to keep people entertained," he said. He also has a YouTube channel (which is how he got the word out about his Spotlight Discord server). He admits he doesn't have a TikTok because "I can't dance."
What's next for money-making on social media?
These days, there are opportunities and money to be made on social media. TikTok is currently testing out a new function called TikTok Creator Marketplace, where it will connect brands to content creators to work on paid campaigns. And considering the new influencer agreement from SAG-AFTRA, social media influencing can also qualify people for union health insurance now.
"Not a lot of people realize you can make your career or break your career in literally two seconds on social media," says Lawrence, who recently got his first agent, and his biggest role yet, a one-episode speaking role on Netflix's "Outer Banks." "You can get as big as you want to be on social media, to bleed into other things that you want."
And you can also find community. Lawrence's Discord group contains not just content creators, but regular people who stumbled onto a large pot of money. And he's encouraged them to donate some of their money to causes they believe in. The group has given away around $20,000 to charities. And they also offered to help Lawrence, who needs surgery after having been in an accident that knocked out several of his teeth and put him in constant pain. He's now able to schedule a consultation because of Spotlight and his Discord group.
"I've had several people...reach out and say, 'Hey, I'd like to help you with that, I can give $1,000, $5,000, whatever," he says. "They want to help give back because it was just so unexpected."