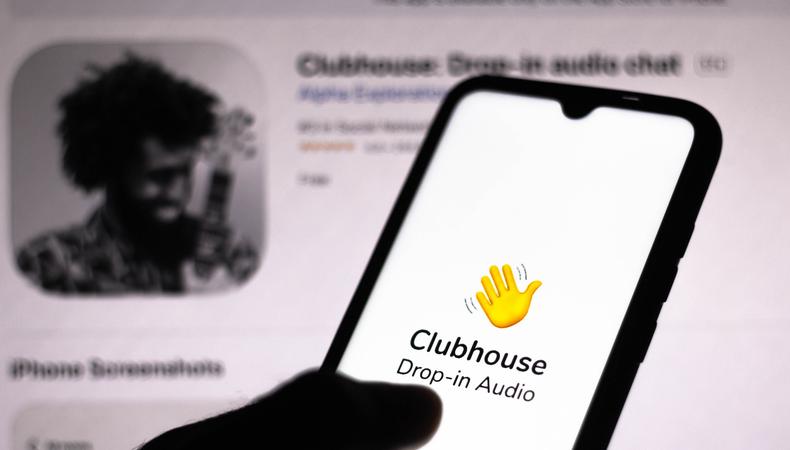 Sydney Connors is based in Cleveland and has never worked on a Broadway show. But during the COVID-19 pandemic, she ended up producing a musical on the audio chat app Clubhouse, "Dreamgirls," which starred Alex Newell as Effie White. How did that happen? "Six degrees of separation," she answers.
Clubhouse is a newer app; it launched on iOS last March, and only recently launched an Android app. It allows users to create audio chat rooms and talk to each other about any topic that they love—whether that's finance, food, or pets.
In recent months, a number of theater lovers have also used Clubhouse to mount original shows, including musicals. The first Clubhouse musical was "The Lion King," directed and produced by Noelle Chesnut Whitmore, which then inspired other musicals such as "Fela!", "Once On This Island," "In the Heights," and "Dreamgirls." And some creators have started using the app to create original audio dramas, complete with sound effects.
Unlike Zoom, Clubhouse doesn't have any lag or latency issues, so performers can sing together live, and feed off of each other, even if they're not in the same room, physically. Other creators have started using the app to create original audio dramas, complete with sound effects. Some have launched their own talk shows, giving Clubhouse a podcast-like feel—except it's in front of a live audience.
For her part, Connors got the idea to do "Dreamgirls" on Clubhouse after seeing "The Lion King." She then called her best friend Brandon Patterson to help her produce. To help book talent, she contacted performer Leroy Church, who she had met in a meditation room on Clubhouse. Church had performed in "The Lion King" national tour.
Connors then contacted Branford Jones, who runs the They Have the Range account on Instagram (which has over 677,000 followers)—she had also met Jones in a Clubhouse room about cooking. Jones connected her with Tony-nominated performer Sheryl Lee Ralph and "Glee" star Amber Riley, who agreed to judge the "Dreamgirls" audition—"American Idol" style.
Over 6,000 people tuned into the "Dreamgirls" audition and over 8,000 watched the "Dreamgirls" performances in February. But it all happened through Connors meeting people on Clubhouse.
"Though I put in work, it was nothing that was completely planned—everything fell into place," says Connors. "It was a time where no one had access to perform and be creative and expressive. So everyone was looking for ways to do that. And I think we just brought that joy in a perfect time."
Clubhouse has also noticed that creators have been using the app to produce original shows. They recently launched a Creator First program, where 25 original series will receive $5,000 a month from Clubhouse to create original content for the app. They've also launched a payment feature on the app, so fans can tip their favorite creators; Clubhouse does not take a cut.
Connors has been able to use the tip feature to fundraise for her real-life pursuits, including an upcoming three-day music and art festival she's producing in Atlanta. "I had to go from scratch with my team to create the sound to do musicals on [Clubhouse]," says Connors. "I think Clubhouse saw that. And after we argued with them a little bit, I think they finally realized they have to start helping in some way."
Willonius Hatcher is a comedian and writer, and his original show "The Young and the Thirsty," was selected for the Creator First Program. Hatcher will now receive production support for his improv soap opera, as well as marketing support and a monthly stipend from Clubhouse. He runs the Comedy Club, which hosts improv and other comedy events. Anyone on Clubhouse can create a one-time-only room, or they can create a full-fledged club to host regular events where followers can subscribe to get notifications.
Comedy Club is now the largest comedy community on the Clubhouse app. Hatcher says he had been looking for an outlet for his comedy during a time when in-person comedy shows were not possible. "Being able to jump on Clubhouse, and make people laugh and create a community in that space was so important for me during the pandemic," says Hatcher.
Unlike other pandemic-era performance platforms such as Zoom, Clubhouse sets itself apart by encouraging user interaction. Every room has hosts who can unmute themselves whenever they want. Audience members can raise their hand to ask questions.
Because everything is audio-only, there's less self-consciousness, says Connors. "When you go in there, you don't feel uncomfortable going into rooms or hopping on stages with people you've never met in your life," she says.
And sometimes you'll meet celebrities. When he started using Clubhouse, Hatcher would go on the app almost daily and create his own room. Eventually, comedians that he admired started showing up, such as Kevin Hart and Tiffany Haddish, because they were looking for a space to talk about comedy.
"That's when I really, really knew the power of Clubhouse, 'cause that wouldn't happen on any other app, where you can literally just create a room and you have your favorite comedians come in there and you're just chatting with them," says Hatcher.
Hatcher compares creating original content on Clubhouse to podcasting, except there's an additional interactive element. And it's live. But like podcasting, it doesn't require as much time and energy as, say, a comedy short on YouTube. "I have a process now where I can turn out these audio dramas in a month," he says. "If I did a production through film or theater, this might take a couple months to put it together. And I can do it [on Clubhouse] in roughly, about two weeks."
For Fizaa Dosani, who is another comedian, Clubhouse has allowed her to expand the reach of her comedy, and her fanbase—she's also gotten requests for live shows because of her Clubhouse events.
Dosani has also been selected for Creator First. Her show, "Facial Recognition Comedy," focuses on highlighting comics from underrepresented backgrounds. As a woman in comedy, Dosani has experienced a fair share of in-person harassment from men. So creating shows on Clubhouse has enabled her to create a truly safe space for her and fellow comedians.
"[Comedy] still isn't the safest place for women, whereas like with digital platforms, there's built-in safety, at least physically," she explains. "It could be as simple as just not responding or you can block someone." On Clubhouse, creators can kick anyone out of their rooms, and blocking someone can prevent them from attending any future rooms from that creator.
This protection is especially more crucial as creators of color, especially Black creators, have been instrumental to creating original content that has driven users to the app. "In order to really get our perspective out there, we had to create our own platform," says Dosani. "The internet's the great equalizer, and we can just put ourselves out there without having to depend on a gatekeeper to allow us onto their platform."
Being willing to create your own play space and be visible is Hatcher's advice for anyone looking to show off their creativity on Clubhouse. And Clubhouse is expected to grow; as of May, it has 10 million users, who are making an average of 300,000 rooms a day, and spending on average an hour on the app. The functionality is so buzzworthy that even Facebook and Twitter are building their own audio chatrooms.
For now, for any creators looking to build their reach via Clubhouse, the tip is simple: Make a room and talk about what you love.
"Don't look at this app, as, 'I gotta have 100,000 followers,' " says Hatcher. "Just create value for people, and you'll have the best experience on this app ... The more you can help people and be of service to people in the app, the more opportunities will present themselves to you. If you're a creator and you want to create, just press that start button and make a room and think of an interesting topic to talk about."
On May 26, Dosani and Hatcher were selected by Clubhouse to bring their shows to series on the platform so they'll be paid monthly by the platform.