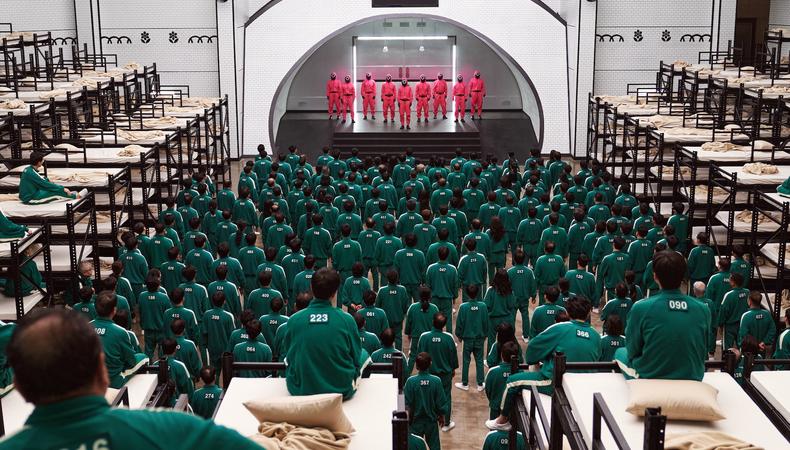 Greenlit means a project is officially a go, so all you have to do is follow these leads to stay up to date. You never know where you'll find an opportunity to land an audition!
It's official—"Squid Game" is getting a Season 2. Netflix head Ted Sarandos confirmed last week that the hit drama series will be commissioned for another season. Along with this exciting news, Disney also made some casting announcements regarding the upcoming "Beauty and the Beast" prequel series. The project is already starring Luke Evans and Josh Gad, but Disney+ added a few new stars to the cast last week—including two Disney multiverse vets. Here's everything we know about these upcoming projects.
"Squid Game" Gets a Green Light for Season 2
The game is not over yet. According to Variety, last week during an earnings interview, Netflix co-CEO and CCO Ted Sarandos confirmed that the hit series "Squid Game" will be getting a second season. "Absolutely," Sarandos said in response to a question about a potential Season 2. Adding that, "the 'Squid Game' universe has just begun." A continuation to the series, which became Netflix's most-watched series and highest-earning series, has previously been hinted at by series creator Hwang Dong-hyuk in an interview with AP. He stated, "There's been so much pressure, so much demand and so much love for a second season. So, I almost feel like you leave us no choice! But I will say there will indeed be a second season. It's in my head right now. I'm in the planning process currently." According to Hwang, Lee Jung-jae would return for a Season 2, though no casting has officially been announced or confirmed by the streamer. Abdelrahman N. Fawzy is the casting director behind the hit series.
More Stars Are Joining the "Beauty and the Beast" Prequel Series
A pair of Disney vets are coming to town for the upcoming "Beauty and the Beast" prequel series. According to Variety and Deadline, "Hawkeye" star Fra Fee and stage star Jelani Alladin ("Frozen" and "Hercules") have been set as series regulars in the upcoming live-action series. It was previously announced that Luke Evans and Josh Gad would star in the series by reprising their roles of Gaston and LeFou (also known as Louie) respectively from 2017's "Beauty and the Beast." Fee will play Prince Benoit Berlioz, "a childhood friend of Tilly's who has grown into a handsome, charismatic, confident prince," and Alladin will play Jean-Michel, "a talented artist who has a quick wit, a sharp intellect, and a fierce independent streak." Briana Middleton will also join the series as Tilly, the stepsister to Louie. Per Deadline, the series will take place years before Beast and Belle's romance and will follow "Gaston and LeFou as they set off with LeFou's stepsister, Tilly, after a surprising revelation from her past comes to light, sending the unlikely trio off on an unexpected journey filled with romance, comedy, and adventure." The series currently has an eight-episode order and will have Gad, Edward Kitsis, and Adam Horowitz serving as co-showrunners.