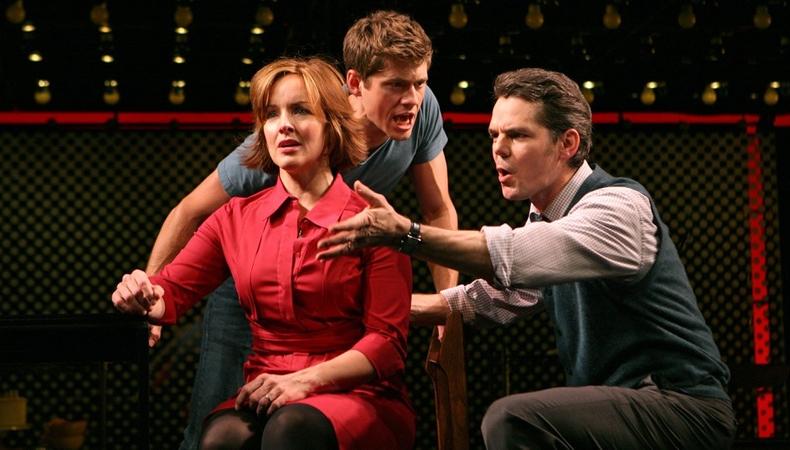 Today's top casting opportunities could be perfect for you! A Virginia production of the award-winning musical "Next to Normal" is casting a pair of actors to play lead roles. Plus, a Colorado theater company needs a versatile actor-singer, the U.S. Navy Band Country Current is casting a lead vocalist, and more great gigs around the country.
"NEXT TO NORMAL"
Zeiders American Dream Theater, Virginia Musical Theatre, and Governor's School for the Arts are casting their joint production of the award-winning musical "Next to Normal." Two actors, aged 40–45, are wanted to play the starring roles of Diana and Dan. Rehearsals will begin on March 17 followed by performances from April 2–12 at the Z in Virginia Beach, Virginia. Talent will be paid under an Equity Guest Artist Contract for union actors or a similar weekly salary compensation for nonunion actors. Transportation and housing will be covered for all. Apply here!
"ANNIE," "OKLAHOMA!," AND "THE IMPORTANCE OF BEING EARNEST"
Creede Repertory Theatre is seeking a versatile actor for a three-show track in its upcoming season. A Middle Eastern male actor, aged 36–60, is wanted to play Daddy Warbucks in "Annie," Ali Hakim in "Oklahoma!," and Chasuble in "The Importance of Being Earnest." The actor must be a strong baritone singer with a strong received pronunciation dialect. Rehearsals for the first show will begin on May 19 and the performances for the last show will run from July 24–Sept. 6. Pay is $460–$517 per week, depending on union status, with health and pension provided for union actors and housing and transportation provided for all. Apply here!
Everything You Need to Know About Auditioning
LEAD VOCALIST, US NAVY BAND COUNTRY CURRENT (COUNTRY/BLUEGRASS ENSEMBLE)
U.S. Navy Band Country Current, the Navy's country-bluegrass band, is looking for a lead vocalist, aged 18–39. Preliminary audition materials are due on Feb. 21. Final round auditions will begin on March 23. The starting salary is $62,065–$66,925 with paid leave and full benefits provided, with opportunities for an enlistment bonus or the Student Loan Repayment Program available. Apply here!
"A SOLDIER'S PEACE"
Clearstream Entertainment is casting talent for the short film "A Soldier's Peace," which follows a German soldier who meets a mortally wounded American GI in occupied France during WWII. Talent, aged 18–30, is wanted for four lead roles in the film. Two of the roles require French fluency and one of the roles requires German fluency. Filming will take place in April in Lake Oswego, Oregon. Pay is $150 per day with transportation provided. Apply here!
CBS'S "LOVE ISLAND" SEASON 2
The hit CBS reality series "Love Island" needs contestants for its second season. Dynamic, single men and women, aged 18–30, who are looking for love are wanted. Filming will take place from May 15–June 26 in a tropical location TBD. Pay is TBD and there will be a chance to win a cash prize. Apply here!
How to Get Cast on a Reality Show
"DOLLY PARTON'S STAMPEDE" - MASTER OF CEREMONIES
Casting continues for "Dolly Parton's Stampede," a large-arena dinner show in Branson, Missouri. A dynamic and charming performer, aged 21–50, is wanted for a Master of Ceremonies. The performer should have rich vocal skills and great comedic timing. Work is full-time and ongoing in Branson. Salary is negotiable based on skill level and previous entertainment experience. Apply here!
"PIRATES VOYAGE": BLACKBEARD AND CALICO JACK
Join the cast of "Pirates Voyage," a large-arena dinner attraction, looking for talent for two lead roles. Male actors, aged 18–50, are wanted to play the role of Blackbeard the Pirate and Calico Jack. The actor playing the role of Calico Jack must have stage combat knowledge or be willing to learn. Shakespeare training or knowledge is a plus. Rehearsals will begin in January in Myrtle Beach, South Carolina, and Pigeon Forge, Tennessee. The season runs through the end of October, followed by the Christmas season from October 2020 through Jan. 1, 2021. Talent will be paid a full-time professional rate. Apply here!