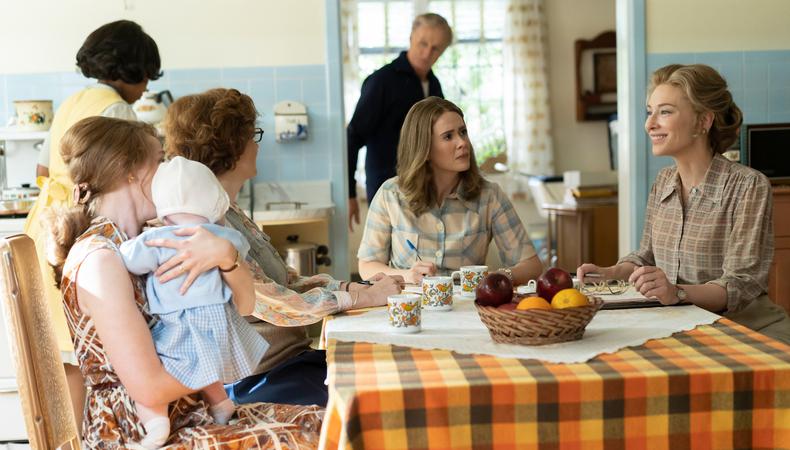 When Stacey Sher started out three decades ago, it seemed the only role in the industry for a woman was "actress." But thanks to her time at USC, specifically in the Peter Stark Producing Program, she went on to produce seminal projects on screens big and small including "Pulp Fiction" and "Man on the Moon." The great work continues this year with the upcoming Jennifer Hudson–starring Aretha Franklin biopic "Respect," as well as FX's second-wave feminism miniseries "Mrs. America." Here's how she learned to produce a film, how you can, too, and the piece of producing advice from Warren Beatty that changed everything for her.
READ: How to Become a Producer
"Producing" is elusive; how did you decide to pursue it?
I didn't even know there was such a job, because I started 30 years ago. Nobody in my family was in the movie business. I was really interested in sports broadcasting, and when I was in college, I had an internship for one of those national sports wrap-up shows. It was the '80s, and it was clear that I did not want to be a person who pushed my way into a locker room. So, in my senior year of college, I had no idea what I wanted to do anymore and I was really fortunate that I had a professor who was a trustee at AFI and said to me, "You really seem to love movies. Have you ever thought about becoming a film producer?" And honestly, the only jobs you saw women doing in film were actresses. He told me about the Peter Stark Motion Picture Producing Program, as it was called then, at the USC School of Cinematic Arts, and I got in. They took 25 students a year and very few had just gotten out of college. Having that opportunity with the late, great Art Murphy was the beginning of my career and how I imagined I could even do this.
How did you actually learn how to produce?
The program was and is highly efficient and gave a kind of overview, both broad and deep, of what it takes to make a film and market a film and budget a film. It allowed me to enter the workforce with the big picture of what it took; through thesis dissertation you had to acquire a screenplay, budget it, break it down, [assemble] your imaginary cast, and then pitch it to a board of professionals. You'd have to talk about how you'd market it, how much money you thought it would gross based on gathering information. In theory, you kind of had gone from beginning to end, and with these incredible professors who were all working in the industry and highly regarded heads of marketing and heads of production. It was unlike anything else, and I owe Cinematic Arts a huge debt of gratitude. I would never have the career I have without them.
Why was film school so valuable for you?
One of the great things I learned about the industry while I was at Stark and while I was at [USC's School of Cinematic Arts] was that it's really important to get to know your generation and the people that you come up with and then to be part of a community. So much of the entertainment business is based on relationships. The person who I got my first real job from was an aspiring writer who was a friend of another Stark student when he did his internship. And I met Scott Alexander and Larry Karaszewski, who I later went on to make "Man on the Moon" with, while I was at graduate school and they were in undergrad in the writing program at USC. You understand the level of quality of teaching and history criticism through production through the producing program, the writing program, now they have a gaming department and they have a world craft motion capture studio…. I built relationships with people that have lasted my whole career.
How did you start to figure out which projects you wanted to produce?
The films and television I end up making have always been pretty subjective for me. The very first movie I worked on was "Adventures in Babysitting," written by David Simkins, who I met while I was at SC film school and [he] pitched me this idea. He said, "I'm writing 'After Hours' for kids." And I just thought it was a great idea. Earlier in my career, it was more challenging that my taste was really all over the place, but it comes from what stories I felt passionately connected to. Pretty early in my career, I had the great privilege of becoming friends with Warren Beatty, who gave me incredible advice. When we were first introduced, he said to me, "What sorts of films do you want to make?" And I said, "I want to make various films." He looked at me and said, "Do you want to marry various men or have various children, because that's the same level of commitment you have to have to your work." It really changed everything for me. I was never really capable of doing something because it seemed like a good piece of business, and if I ever did, it never worked out well. Everything I've worked on, I've been incredibly passionate about.
Does that hold true for your producing approach today?
It is. On a project like "Mrs. America," when I first saw the documentary that inspired me to tell the story from Phyllis Schlafly's point of view, I couldn't have anticipated [the relevance]. I knew the issues resonated for me as a woman—the fact that the ERA had never been ratified, the fact that this woman essentially lived as a feminist—and I found the time period and second-wave feminism really fascinating because I grew up with it in the background, but also grew up in the backlash to second-wave feminism. By the time I understood it, I very quickly stopped saying "I'm not a feminist." I realized, "Yeah, I am a feminist, and there's nothing wrong with that word and we have to take it back." We began the project before the election of Donald Trump. Sometimes you end up syncing up with the zeitgeist.
What advice would you offer aspiring producers today?
The thing that I always say is if you can envision yourself being really happy doing anything else, then you should do that thing because it really is a marathon. It's an incredible industry; you get to go and see the world, meet incredible people, and make these incredible families. You're privileged to learn a lot in a short period of time about different subject matter. I'd also share my USC advice, which is to get to know your peers, definitely read great scripts so you can identify great writing from not great writing, because when you're starting out you'll read a lot of not-great scripts. But it's important to feed yourself with Eric Roth and Richard LaGravenese and Tracey Scott Wilson; just great writers, that helps give you a bar. And then I would really say: Look into the work of your peer groups, because finding the people that nobody knows about will be your superpower.
This story originally appeared in the May 14 issue of Backstage Magazine. Subscribe here.