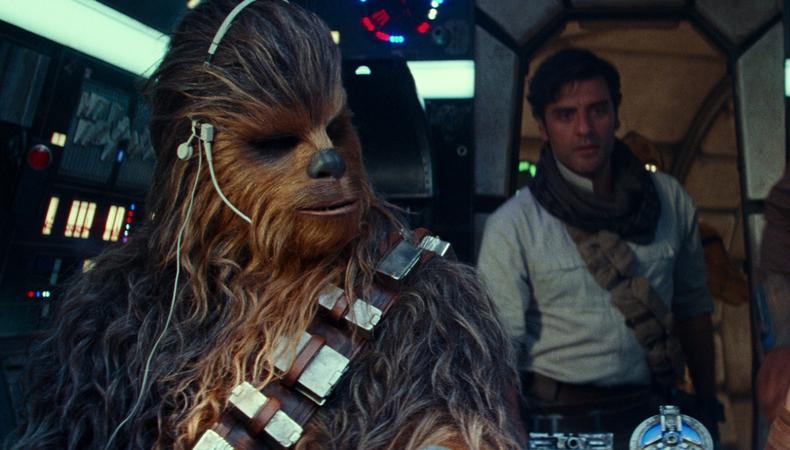 When Joonas Suotamo began his career in the galaxy far, far away, he was a body double for Chewbacca in "Star Wars: The Force Awakens." He then took over the part from the original actor, the late Peter Mayhew, for "Star Wars: The Last Jedi" and "Solo: A Star Wars Story." Now, fans will see him portraying the Wookiee once again in the much-anticipated "Star Wars: The Rise of Skywalker," the conclusion to the nine-part Skywalker saga.
John Boyega Is the 'Star Wars' Hero You're Looking For
Joining such an iconic film franchise may sound intimidating, but Suotamo has embraced the legacy of the series as he's stepped into the furry feet of a beloved character first brought to life decades ago by Mayhew. Backstage recently caught up with Suotamo to find out more about his path to taking on such a well-known role, how he found the spirit of Chewbacca for a new generation, and what advice he has for aspiring actors.
Let's start at the beginning of your journey with "Star Wars." How did you find the part and what was your audition like?
It was back in 2013 when I got this phone call from the basketball association of Finland. They had received a request for a seven-footer with blue eyes for a big-budget Hollywood film, and that's all they knew. They asked me if I was interested, and I said sure. That started the five-month audition process where I sent my self-tape videos and headshots and then started visiting London for some casting sessions. And after five months, I got the part.
As you've been portraying Chewbacca, what kind of training or work have you done to try and capture the movements and spirit of the character that fans are familiar with?
In the beginning, it was just me and the original "Star Wars" films, which I religiously watched over and over again, mainly the Chewbacca parts, to try and nail down the movements. Then Peter [Mayhew] was so gracious with his time that he lent his wisdom to me in what we called the "Wookiee bootcamp." There, I was able to ask questions and he was able to tell me what kind of limitations he would have while he was in the suit. I would learn from that and incorporate that into my own performance.
Mark Hamill Is Just As Self-Conscious As You Are Watching His First 'Star Wars' Audition
For Chewbacca you're acting within that suit and have to convey your emotions and actions through that. How do you do it?
Early on, it was Peter that used this word "mime character." Chewbacca doesn't really speak, so everything you do has to be sort of Charlie Chaplin or Buster Keaton-esque, readable to the audience. You want to focus on nailing that intent with your gestures, and that's the hard part and really the interesting part about playing this character. A lot of the times it's just seeing what works and what doesn't, and there have been times that I've been off on initially what to do, but then as we take more takes, the director sees that something else might work and we work through that.
Did your background in theater help you when working on the character?
I always wanted to be an actor and I did high school plays and definitely, when the call came, I knew that this was something that I was going to pursue because I've always wanted to perform and sort of take on another life and try to bring joy to people. Especially with something as legendary as "Star Wars," you can't ask for more as an actor and an aspiring actor, to be frank. It was really something to then be given this legacy that Peter and the rest of the group started that still lives to this day and then continue from that. It's been an amazing gift and quite an heirloom to treasure.
What has it been like becoming a part of a franchise with such a legacy and dealing with the excitement as well as pressure that comes with joining it? What has the experience taught you?
It's definitely taught me to be ready for anything in this world. If I hadn't played basketball for 20 years, I might have not received this opportunity because people knew me and other people recommended me for the role first. Definitely now that I've been a part of four films, you always have to be 100 percent focused.
What advice would you give to aspiring actors who want to follow in your footsteps and those of the other "Star Wars" actors?
The biggest thing is to realize each of our stories is unique. We have a unique vantage point to life. So maybe keep writing stories and being part of smaller-scale film shoots. That's something that I would be doing more [if I was starting out] and I'd love to do that more even now because it's a great medium to tell stories. Go do what you love.
Disney Channel's SVP of Casting Shares All on How to Get Cast in Her Room
Is there any acting advice Peter gave you that will stick with you for any future "Star Wars" work and other projects you may pursue?
A large part of Chewbacca and Peter's personality were intertwined. It was really my job to try to analyze what the essence of that character was from footage that I've seen, and he was there to tell me the details of Chewbcca's engineer focus and how he treats his friends or what's his attitude toward them. He could tell me those things, but [how I] portray the character was my own take on it because it's a totality of a persona that you have to instill in a performance, and that's what ultimately comes down to the actor. But Peter gave me lots of great snippets of things that I never would have thought about like why he moved his head a certain way or why he grew angry at one thing or another in a scene. Those were great stories. He had such a wealth of information and lots of great stories to tell.
What are you looking forward to fans seeing in "The Rise of Skywalker" and what can you tell us about what we may see from Chewbacca?
I had such a blast making this film and it was so great being together with everybody for this one last journey in this trilogy. I think the themes of "Star Wars" are heavy on this film. It wraps up all the previous films, and they did such a wonderful job in creating this story. Without giving anything away of course, it will be interesting to see what they have in store for the fans because we had a lot of fun and it's going to be a story that really puts a pin on the Skywalker saga.