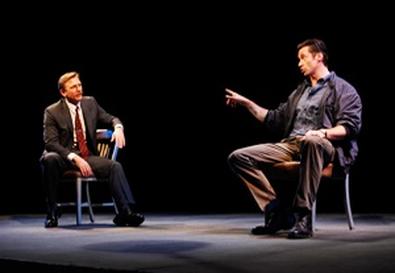 Though its plot sounds like one you might hear at a Hollywood pitch meeting, Keith Huff's "A Steady Rain" offers one of the most powerful theatrical experiences in many seasons. This is mainly due to John Crowley's tight direction and the masterful performances of a pair of movie hunks best known for their adventure capers. Daniel Craig and Hugh Jackman prove they are much more than James Bond and Wolverine in this heavyweight smackdown.

The stars shed their action-hero personas to fully inhabit two grubby Chicago beat cops caught up in a series of tragic events that alter their lives and end their lifelong friendship. Some are accidental; some are of their own design. Denny (Jackman), a hotheaded bigot, plays fast and loose with regulations and gets involved both sexually and financially with a hooker. Joey (Craig), a lonely alcoholic bachelor, secretly loves Denny's wife. In an echo of the Jeffrey Dahmer case, this dangerous situation explodes when the partners unknowingly release a Vietnamese teenager into the hands of a serial killer.

Huff's script is full of pungent dialogue and razor-sharp suspense, but it has the feel of the latest movie blockbuster, with one crisis after another and not much time for character development. No doubt we will see the film version, complete with car chases and gallons of blood, at the multiplex in the next few years. In its present form, the story is told by the two leads to the audience—alternating between monologue and dialogue—on a nearly bare stage, with only set designer Scott Pask's evocative depiction of ominous tenements serving as background. Crowley and his two-man cast give the potentially static action enough variety to keep the long stretches of talk gripping.

Jackman and Craig endow Denny and Joey with a deep history, vivifying Huff's backstory. Jackman displays an almost animalistic rage that comes from a different place than Wolverine's. Denny cares deeply for his family, and that provides the justification for his criminal actions. Jackman pulls off an acting miracle in managing to make this violent racist sympathetic. Craig gives Joey the same demons but convincingly portrays his questioning, unsatisfied nature, which forces him to fight them. Incidentally, there is no trace of the stars' Australian and British accents in their Chicago speech.

Though you may see "A Steady Rain" on the big screen soon, probably with the same stars, rush to catch it on stage, where two powerhouse actors are demonstrating that theater can still whup film's ass.

Presented by Frederick Zollo, Michael G. Wilson, Barbara Broccoli, Raymond L. Gaspard, Frank Gero, Cheryl Wiesenfeld, Jeffrey Sine, Michael Rose Ltd., the Shubert Organization, and Robert Cole at the Gerald Schoenfeld Theatre, 236 W. 45th St., NYC. Sept. 29–Dec. 6. Tue., 7 p.m.; Wed.–Sat., 8 p.m.; Wed. and Sat., 2 p.m.; Sun., 3 p.m. (212) 239-6200 or www.telecharge.com.