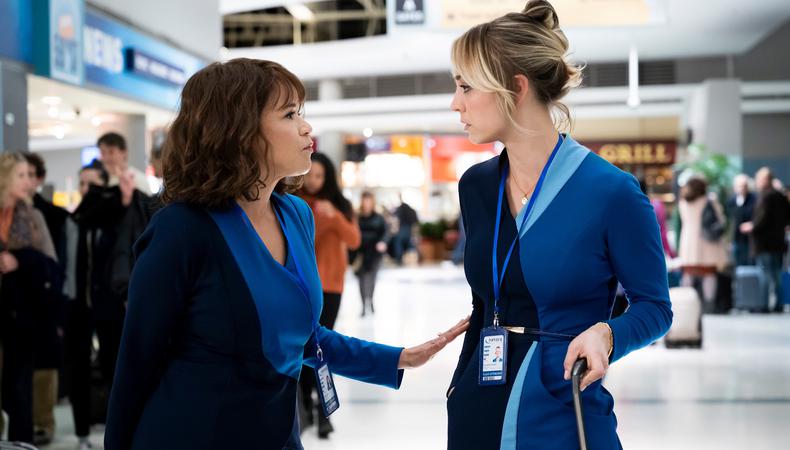 Fans of off-kilter theater have been aware of Steve Yockey's work, including "Pluto" and "Blackberry Winter," for some time. It's probably why they are more surprised than anyone that he created one of last year's biggest TV hits among both critics and audiences, "The Flight Attendant."
"People who have seen my plays are like, 'Oh, God, he's doing it on TV now,' " Yockey says with a laugh. And it's true that the HBO Max series, which stars Kaley Cuoco as a jet-setting alcoholic and maybe-murderer, is an unlikely amalgam of suspense and raucous humor. It's also, in quieter moments, a fully realized character study.
But that tone—or, more accurately, tones—is exactly what the writer laid out in his pitch to Cuoco, an executive producer who secured the rights to the novel of the same name by Chris Bohjalian. Yockey recalls: "I brought a whole bunch of crazy to it. I was lucky enough that they gave me the job."
The series, which concluded its first season in December and has been renewed for a second, is an exercise in what Yockey calls "genre blending." He adds, "It became a really interesting opportunity to explore addiction and trauma and also have some dark comedic fun. Everyone was like, 'Are those two things going to go together?' And I was like, 'Yes. Yes, they are.' "
He also had the help of an anchoring performance by Cuoco, who, as the self-destructing Cassie Bowden, will shock those mostly familiar with her work from "The Big Bang Theory." "Ten minutes into my first meeting with her, I was like, 'Oh,' " Yockey says. "I knew I could write a really dark character, and the fact that it's being played by Kaley will create this kind of friction that gives the show its magic."
The series also features peak supporting performances from Rosie Perez, Michelle Gomez, and Zosia Mamet, all of whom Yockey credits with helping to ground the material. He cites their ability to "deliver on the comedy but also drop in for the emotional stuff; and that's really important."
READ: What It's Like Inside a TV Writers' Room
Though it's his first experience as a series creator, Yockey has written for television before, on shows including "Supernatural." The transition from playwriting to episodic writing was intentional, though it came after a year of nonstarters. "I immediately sat down and started going, 'Let me write something that I think I would see on television,' " he remembers. It was only when he decided to write a script that was, by his own account, "crazy" that he finally got some traction.
"You [have to] get in this kind of mindset where you're like, OK, I'm just going to write something I'm passionate about. I'm not going to worry about producibility," he says. It was, ironically, a lesson he first learned at the start of his playwriting days in NYU's MFA program. "You just keep learning the same lesson over and over again in this field, which is: Trust your voice."
He might be onto something, considering he's learned it anew with "The Flight Attendant." "We're not doing something you've never seen before, but we are doing it with absolute confidence," he says. "You can really see hesitance onscreen, just like you can see it onstage."
And though he readily acknowledges it's the easiest thing to say and one of the hardest to do, every artist should try to lead with that same brazenness. "We're doing it because it's what the story wants to be," he says. "There's a certain point in your career where, if you're really going to stick it out and you're going to make a life of this, you have to decide that your choices are worth fighting for."
Looking for remote work? Backstage has got you covered! Click here for auditions you can do from home!