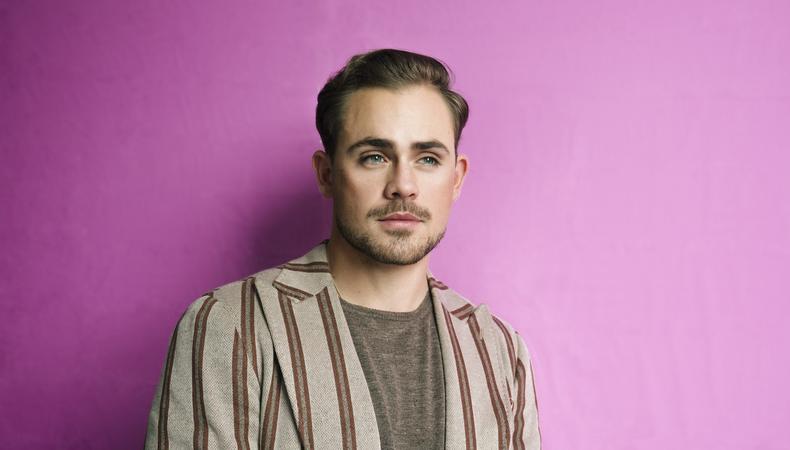 Dacre Montgomery first made an impression with Netflix's second season of "Stranger Things," but he maximized his staying power with a later-released, off-the-wall audition tape and a highly anticipated return as Billy Hargrove. Montgomery was challenged in all-new ways while filming Season 3, not the least of which was keeping his performance grounded in reality while playing out a sci-fi possession arc. He recently sat with Backstage to talk about how he prepared for the role, his best advice for self-taped auditions, and his steps for Australian actors to successfully leave their mark on Hollywood.
He used real-world research to tackle the show's science fiction.
"The arc this season changed things in a big way. It put me at this precipice of having two characters playing out all the time: the possessed Billy and the Billy under that. So I played a lot with researching people with bipolar disorder and split personality disorder, and how one personality controls the spot and how the other fights for that. So I tried to show the latter—the personality fighting for control of the spot—in my eyes, and then the [former] in the physicality. I played it in a real-world example like that as opposed to playing into the science fiction and fantastical element."
Self-taping is about standing out.
"The main thing is, especially when you have a show like this, it's important to stand out and make bold decisions. There's not enough people in the world who encourage that for artists. For me, I'm in Perth, which is where I am most of the time, Western Australia—[and] you have to kind of take a leap of faith, especially in a self-taping world with those parameters. And getting that audition, the morning when I did the tape, it's kind of like, 'How do I step up to the plate and do something really different and unique that helps me stand out and separates it from everyday Dacre?' "
READ: How Netflix's 'Stranger Things' Cast Its Kid Actors
Living life informs your acting, always.
"Mate, I think a skill set in acting is not necessarily—I would dare say—it's not necessarily something that can be wholly taught. I actually think it's something that embodies your life experience. Like, I think if [I] had booked a job at 17, I wouldn't have been ready. I didn't have the emotional maturity to step into [the business] or even the work ethic that I feel like I do in some respects now. And you're forever learning; I'll be learning until the day I die. But what I mean is I think I would've messed it up if I'd been given an opportunity beforehand. It was the right time, right place, right learning had happened. I'd fallen in love, had my heart broken, been to university, learned all kinds of things, and kind of grown up and grown out of myself and was ready to take that thing and really do as much justice to it as I could."
Let rejection build your drive.
"I think sometimes being told you can't can fuel the fire. In some ways, there are some people who are resilient in a certain sense that being told no—like, I failed drama. I got asked to leave school three times. I think my biggest obstacle was actually getting over myself, getting over my ego, and growing up. And all three of those things played into the craft portion of my career."
Remember: Acting is still a business.
"I'm really interested in where art meets commerce. A big portion of this industry is about business, right? And I can give you 99 examples off the top of my head of actors who went through drama school with me that are far more talented than I am. But I think the interesting thing is about analyzing the business scope of the industry and meeting it with the artistic endeavor."
Want to switch markets? Take this advice.
"In drama school in third year, me and my friends started auditioning and messaging managers and agents off IMDb every night when we would go home. And over the course of my third year in drama school, I did 90 tapes in private at home. So that was the first thing that we started doing [to work in the U.S.]. The second thing was learning the American accent because this is an industry pool that we wanted to be in, and in order to do that, you've gotta start practicing your accent. And thirdly, we got a book that was about that whole business component of the industry that I'm talking about—kind of analyzing yourself as a brand, you know what I mean? And creating that in your head. And fourth, I think the biggest thing is visualizing. It's just visualizing, visualizing, visualizing: Where do you wanna go? Where do you wanna be? Visualize yourself taking those steps. I don't want to get too meta about it, but I think that it does play a big part in where you're going."
This story originally appeared in the Aug. 1 issue of Backstage Magazine. Subscribe here.