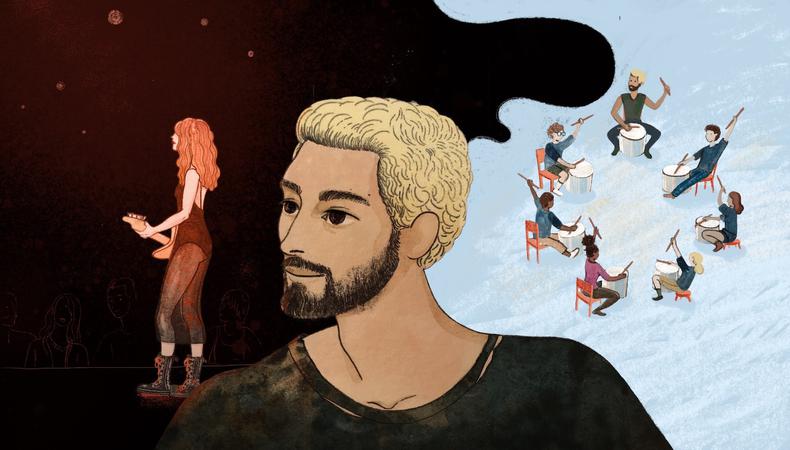 Susan Shopmaker has done a lot of searching in her career. Whether it's to fill onscreen high schools with young talent or helping filmmaker Nancy Meyers populate her well-heeled worlds from her New York office, the casting director has found herself looking for talent in all different communities. That was no different for Amazon Studios' acclaimed "Sound of Metal." With just lead Riz Ahmed attached as Ruben, a drummer whose life is upended when he loses his hearing, Shopmaker and her team had to fill out two disparate worlds: that of the hearing from Ruben's life as a musician, and that of the deaf, which Ruben immerses himself in while grappling with his new reality. Shopmaker dove deep into the deaf community to find actors and non-actors alike.
"Staying open to the world makes you a great actor."
What was the process for casting "Sound of Metal"?
Riz was attached when I came on, and we made lists for Lou [Ruben's bandmate and girlfriend]. We tag-teamed with Lisa Lobel in Boston. There was the world of deaf culture and the rock-and-roll world. We knew early on there was a real band someone on the team knew that was going to be a part of this, so that was not a casting job. It was really the world of the deaf that we were casting. That was everything you could imagine: Putting out normal breakdowns, going into deaf schools, organizations, theaters—we really did it all. There were a lot of self-tapes, because we were going anywhere in the country at a certain point [to look] for certain roles. We were looking everywhere.
What were auditions like, especially for first-time actors?
With the kids, at least on our end, some of it was just talking to them, and some of it was trying to elicit a kind of response. In the schools, we had interpreters to help us, so it became much easier. We were looking for a kid who was acting out—a bit of a mirror for Riz's character in some ways. We were trying to get them to do that without them really understanding what acting is. For the role of Shaheem, they wanted a guy who could really rap. Emily [Fleischer] in my office found an entire world of deaf rap. I have to give her 100% credit there. She tapped into a small but real world and started getting self-tapes.
What felt different about this casting process?
I was immersed in a culture that I literally knew nothing about and which definitely changed how I look at deaf people. There's that, but also working with a director who knew what he needed and wanted. What was on the page was so specific. Working with somebody who is excited, who is actually thrilled to be getting to do what he wanted to do—that's infectious.
Where do you look for new talent?
I think any New York casting director will tell you that we go to theater. I'll watch stuff from schools. We did a TV show that was all high school students, and it was very specific. We went to school shows; we would call up all the schools in the city and ask if we could come. They were pretty generous. I'm not big on social media searching, but Emily is; she does a lot of Instagram stuff. You know what else works? Small movies with unknown casts are where you find some gems. Sometimes it's short films. It's sort of anything, and it always depends on what project you're working on.
"If you bring a real piece of yourself into that room and you do the best you can do, we do remember you. It's about the next project or the project after that. Sometimes, people hear from us three years later; it's just how it is."
What advice do you have for actors?
They have to know that they're part of a community. If it doesn't happen overnight, they have to build confidence with the community that they're in. That means if they're waiting tables, when that comes back… A lot of bartenders and waiters are actors, and that's partly how they start that community and stay open to the world. I think they have to read and look at art. I think they have to appreciate dance. They have to appreciate nature. I think staying open to the world makes you a great actor.
What can an actor expect from auditioning for you?
I wish for actors that they can have what they used to have in our office, because we ran a somewhat unusual place. We might be able to do it that way again. We were very much one-on-one. All actors had a minimum of 20 minutes because so much of what we do is with young people. The hope is that we get to do that again safely, and that we're not behind plexiglass. We worked on a project this summer that was all Zoom auditioning. When we saw somebody we liked from a self-tape, we generally called them into a Zoom session, and we tried to work with actors the same way we would in our office in those sessions.
What should actors know about what you do as a CD?
I always tell young actors to get an internship or try to be a reader for a casting person, because you get a sense of the pressure that's on casting people. Sometimes, casting directors are doing two or three jobs at once; there are a lot of moving pieces, and we're trying to put pieces into a puzzle or paint a picture. There are a million metaphors for it. It would be nice if actors understood that we're painters. There is a process. The other thing is to know that we're looking at you for the long haul. If you bring a real piece of yourself into that room and you do the best you can do, we remember you. It's about the next project or the project after that. Sometimes, people hear from us three years later; it's just how it is.
This story originally appeared in the March 18 issue of Backstage Magazine. Subscribe here.
Looking for remote work? Backstage has got you covered! Click here for auditions you can do from home!