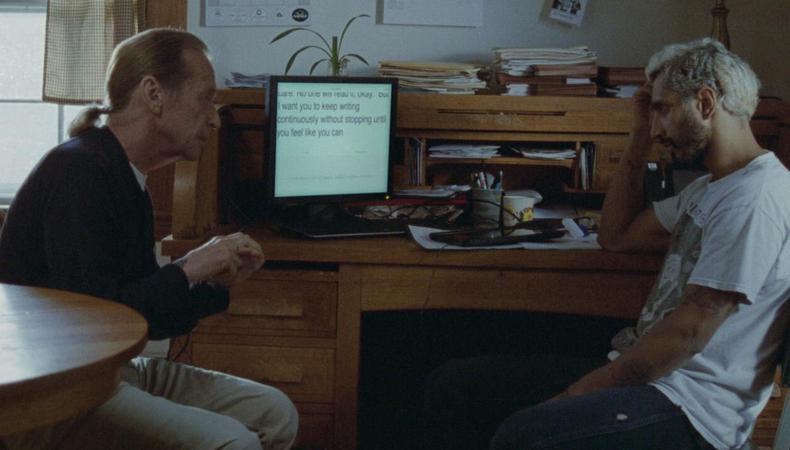 Darius Marder loves actors. He thinks that while acting is hard, it's also magical and mysterious. "I have studied Meisner, Uta Hagen, and Stanislavski and I have been in those trenches," he recalls, revealing his history as an actor before turning to filmmaking. "It gives me a tremendous empathy and love for actors. I respect the process."
That respect is exactly why he offered Riz Ahmed the lead role in his debut feature film, "Sound of Metal," halfway through their first meeting. "I had a lot of false starts in this casting process over five years. It wasn't until I met Riz that I found someone who was the highest caliber artist, but fascinatingly a control freak. There's a commonality there because [the character] Ruben's a control freak," Marder says. "The process for Riz was about losing control and filling that void with physicality, learning to play drums, learning [American Sign Language]."
A drummer and heroin addict in recovery, the film finds Ruben just as he begins to rapidly lose his hearing. The story then follows him as he checks into a sober house for the deaf to get a grip on his new circumstances. "Sound of Metal" has been recognized for its delicate and emotional performances, with Marder himself nominated for the Independent Spirit Awards' best first feature. Additionally, the inventive sound design plunges the audience into Ruben's story.
The film's characters, too, share an intimacy that's immediately felt by those watching. In order to capture that deep connection, Ahmed and his co-star Olivia Cooke, who plays the lead singer of Ruben's band as well as his girlfriend, Lou, spent months learning to play music. "They had to strive together and they formed a bond around that. So by the time they are on set they have been through a war together," Marder says. "The music in this movie is the sex in the movie. That's their connection. They are struggling together against this construct I designed. It's almost like a Sisyphean journey."
Marder's decision to cast a hearing actor as Ruben was deliberate, intended to mirror the character's journey as he becomes deaf. However for the role of Joe, a deaf Vietnam vet who becomes Ruben's sponsor in the addiction program, Marder wanted to cast a deaf actor despite financiers pushing for a recognizable name.
"Various members of the deaf community kept telling me about CODAs [Children of Deaf Adults]," he says of finding Paul Raci, the actor eventually cast as Joe. "When I saw Paul's tape, it was clear that this was the most authentic Joe. I didn't know that he was a Vietnam vet; that he was someone who had dealt with addiction or ran deaf AA groups. But I saw it in his eyes. It was that ineffable thing in acting, when you draw from a garden of truth."
The magnetism Ahmed shares with Cooke is also evident the first time Ruben meets Joe on screen. "I think it's important to remember that at this moment in the movie, the audience is shifting. They might be realizing that this story is more about addiction than it is about being deaf," the filmmaker says. As a director, he felt it was his job to facilitate the connection between the actors: "When they get in that room there's a lexicon, there's an unspoken connection. They cut through that really fast. You're an addict. Comes out right off the bat. "My entire focus on set is about performance."
READ: How Riz Ahmed Learned ASL for 'Sound of Metal'
The bond Marder shares with Ahmed accumulated over months of production on the film, and when the moment came to shoot a pivotal scene wherein Ruben may have an opportunity to regain his hearing, Marder chose to park the camera on Ahmed's face. Beyond that, he didn't think he needed to give direction. "I had a huge amount of emotion around this scene. Riz looked at me and I looked at him and we shared that emotion. I didn't say a word. We knew. So often, that frequency is so much more powerful than words," he recalls.
Despite Ahmed having "fabulous eyes," Marder saved the close-ups for that one moment. "What we're dealing with is what I call 'point of hearing,' entirely the opposite of point of view," he says. "That close-up is about Ruben's inner world. We are feeling his pain on an aural and psychological level. A transference is occurring between the audience and Ruben. That's where it pays off."
When all was said and done, writing and directing "Sound of Metal" was an immersive process that spanned more than 10 years. "Making my first narrative film the way that I wanted to was hard, but it doesn't have to be for everyone," he says, advising artists to persevere no matter how long a project takes. "We write when we dream. The same is true for acting. We find these characters in our dreams. Time is essential to this process but nobody prioritizes it. People often ask me, 'How did you get so much time?' I fought for it. 'How did you shoot on film?' I wasn't allowed to, I just did. You have to make these priorities. That's the fight."
Looking for remote work? Backstage has got you covered! Click here for auditions you can do from home!