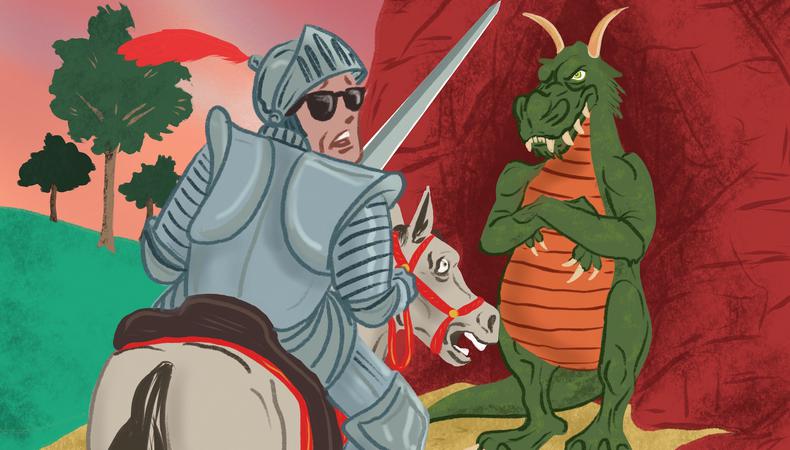 Back in high school, I was fascinated by the legend of King Arthur and the Knights of the Round Table. These were men from a different time. They lived by a code. I used to wonder if I could do that in the modern world.
As an agent in the kingdom of Hollywood, there are parts of the knight's code that aren't very practical. I wouldn't be good at my job if I "at all times spoke the truth." And I've never been asked to "give succor to widows and orphans." I'm not even sure what that means. But there are parts of the code that have served me well.
"To protect the weak and defenseless"
Actors need representation because we protect our clients from the treachery that permeates this industry. Actors will say yes to any offer that comes their way, because they're desperate to work. That's where agents step in, sword in hand and ready for battle.
One of my clients, a young man named Kyle, received an offer on an independent film that was destined for greatness. The script was daring, and the director's last project had done well on the festival circuit. The producers offered me scale plus 10 (which means they throw in another 10% to cover my agent fee) for a week of work, which was fine, considering the small budget. But they refused to give Kyle a credit in the main titles. They wanted to bury his name at the end of the film.
When I told Kyle, he was too excited to think clearly and he begged me to just take the offer. I tried to explain how better billing would get him more attention, but the kid was terrified I would blow the deal. Well, nothing got blown. I swung my sword, the dragon fell, and Kyle's name is now front and center.
"To keep faith"
I'm pretty sure that's meant to be religious, but here's how I see it: The life of an actor is exhausting. You have to audition over and over with no immediate gratification. Catching an actual break is very difficult. At some point, you can get so overwhelmed with frustration that you start thinking about throwing in the towel.
This is when I remind clients that we're in it together. I let them know I'm still excited about their future. I explain how everything can change with one audition. Demonstrating genuine faith in their abilities helps them regain their own faith, and that's the mindset actors need to move forward and become successful.
"To live by honor and for glory"
I once signed a young lady from Seattle who moved to Los Angeles with nothing on her résumé and was having trouble finding representation. A year later, she booked her first TV role. It was just three lines. A year after that, she scored a recurring arc on a network show. And two years after that, she became a series regular on a one-hour drama that ran for three seasons.
READ: How to Get an Acting Agent
I took a chance on this actor when no one else would, and I was thrilled by her success. Knights aren't the only ones who love to win battles.
So while Camelot might be entirely fictional, the code is real, and nothing pleases me more than using those beliefs to help my clients achieve their dreams.
This story originally appeared in the Feb. 25 issue of Backstage Magazine. Subscribe here.
Looking for remote work? Backstage has got you covered! Click here for auditions you can do from home!