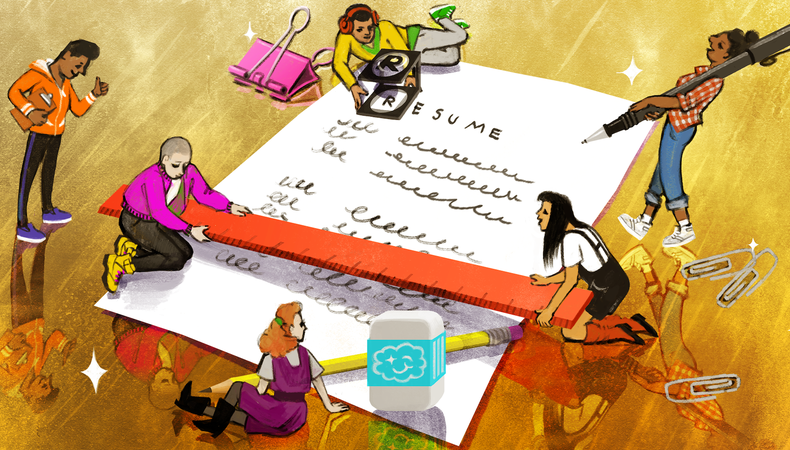 Warning: Incorrectly formatted acting résumés are everywhere—and they're spreading like an infectious disease. I'm noticing this from actors coming in to audition for me, from my coaching clients, and from students in my classes. Luckily for you, I've got the cheat sheet for formatting your one-sheet like a pro. Acting résumé formats vary from country to country, but here we'll focus on the correct U.S. structure, from top to bottom.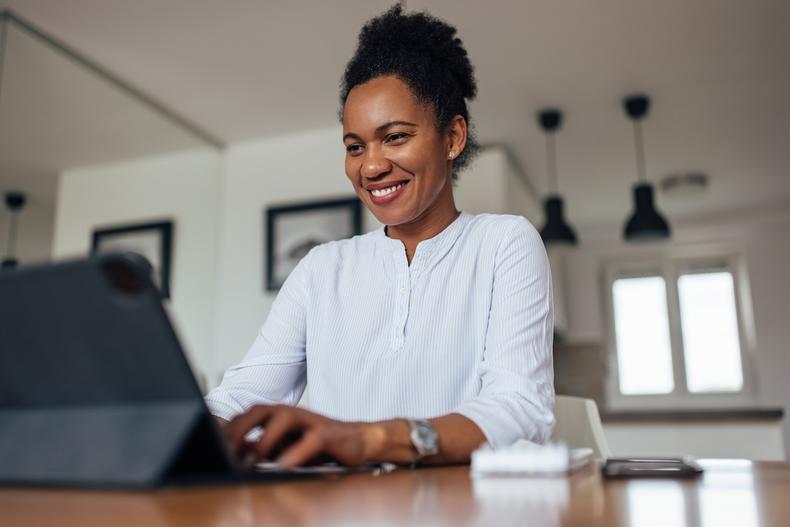 Branislav Nenin/Shutterstock
Your name and representatives
Your name goes at the top. Make sure it's in a font that's large enough to stand out on the page. Then list your contact info, agent, and manager on the top or bottom of the page. If applicable, use the artwork of your rep company.
Film and TV credits
Don't bunch different categories together for your acting credits. Separate film, TV, and new media—in that order. Do not list industrial films, and do not list background work—it makes you look like an amateur. This is something you may do as you're starting out to gain set experience, but it should not go on your professional acting résumé. Organize your credits into three side-by-side columns:
Column 1: the name of the project
Column 2: the size of your role (lead/supporting in film; co-star/guest star/recurring in TV)
Column 3: the name of the project's head honcho (the director for film; producer/production company/network for TV)
Training
We want to see how you've trained to get here. You can also use the three-column structure for this section.
Column 1: the type of class—for example, Movement, Audition Technique, Improvisation—and specify if your classes are ongoing. (I do not believe that casting director workshops should be listed here if they were a one-off—it would be like including a seminar that you attended.)
Column 2: your acting teachers for each course
Column 3: the acting studio that hosts the classes
Theater credits
We are very interested in your theater experience. Again, use the three-column format here. From left to right:
Column 1: the name of the play
Column 2: your role
Column 3: the theater company you performed with
Personal stats
When I'm putting together an ensemble or pairing two actors in a scene together, I need to know exactly how tall you are. You can also list your weight and your hair and eye color here. If you're a guy who's sporting a beard in the photo that you're submitting, it might be a good idea to note that you are willing to lose your facial hair for a role. You can even insert a smaller photo of your different look within your headshot.
Miscellaneous
Include your union affiliation. List and specify your special skills. Driving a stick shift is a special skill these days, as many people don't know how to do it. What kind of dance do you know and what is your skill level? You say you sing—are you a baritone or an alto? What kind of guns are you proficient at shooting? But don't bother listing silly things like "I can cross my eyes on cue." And please, for the love of God and all that is holy, do not lie or exaggerate! Also note if you have a valid passport so we know that you can travel. Are you a local hire for various cities? List them. Do you have conflicts coming up? Write that they're available upon request. And when it comes to awards and nominations, add an asterisk next to the project and footnote the award name and year below.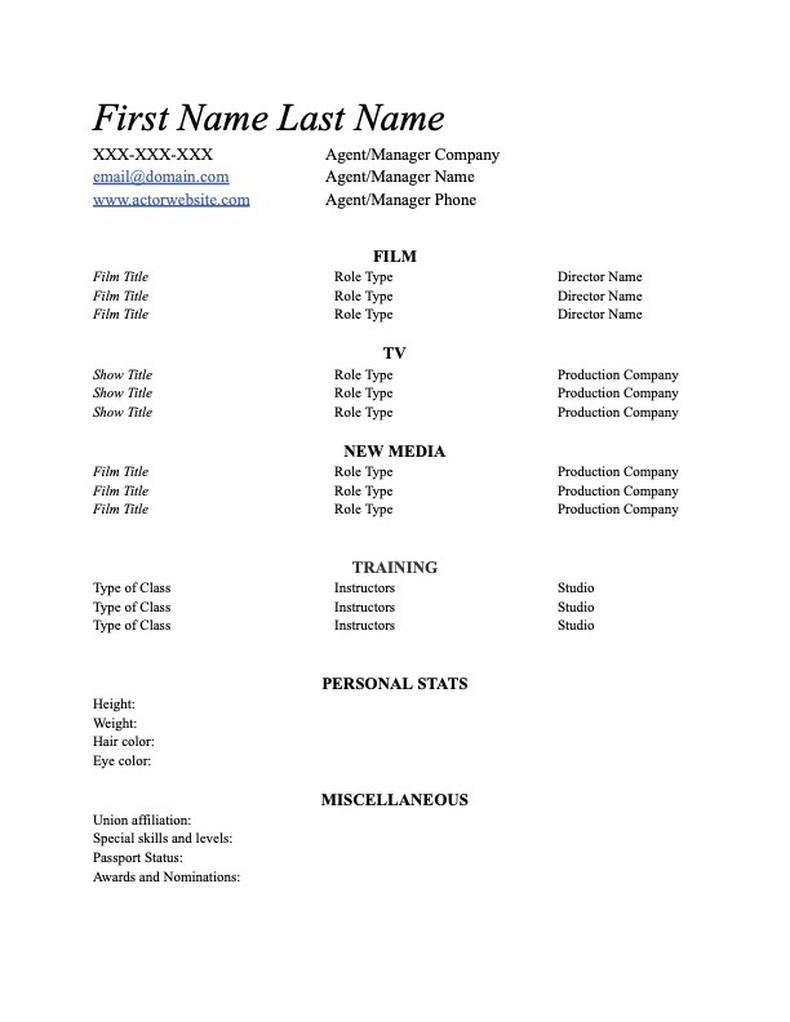 Follow this acting résumé format on your own one-sheet.
NAME AND REPRESENTATIVES
Name:
Phone:
Email:
Agent:
Agent contact info:
Manager:
Manager contact info:
FILM CREDITS
Film title | Role type | Director
TV CREDITS
Show title | Role type | Production company
NEW MEDIA CREDITS
Film title | Role type | Production company
TRAINING
Type of class | Instructors | Studio
THEATER CREDITS
Play title | Role | Theater company
PERSONAL STATS
Height:
Weight:
Hair color:
Eye color:
MISCELLANEOUS
Union affiliation:
Special skills and levels:
Passport status:
Awards and nominations: