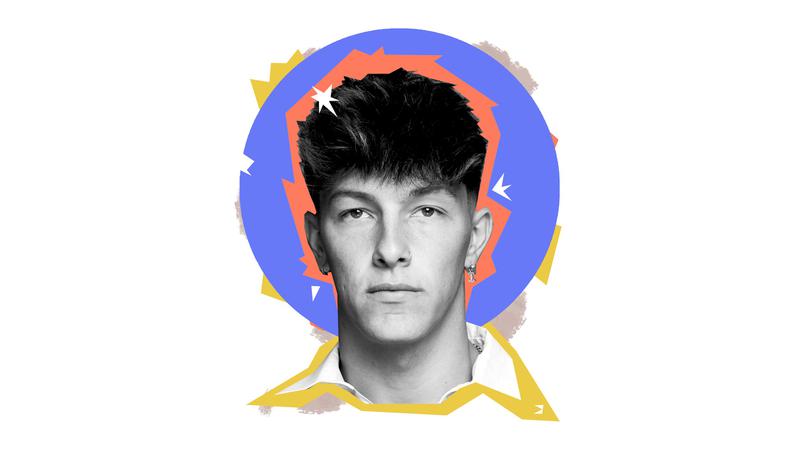 Tayler Holder found success in the digital space (and 24 million followers across his channels, including TikTok, YouTube, Instagram, and more) thanks to his penchant for collaboration and his tireless work ethic. The Texas-born, Los Angeles–based multihyphenate recently formed his own content house in partnership with short-form video platform Triller. Here, he discusses the Triller Compound and paving new avenues into the entertainment industry.
Tell us about forming the Triller Compound. What goes into curating a network of like-minded creators?
I originally started with the content house stuff about a year and a half ago, when me and my friend Bryce Hall and [other creators] lived in my house in Glendale. Then Hype House started, [then] Sway House. I joined Hype House for a few months. I had this dream of having a whole compound at a big house with a lot of property. I'd been doing social media this whole time with two of my best friends, Nate [Wyatt] and Kelianne [Stankus], and I brought them with me. We got together and scouted a few others who we thought would be a good fit for it and have a good work ethic and great mindset.
What did you take from your experiences at Hype House and Sway House when embarking on making your own content house?
Overall, both of them were great environments, and I love the people there. I took from it just being a family. There were some spots that lacked that family bonding or work ethic sometimes. That's one thing I was very strong on here: We have to be on top of our work, and we have to be working every day. I feel that's what some of these houses lack: doing stuff as a family and having a connection with each other.
Why is that collaborative mindset helpful to you?
For me, especially [with] the content I create, it's hard to do [it] on my own. There's no better feeling than creating with your family and [working with] great people. It's good for genuine reactions. The best way for organic growth is collabing with your friends.
Tell me a little more about your strategy for building an audience across all the platforms you're on.
A lot of the stuff on YouTube is honestly everyday stuff that happens in our lives. We're kind of wild as it is, and we get a lot of organic stuff as it happens. We also sit down and plot a lot of ideas together. The main thing with growth is consistency and [originality]. If you're doing the same thing that everyone's doing, eventually, that's going to get old, and everyone's going to be like, "OK, I'm going on to someone else." You've got to always be evolving.
How did you find your voice as a creator?
I'm going to be real: I don't think it was one thing specifically. On TikTok, I started gaining pretty rapidly. I've been in the game five years now, and slowly developing over the five years got me to where I am. Over the years, [I was] just finding myself. I'm a big Jesus guy, so having a relationship with God helped me find the direction I wanted to go in life.
Especially over the last year, do you feel like you've adapted your approach to the current climate?
Yes and no. I try and stay out of the political stuff online and handle it on my own. The pandemic was definitely a big 360 curve to everyone in the world right now. I definitely did not plan on 2020 being like this. You have to learn to evolve and change and work with what you've got.
What does the term "social media label" mean for you? What are you hoping to achieve?
I think social media is great, and it's a great opportunity to have a platform. Social media isn't forever, as everyone knows. It's temporary, and it gives you so many advantages in so many different ways. I really have a strong passion for music, and that's where I'm looking to head [with] my career and [start] using my platform to leverage my music and start my music career.
Do you find having an entry to the music industry through the digital creator space is a viable way for others to break through in music, acting, or modeling?
It definitely helps in every aspect, having the platform, because that gets everyone's attention—especially booking a role in a movie or selling out shows, or even getting a label so you can sell records. Having that platform ups your advantage on everything because you have an audience to promote and sell whatever genre you're in.
What are you most proud of so far in your career?
Mainly the impact that I have on people. It's so crazy to me that most of these people I've never met in my life, but that through a video, I can make their day. And also staying true to myself. There are a lot of people who get caught up in this make-believe life, this celebrity life, and they end up losing themselves in trying to find fame.
How do you balance your public, online persona and your private life?
There are a lot of influencers [who are] kind of nervous to put their full self out on the internet; they don't put everything out there. I'm pretty what-you-see-is-what-you-get on the internet. Everything I put on the internet is basically who I am in real life. I don't hide a whole lot of stuff.
What advice would you give other content creators?
You can't half-do it and hope to get famous and hope to get a lot of followers. It's a full-time job, basically. Consistency is the main key. Be different. Put out content that people haven't seen before. That's what's going to really make you stand out. What's going to make you stand out is how different you are and how you can drag people in from different demographics. If you can figure out how to capture every demographic—that's something David Dobrik did so well, capturing every demographic: kids, teenagers, parents. You can kill the game if you can capture that.
This story originally appeared in the Nov. 26 issue of Backstage Magazine. Subscribe here.
Looking for remote work? Backstage has got you covered! Click here for auditions you can do from home!